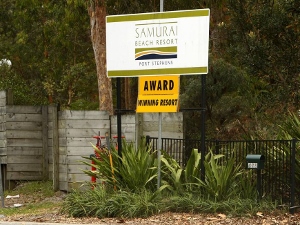 The Port Stephens Council is to convert the financially disastrous Samurai Beach Resort into a low-cost camping park.
The council bought the nudist resort Bardot's back in 2001 for about $2 million and has since lost between $11 million and $17 million. It has confirmed it would rebrand the resort as an "affordable camping and accommodation enterprise" after the resort failed to sell.
A $6 million plan to turn the resort, which has been closed since April 2013, and is 1km from any beach – into an upmarket "beach" resort also failed.
The council will look to sell the existing 11 cabins on site, and use the proceeds to fund an amenities block.