Developments
Crowne Plaza shares first look at conference centre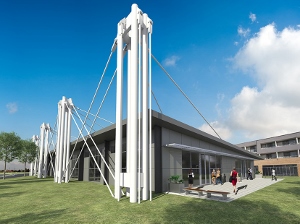 The Crowne Plaza Hunter Valley Conference and Events Centre is set to open by 30 January. Artist impressions giving a glimpse of the centre's stunning contemporary design and adaptable interiors have just been released.
Delegates to the centre will have the opportunity to mix business with pleasure and enjoy the unique facilities and offerings of the Hunter Valley. Its exterior gives a nod to the heritage of the former Sydney Convention Centre, with four of its 14m pylons standing tall around the new Hunter venue, amongst the picturesque grounds of wine country.
Leading architect Michael Munro, Hosking Munro P/L said, "The idea for the re-use of the Darling Harbour pylons came from the client and they provide a contrast to the strong horizontal lines of the building. Given the picturesque setting, the central galleria links the existing exhibition space to the new function rooms which open out to the surrounding landscaped areas."
The Crowne Plaza Hunter Valley Conference and Events Centre's contemporary architecture and stunning location make it the ideal location for any large-scale event. A first for the region, this state of the art venue offers something new to the area and promises to diversify the current business and events offering. "It's a very exciting time for our resort, for locals wanting a stunning new venue to host their weddings and events, and of course for domestic and international groups with discerning tastes for a unique business event offering," said Robert Coates, general manager Crowne Plaza Hunter Valley.
"With the opening so close, we're really gearing up for what we know will be a thrilling launch, and a busy schedule of events. Our first function is booked for February 2015, and it will be full steam ahead from then on."
Inviting a new market to the region, the Crowne Plaza Hunter Valley Conference and Events Centre propels the region forward and engages businesses on a new level as local and domestic companies look for the ideal venue to host their next corporate off-site conference.The Crowne Plaza Hunter Valley Conference and Events Centre will provide the largest and most comprehensive conference and exhibition facility in the Hunter Valley and will be a positive addition in promoting the Hunter Valley to the event industry. With the latest technology and a light-filled design, the Centre will have a combined 2000m² of pre-function, meeting and exhibition space to inspire creativity and connections, and positions the Hunter Valley as a leading Australian conference and event destination.