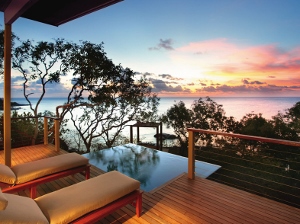 Lizard Island will re-open on 1 March, 2015 after 12 months of extensive refurbishment and rebuilding following the impact of Cyclone Ita.
When it re-opens, guests will again experience the understated luxury, innovative cuisine and exemplary service that have previously made Lizard Island such a popular destination. They will however also notice some exciting new additions which have been made to the accommodation.
Lizard Island is owned and operated by Delaware North owners of iconic Australian resorts including Heron Island, El Questro Wilderness Park and Kings Canyon Resort.
A new stand-alone suite, The Villa has been created. Featuring two bedrooms both with en suites – the master with a luxury bath, a butler's kitchen, plunge pool and wrap around deck, this 95m² villa sits atop a ridge offering uninterrupted views across Sunset Beach and the Coral Sea. This will be the ultimate private, exclusive retreat for guests.
Previously Lizard Island's most coveted suite, The Pavilion, with its private gazebo and plunge pool, will now be expanded to include a separate lounge room from which guests can enjoy the panoramic views over the Coral Sea.
Additionally, a selection of the Sunset Point Villas will now have the added luxury of private plunge pools.
And the sublimely popular Anchor Bay Rooms located right on the beachfront and the peaceful Garden Rooms have all been retained. Both will now feature LCD smart televisions.
General manager, Amanda Silk was appointed in April this year to oversee this very important refurbishment of the island. "I am really excited to be returning to Lizard Island. Having been general manager here some years back, I have a really strong commitment to making sure this refurbishment provides the unique Lizard Island experience that our guests have come to know and expect. I am also relishing the chance to restore Lizard Island to its rightful position as one of the leading resorts of the world," affirmed Ms Silk.
Ms Silk has been managing a highly experienced and respected creative team, OPV Architects and Hecker Guthrie, that have been chosen to re-design the interiors. Using the stunning views from each room as the hero for their design, they have created interiors which naturally integrate with the surrounding environment. The new colour palette combines neutral tones with highlights of colours from the Reef including coral, blue and gold.
This design theme is continued into the lounge and restaurant area where guests will once again be able to enjoy the Australian gourmet cuisine and superb wine list for which Lizard Island is known. A dedicated wine and cheese room has been added and the kitchen will now be open plan with opportunities to interact with the executive chef and his team.
The island's spa has been relocated to provide additional space to enjoy the many treatments on offer and now includes a dedicated manicure and pedicure room. French based, La Biosthetique products have been chosen to complement the treatments. The La Biosthetique brand has an international reputation for top end, premium quality, luxury products.
Planning is underway for the new activities schedule that will be available at opening. This naturally will focus on all the opportunities that allow guests to take advantage of being in this spectacular Queensland location on the northernmost tip of the Great Barrier Reef and in the heart of a national park.