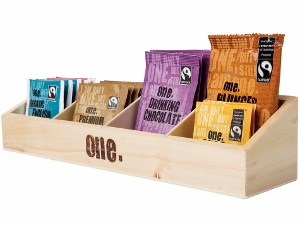 Your staff might be the friendliest on record, the rooms the ultimate in attractive design and your hotel or motel may boast the most up-to-date in-room technology available, but when it comes to making your guests feel at home, little can compete with the beverage they are very likely to avail themselves of shortly after putting their bags down and slumping into a chair.
Travelling can be stressful and their first encounter with your room may come at the end of a long and tiring day – whether it is business or holiday, so that first encounter with the beverage options you have offered them may well set the tone for the satisfaction or otherwise they will judge your establishment on.
And that is just the parents. If small, crotchety children are involved, what is available on your kitchen or kitchenette bench, shelf or minibar can be enormously magnified in importance. Until the children are happy, the parents certainly won't be.
While some accommodation managers might regard providing beverages as an unwanted cost, that is generally regarded as an extremely short-sighted attitude. Far wiser to regard it as an essential service that it is very wise to give due thought to and can be a useful attribute in guest satisfaction.
So, what to provide? Perhaps the very first thing to look at is not what to provide but how to display it. Presentation is extremely important. An unsightly clutter will not only detract from the look of your room but make a poor impression. A well-designed and crafted box or small piece of cabinetry, very likely constructed of wood rather than cheaper materials, will be well worth the cost. But before putting that task out to contract, you'll need to decide what will go in it.
Good quality needed
The word that must guide your decision here is 'quality'. Whether your guests are New Zealanders, Australians or from more far-flung corners of the world, offering them anything inferior to what they are used to will be certain to lead to some disillusionment with your establishment. Those who can afford to travel are very likely to be used to an interesting and flavourful product. An insipid, tasteless brew from your selection is not going to go down well. You have little choice but to provide the best available.
And that can be a real challenge, even with the humble cup of tea.
Tea is by far the most widely consumed beverage in the world, its consumption equalling all other manufactured drinks in the world – including coffee, chocolate, soft drinks and alcohol – combined.
Most accommodation providers here are still likely to have or been influenced by a British heritage where a sit-down for a nice cup of hearty black tea with milk is always welcome. But in many of the world's cultures it means much more than that, often coming in many different styles and brewing methods, and being part of elaborate rituals and ceremonies.
Even to more traditional tastes, often too little consideration is given to quality. A few packets of tea bags in their room is not necessarily going to cut it for discerning guests. Until fairly recent times, it was generally accepted that tea bags provided an inferior taste to a pot of leaf tea.
However, in recent years, tea companies have responded to the demand from people who want better quality teas but prefer bags for convenience. They set out to provide an increasing range of designer bags with a good selection of quality teas – well presented in caddies. There is now a wide choice to draw on. But while most guests will be happy with Earl Grey or English breakfast, some will also enjoy a selection of herbal varieties.
Growing coffee culture
While tea drinkers have gradually become more quality conscious, the growth in coffee appreciation in recent years has been quite astounding, aided by advancements in electronic domestic coffee makers at a reasonable price from appliance stores. For many, even the plunger is no longer good enough and fresh, machine-brewed coffee is now the norm.
They may find what they are offered in a portion-control packet to be less satisfying than what they are used to making in their own kitchen.
But these appliances come in many different types and what guests are used to at home could be baffling for another guest only there for a short stay who just wants to make an enjoyable hot drink quickly and easily. All the more reason to supply the best quality available in sachets.
Children may be less demanding, provided their favourite drink is available in a packet but a good range of choices is still needed and health factors should also be considered. Parents might not be happy if over-sugary treats are supplied.
And that still leaves milk – not the easiest product in the world to provide in small sachets. The long-life variety does not appeal to everyone.
Advances in packaging
Manufacturing such products is a job for a specialist and one of the largest in Australasia is Health Pak, which provides a huge range of portion-control items to hotels, motels, cafes, restaurants and airlines in several parts of the world.
General manager sales and marketing, James Kennedy-Grant says presentation of a beverage offering is extremely important. "However, ultimately you have to provide your guests with a really top quality product or you're wasting your time.
"We package all of our teas and coffees right here in our own factory so we can control the quality of the packaging and contents and ensure that your guests are enjoying the best possible product every time," he said. "We've been at the forefront of packaging development (degradable sugar sachets, sticks and enveloped tea bags) as well as developing completely new products like our Squash cold drink sachets, the first portion control cold drink sachet developed specifically for the hotel-motel market. Squash was the first cold beverage product specifically designed to cater for the large number of adults who don't drink warm beverages, as well as the legions of children who finally have something other than water to drink."
Another specialist in these products is Expresso Services. It noticed a desire for quality beverages and open presentation. It provides the industry with a range of great tasting Nespresso capsule coffee as well as instant and plunger coffee varieties. Its Sir Thomas Lipton speciality tea envelopes have been specifically designed for the Australian market and they also provide Nestlé Hot Chocolate and Milo portion control sachets. They too understand how important the enjoyment of good coffee, tea or hot chocolate is to a guest and how great beverages can be a measure used to decide whether to return to an accommodation or not.
James Kennedy-Grant says Health Pak beverage products "have also become very popular in Australia over the last few years as they offer a great looking and tasting alternative to the same old teas and coffees that have always been available".
Mr Kennedy-Grant says that as well as developing new products and packaging, Health Pak was the first supplier to produce a full range of portion control Fairtrade certified beverage sachets, teas, coffees, sugars and drinking chocolate. "Our one Fairtrade brand continues to enjoy huge growth on the back of guest demand for certified Fairtrade beverages. Naturally we work with our customers to ensure that they have access to presentation boxes and trays to best present their beverage selection."
The popularity of POD and plunger coffee in Australia has been outstanding over the past few years and guests will come to expect the same in accommodation establishments, but it may not become the norm for quite some time as the cost per coffee is high. This will however be the expectation for executive suites and five-star properties.