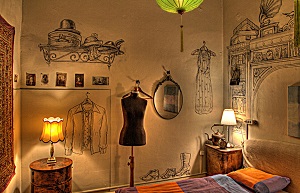 The story of how Lavender Circus hostel came about is inspirational to any accommodation provider, manager or owner.
If you are visiting Budapest on a shoestring, this unique hostel is on the top floor of a large historical 19th century house, in the architecturally eclectic city centre.
Adam Szarvas is the owner and talented artist who designed the hostel, a student of painting and sculpture, he renovated many ornate frescoes (elaborate ceiling decorations that are found on baroque church ceilings) in Hungary, before buying Lavender Circus hostel eight years ago.
According to Adam, at first he worked alone to create this masterpiece of a hostel; he was the "bricklayer, painter and receptionist". He recalled labouring on the renovations while also running the business but now he has help.
He confirmed: "Now I work together with my colleagues: receptionists, painters and other artists. We are working on the walls and pictures day-by-day. It's a never-ending story. We have many ideas for the future. The designs of the rooms improve progressively."
The historical features of the building are enhanced by the imaginative and artistic aesthetic that has been carefully crafted over time. With radical drawings on most of the walls, a creative, whimsical and magical environment has evolved that feels made with love.
Adam told us: "I love my hostel and this is my only inspiration. I enjoy finding new details and drawing something new on the walls because I follow my own vision. When I see our guests enjoying their stay with us it's what make me strong, to carry on the job.
"This isn't a perfect place, there wasn't a conceptual plan and there isn't a business group in the background but I know the last nails and all of my handwork and furniture that I built during the last eight years."
The trendy hostel attracts a mostly young and arty crowd but offers a warm welcome to anyone. For a very inexpensive nightly rate, it offers double rooms and apartments plus Adam promises great service. The hostel is almost a hotel; offering 24-hour reception, free wifi, quality linens and towels but the price, dorm rooms and common areas remind guests that it is very much still a hostel.
With no lift, guests must find Lavender Circus at the top of a flight of stairs but the climb is worth it, when they are greeted with great coffee and a delightful welcome from the knowledgeable and helpful staff. The art work and sculptures that adorn the walls and ceilings, plus the aquarium that forms a window in one of the bathrooms, creates a very cosy and interesting vibe.
The accommodation itself is huge, clean and quirky, it offers lovely hot showers and comfy beds. Adam has assembled a unique, charming and very homely accommodation here at Lavender Circus Hostel, all offered at hostel prices.