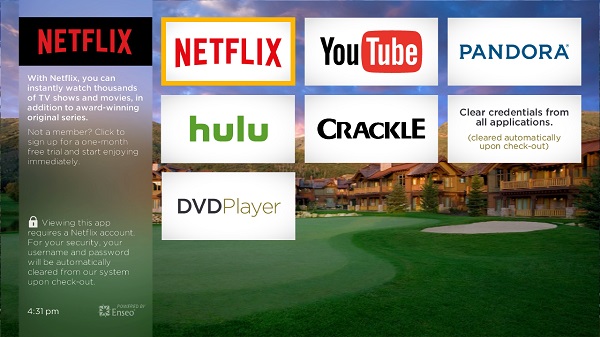 Netflix and Enseo signed an agreement expanding the latter company's rights to distribute the Netflix application on select devices to any hotel under a specific contract with Enseo in any country where the Netflix service is available.
"Our partnership with Enseo brings Netflix members a high quality viewing experience on their hotel room TV," said Paul Perryman, director business development at Netflix. "Through our expanded agreement, now more hotels in more countries will be able to provide guests access to their favourite Netflix TV shows and movies on the in-room television, making their hotel room feel more like home."
In 2014, Enseo was the first hospitality integrator to license and deploy the Netflix application in hotels. Guests staying in hotels powered by such devices will be able to subscribe to Netflix or sign into their existing accounts simply by accessing the Netflix application on the guest room TV via a Netflix logo on the on-screen TV menu, or a Netflix-branded button on the TV remote control. In addition, guests will not be required to pay in-room Internet fees in order to access the Netflix application on the Enseo device. When the guest checks out, their Netflix user credentials will be automatically removed from the device.
The company said in a new press release: "Data analytics gathered data from several million occupied room nights this year proves Netflix is the guest's favourite channel in all 19 hotel brands deployed today. This was consistent across all demographics from luxury guests to conference attendees and the ever elusive millennial traveller."
Vanessa Ogle, founder, chairman and CEO, said: "We are thrilled and honoured that Netflix has chosen Enseo as their partner to offer Netflix on the in-room television for guests around the globe. It is a tremendous amount of trust. Enseo will ensure that the television itself behaves, the remote and on-screen menu are easy to navigate, and the network operates at the highest standards at each property, giving Netflix members the great streaming content and viewing experience they have come to expect."