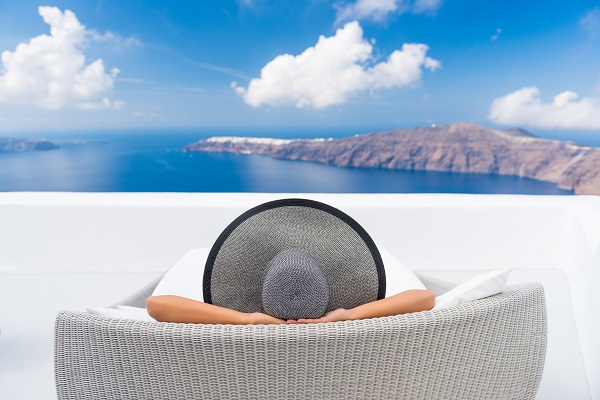 Visitors understand a country by experiencing its lifestyle, Australia's lifestyle is shaped by its history, politics, wealth, climate and culture, and part of why it is such a great place to live or visit is because of the freedom and choice it offers.
Of course, climate is an important part of the Australian identity and why a large chunk of the lifestyle is spent outdoors: enjoying beach pursuits, sport, picnics, and of course the iconic Aussie barbeque. A large portion of Australian social life is centred around food and drink; eating outdoors is commonplace at home, in restaurants, bars, hotels and around café culture.
Because successful hospitality providers understand the need to provide relaxing outdoor space and eating areas for guests, they are regularly required to purchase outdoor furniture for common outdoor areas, poolside, eating areas, decks or room balconies, often on behalf of accommodation owners and bodies corporate. But choosing the perfect outdoor furniture can be tricky. So, we have put together some tips…
Seasonal. Decide whether your outdoor space can be used all-year-around as this will determine the type of furniture you need to go for.
Sturdy. Outdoors there is usually no need for opulence but quality is important. For a basic setting, all you need are high quality, sturdy comfortable seating or loungers, tables and perhaps an ottoman that can also double as a coffee table.
Durable fabric. Guests want soft, comfortable seating but make sure the fabric you choose is properly treated for wind, sun, rain, pool water, salt, sand, and insects.
Size. Much like planning an indoor room, the size of a patio, balcony or deck requires similar thought. You will need enough space for guests to easily navigate the furniture and the size of the furniture must be in proportion to the area. The layout must be welcoming and attractive.
Practical. What will your outdoor space be used for? Eating, socialising, relaxing or sunbaking? Who will be using it, couples, families, or groups? Identify for what and for whom, and then choose the perfect furniture. For instance: large sofas and pods may be more suited to an area where families are more likely to frequent whereas couples may prefer smaller sofas, chairs or loungers.
Cool design. Consider how the furniture will look from your indoor space. This is especially important if you have glass doors: choose colours and styles that compliment your interiors. Let your style flow seamlessly and create ease.
Shelter.  Provide cover and shade from the harsh Australian sun. In open outdoor areas, umbrellas and shade sails are an easy fix and cost-effective way to smarten and create, safe family-friendly spaces. Or choose awnings, canopies, screens, plants and trees; you can be creative but you must provide your guests with some effective cover from the sun.
Maintenance. Buy tough, long-lasting outdoor furniture because it will be more cost-effective in the long run. But if neglected, even the most heavy-duty furniture will begin to destruct and look shabby, you must clean and perform regular maintenance to keep your furniture strong and looking it's very best.
We asked Peter Nicholson, from industry supplier Outdoor Furniture Wholesale, his opinion on trends for balcony settings, shade and durability. He said: "Australia is still having a love affair with rattan furniture and balcony settings are no exception with the classic table and two setting, ideal for smaller balconies and nooks plus premium stylish settings are still very much in vogue.
"Contemporary styled settings seem to be the current trend as seen in the more modern boutique hotels and resorts. Why? I guess people associate the luxury resort lifestyle with swinging palms and a contemporary rattan setting.
"People want a piece of that 'lifestyle' and all it represents (even if they have never been there) recreating it in their own backyard. One trend to look out for is the day bed. Why? Well a daybed is a perfect place to curl up with a book or relax after a swim, a little haven of quiet retreat. It's cupped nestlike shape is irresistibly inviting with all those pillows beckoning you to curl up and suits being tucked away in a corner such as on a balcony.
"It must be said, the benefit of an umbrella over a shade cloth is that the umbrella can be put down or even removed. There is the clean classic look as seen in the French Riviera or a colonnade of uniform umbrellas scattered across a pool area, as seen in a beach resort. Uniformity is important, think of the striking visual impact of the same flower across a meadow and similarly the impact of the same umbrella across an outdoor dining area.
"It is possible to have shade cloth and umbrella cohabit but uniformity and tying in the colours is important. Putting the umbrellas down and cleaning them will prolong their life. My tip is to wipe down frame parts with a damp cloth using mild soap. Turn the umbrella upside down, put it into a clean garbage bin filled with soapy water and let it soak. With some fabric, the stains will lift out and all you should do is rinse it with a hose.
"The best weather and UV resistant material is PE rattan (polyethylene), which is a durable synthetic material that looks like natural rattan. There is versatility in the types of weaves such as the popular flat rattan and round rattan styles featured in the majority of outdoor furniture settings. This is generally used with an aluminium frame which combines strength with a light weight material making this a very versatile option. Most importantly the fabric is water and UV resistant."
Mr Nicholson's tip: "Understand that water resistant and waterproof are two different things. To preserve the life and vibrant colour of your cushions, when not in use store them in an outdoor chest or in a cupboard inside. It is very important to remember to cover up your furniture when not in use. Periodically wash down the PE wicker with a mild soap solution and gently hose down to remove grime build up. It is that simple and you will enjoy your outdoor furniture for quite some time."
We also asked Jason Condon, proprietor of industry supplier Daydream Leisure Furniture, for his opinions on outdoor furniture trends and maintenance. He said: "While many of the traditional materials used for outdoor furnishings such as powder coated aluminium, timber and resin are still popular and widely used, the strongest emerging product range or material used for commercial application is fiberglass reinforced polypropylene.
"As a material, it is perfectly suited to our harsh environment. The frame profile is fine yet it has a high mechanical strength, meaning it is elegant yet strong. It has no finishing coat: the colour is right through the material, meaning no flaking of coatings due to salt or humidity. Also, modern vibrant or mature colours feature heavily.
"Tables are also durable as the surface is highly scratch resistant. Many of the products are compact and designed for a confined space such as a balcony. As with all things, there are differing qualities, generally European manufactured products are backed by intensive research and development before going to market.
"An umbrella is a fragile thing by nature, wind is the enemy and most managers are time poor and can't be expected to constantly monitor wind conditions and wind umbrellas up and down. Umbrella's with side posts are popular but not always practical, as the load of wind force is held off to the side, and a much stronger construction is needed to achieve the same strength. A centre post naturally shares the load under less pressure.
"If the budget does not extend to this quality, then look for a more standard free-standing umbrella with a quality acrylic canvas fabric and less moving parts. Tilt sections and winding handles will break, so a non-tilting, rope pulley style is best, and look for a base, which will not rust – no steel.
"For balconies, a free-standing non-wind rated umbrella is generally best. Often tilting is necessary for ocean facing apartments so look for quality fabrics and construction.
"The new polypropylenes are among the best materials for pool areas. While material information is the same, product style differs. Sun loungers are obviously the biggest feature; a sling offers comfort and practicality. Check that your supplier can supply or fit new slings as they will eventually wear and many cheap sling styles are only as good as the life of the sling because they cannot be replaced. Here, more generous and comfortable chairs can be used as generally space is not an issue.
"Mostly outdoor furniture is left to fend for itself and expected to withstand the rigours of the environment and constant use, and still look like new. The reality is that these effects, particularly UV are harsh and accelerate break down. Elements are hard to beat, but buying quality is the first step and then look for a supplier who has a long history of resort supply and who repairs and installs themselves. Always wash or wipe the furniture down regularly, maybe once a week because dirt and salt erode finishes.
"Regularly check the tension on bolts, for example the back hinge of a sunlounge. Monitor weather conditions and put umbrellas down if strong winds are predicted."
Mr Condon's tip: "Practicality aside, I personally feel that when guests are on vacation, particularly seeking sun and surf, their focus will be on the pool and balcony. I imagine they would like the furniture to look and feel better than their own at home."