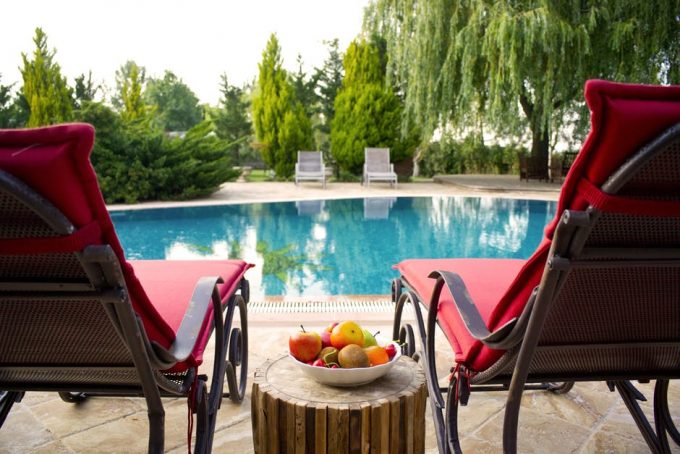 Australia is blessed with weather that makes you want to be outside much of the time, and gorgeous vistas to match.
So accommodation providers who create an appealing space to sit and survey the great outdoors will cash in on happy guests putting bums on their rattan seats.
Of course, this sunburnt country with its sweeping plains, ragged mountain ranges and flooding rains presents a set of unique weather challenges. So how do you go about choosing the right balcony and outdoor furniture to make your exteriors as appealing as your suite interiors?
The first thing to remember is that you are buying for a commercial environment where the furniture will get ten times the physical pummelling of that in a domestic home.
You want it to look like a cover shoot for Country Style, and visual appeal is important, but value for money and practicality are paramount.
Managers beware of getting carried away and opting for luxe cushioned Balinese-style pieces which fade quickly under the Aussie sun. Only high-end resorts with expansive budgets and large maintenance teams will have the resources to keep them pristine.
Remember, many Asian countries have access to cheaper product and labour than we do, making replacement and management of such items more affordable.
On the other hand, avoid adopting a Scrooge approach – buy cheap and nasty and you will regret it.
Industry view: Jason Condon, owner of Daydream Leisure Furniture
What are the best materials, coatings and covers for poolside and garden furniture?
The four main materials used for outdoor furniture construction are polypropylene/resin, aluminium, timber or aluminium frame with woven synthetic wicker.
Currently a quality polyprop is the most practical low maintenance, value for money material. Aluminium is next followed by timber and wicker.
I would suggest strongly weighing up the pros and cons of using wicker or timber in a full weather environment.
Timber generally requires ongoing maintenance and wicker has a limited life in full UV. Both of these materials generally involve cushioning which has its draw backs.
Unless we are talking extreme high end, there is no such thing as a waterproof cushion.
Also, very high-quality materials are required for longevity in high UV. Most people think rain is the biggest threat whereas UV is actually a more destructive force. 
Polyprop or aluminium products with a sling offer the most practical, durable and comfortable option.
If opting for a sling, you need commercial quality and should ask the question, 'can it be replaced and who does this?'.
Glass table tops are popular because of their low price but be aware of their potential to shatter.  Also, is the glass secured to the table? Loose glass can become a projectile in high winds.
Never touch steel or steel framed furniture, it is guaranteed to rust.
What should accom managers consider when buying balcony furniture?
Durability aside, they should consider space.
Do they require a compact or armless chair? Does the table leg design allow efficient arrangement of chairs? Is it likely to be ongoing if extra chairs are needed, and can it be repaired?
What's the best option for umbrellas?
Umbrellas are a fragile thing by nature and as such, management and common sense are required – particularly in regards to wind.
Generally, they fall into two categories; non wind-rated freestanding with a base, and wind-rated permanent fixture. In addition, they can be centre post or cantilever.
We always suggest wind-rated for commercial environment common areas. They require far less management, last much longer and are less likely to be handled by patrons.
In addition to that, we suggest centre post over cantilever, as physics dictates that the centre post provides a much stronger structure with the load shared.
Most people are attracted to the idea of a cantilever, but the spend required to get true commercial quality and the fact that patrons tend to want to operate them detract from the benefits.
If they opt for less expensive free standing then I would suggest high-quality materials, solid structure and minimal moving parts such as winders and tilt mechanisms, as this is where they will fail.   
Also, as with any purchase, ask if they can be repaired and if your vendor is capable of carrying out these repairs.
When it comes to repairs and maintenance, what can managers do to ensure the furniture they choose has a long lifespan?
The best way to ensure a long life is to regularly carry out maintenance checks and clean the furniture. Ensuring it is cleaned, particularly from salt, will help to prolong its life.
Check that any bolts are tensioned and check slings for wear.
UV-inhibiting waxes and sprays can be used, but in a commercial environment are usually time-prohibitive.
In many cases it is possible to re-sling furniture or have the frames powder coated. But be aware that many mass-produced products are designed to be a throw away.