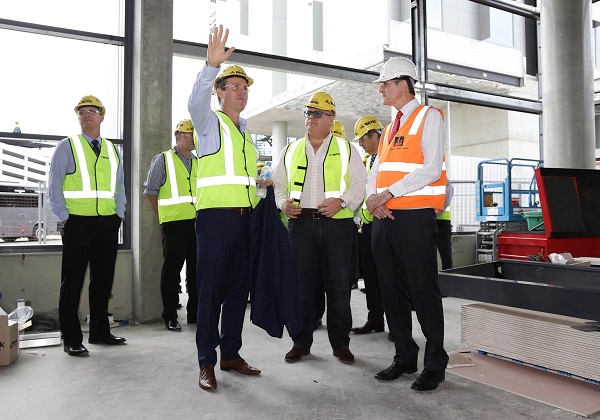 Lord mayor of Brisbane, Graham Quirk officially toured the grounds of Pullman and ibis Brisbane Airport and said the 5 and 3.5-star hotels will give a significant boost to the local economy as well as act as a premier gateway to further exploration in the Sunshine State.
Construction of Pullman and ibis Brisbane Airport and the adjoining 300-seat conference centre is on track with the landmark buildings now topped-out and interior fitting work has just begun. The hotels are scheduled to open 1 October 2017 and will be taking bookings from May 2017.
Located within walking distance from the Brisbane Domestic Terminal, the 5-star Pullman and 3.5-star ibis hotels are part of a $150 million Brisbane Airport Domestic Terminal Precinct development project.
With international passenger numbers expected to grow by 7% for FY17 and a new runway opening in 2020 that will double the airport's capacity, Pullman and ibis Brisbane Airport Hotels are well equipped to satisfy demand.
Danesh Bamji, General Manager of Franchise for AccorHotels Australia said, "Tourism is undeniably one of Australia's top industries with recent figures showing the sector has grown at four times the rate of the Australian economy. It is critical to have accommodation options in airport precincts and to that we're thrilled to be working with owners, Anthony Flynn of Flynn Property Group and Scott Flynn of Scott Flynn Properties to bring 5-star hospitality to people travelling into Brisbane.
"Pullman and ibis Brisbane Airport Hotels will complement Anthony and Scott Flynn's third hotel, Novotel Brisbane Airport which has performed well in the market since it opened in 2009.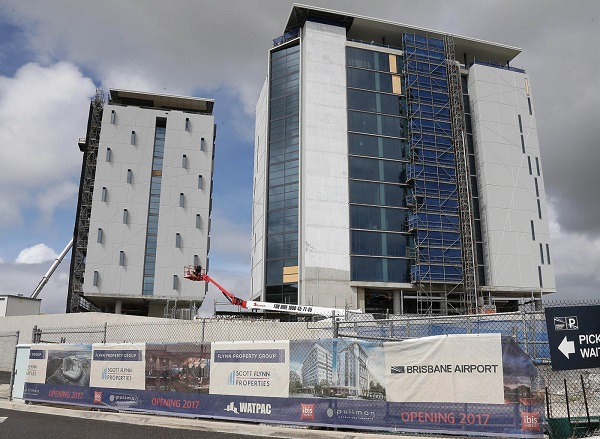 "AccorHotels has expertise in managing airport hotel precincts and has been leading the charge in airport developments. In the last two years we have opened ibis Mackay Airport, Mercure Newcastle Airport and Pullman Sydney Airport which opened to much fanfare last year. Construction will soon start on Pullman Auckland Airport and Novotel Christchurch Airport will open later this year.
"AccorHotels is proud to be working with the Flynn's and thrilled to have three of its core brands in Pullman, ibis and Novotel located at Brisbane Airport offering travellers to Brisbane quality service and hospitality".
Lord Mayor Graham Quirk said Brisbane's $6.3 billion international and domestic tourism industry was continuing to grow and this $150 million investment represented an important addition to the city's hotel and conference facilities supply.
"Just three years ago the city was forgoing 120,000 visitors a year and was being overlooked for major events opportunities due to a lack of hotel rooms, however, hotels such as the Pullman Brisbane Airport and ibis Brisbane Airport hotels will help address this shortage and allow the city to attract world-class events," Cr Quirk said.
"Hotels are a vital part of the city's tourism story and will help position Brisbane as a gateway for the Asia Pacific, when the Brisbane Airport doubles capacity with the opening of the second parallel runway in just a few years."
When Pullman Brisbane Airport hotel opens it will join Australia's fastest growing 5-star hotel network and leading brand in the business events sector. Pullman has established itself as the largest network of upscale hotels in Asia Pacific with more than 45 hotels across the region and counting. In Australia, the Pullman network has recently expanded to 13 hotels and resorts across nine locations.
ibis Brisbane Airport will join Accor's rapidly expanding network of more than 60 economy hotels under the ibis, ibis Styles and ibis 'megabrand' available across Australia. Ibis a global leader in economy hotels with more than 1000 hotels in 59 countries.
Pullman Brisbane Airport will include 132 rooms including 2 Presidential Suites, 6 Junior Suites and 45 Executive Rooms.  A freeform leisure pool with a 20 metre lap pool, poolside daybeds and pergolas will be available for guests relaxing in transit or waiting for a flight.  The hotel will feature 24-hour room service for the convenience of its transit and regular guests, plus a lobby lounge bar catering for up to 60 guests, restaurant with seating for up to 152 patrons, and a private dining room.  A top floor executive club lounge and bar, business centre and executive gym will be available.
ibis Brisbane Airport will offer 243 rooms including 99 Superior rooms. An alfresco restaurant catering to 160 diners is being constructed, in addition to a ground floor indoor/outdoor bar and cafe, and a roof top bar and lounge catering for up to 150 people.
Catering for up to 600 people at any one time and covering some 1,735m2, the Brisbane Airport Conference & Meeting Centre (the hotels' joint central conference, meeting and event space) includes a 300 seat pillar-less Ballroom, eight medium to large conference rooms and four executive boardrooms. Other facilities include an open air terrace breakout area, a business centre and cloakroom.
The project is expected to create 1000 jobs during the construction phase, and employ between 300 to 350 people ongoing at the Pullman and ibis hotels when open.