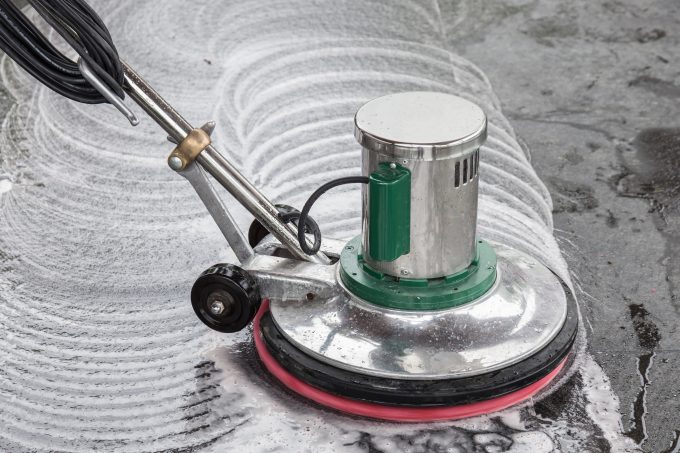 When it comes to first impressions, a well-buffed floor can really help guests take a shine to your accommodation.
After all, there is nothing that says 'quality' better than an immaculate expanse of burnished tile.
If that façade is well maintained, razor-like stilettos and gravelly work boots will struggle to scratch the surface.
 If not, you may be left sweating as much as your natural marble floor by the wear and tear caused by the hordes trampling your hallways. 
Over time, quantities of dust, stones and grit brought in on visitors' feet can be deposited in often invisible layers which slowly grind away and scratch floors.
Marble, that most beautiful of flooring options, naturally 'sweats' mineral deposits of magnesium carbonate and calcium – making it appear dull or matt without regular maintenance.
Thankfully, there are numerous types of floor cleaning machines designed for scrubbing, buffing, burnishing and scarifying a wide range of floors.
Ranging from a few hundred to several thousand dollars, they take the pain out of caring for hard flooring of all types.
When it comes to maintenance, there are a few hard and fast rules:
1)      Mopping: Floors should be mopped daily with a damp mop or with a chemically treated dust mop. New mop heads should be soaked in water for at least one hour, and mop heads should be rotated so that they can be cleaned and dried after each use.
2)      Scrubbing: Requires a stiff scrubbing brush or pad fitted to a rotary floor cleaning machine. The bristle tips of a brush or the surface of a pad scrape and cut the dirt to remove it with a circular motion.
3)      Burnishing and/or buffing: These two processes are similar but create different finishes. They can stand alone or be used in tandem for maximum effect. For burnishing, the tips of a brush or the surface of a pad attached to a fast-spinning rotary head abrade and cut the floor surface to create a smooth surface with a glossy wet-look finish. For polished surfaces, it will remove a surface layer of polish.
Buffing involves spraying the floor with a polishing solution first, then buffing the floor with a rotary floor machine.
It also applies the bristle tips of a brush or the surface of a pad, but spins less quickly and creates a less glossy finish on the floor surface. In case of a surface on which a polish has been applied, it will involve generation of a local heat to harden waxes and resins.
For floors with stubborn build-ups, scarifying removes thick layers of soil by breaking up the surface in a chiselling action using a wire brush cutting tool.
When buying a scrubbing machine, its important to find the model which is going to work best for your business.
Here are a few points to remember:
Function
There are three main types of floor scrubber machine – ride on, walk behind and rotary/orbital.
Each has its strengths – a ride-on scrubber allows speedy cleaning of large areas while a walk-behind scrubber is great for reaching tight spaces. Both are efficient and effective cleaners with an automated system for dispensing solution and then vacuuming it up.
In one pass over your floor, you can dispense cleaning or stripping solution, scrub it into the floor, and vacuum it all up with a squeegee attachment at the back of the machine.
While some have rotary brush heads, they don't include a polishing function.
Rotary and orbital scrubbers are variations on a theme – rotary have round spinning pads and orbital have round or rectangular pads which spin and also move in different directions. Both are compact and have the advantage of being combined scrubbers and polishers, but they take longer to cover an area than the larger machines and have no capacity to vacuum up excess cleaning liquids dispensed.
Staffing
Scrubbing and buffing machines are available as separate entities, but if you have one person at a time cleaning a not-too-gargantuan area, a rotary or orbital scrubbing machine that combines both may be your best option.
Surface
All scrubbing machines work best on hard floors, but some slower-spinning rotary machines can be used to clean carpeted areas. Whatever the surface, you will need the right attachments for its treatment, such as soft gum rubber squeegees or brushes.
Practicality
 For ease of use, a model which includes a large storage tank with the capacity to carry enough cleaning solution that it doesn't need frequent refilling is helpful.