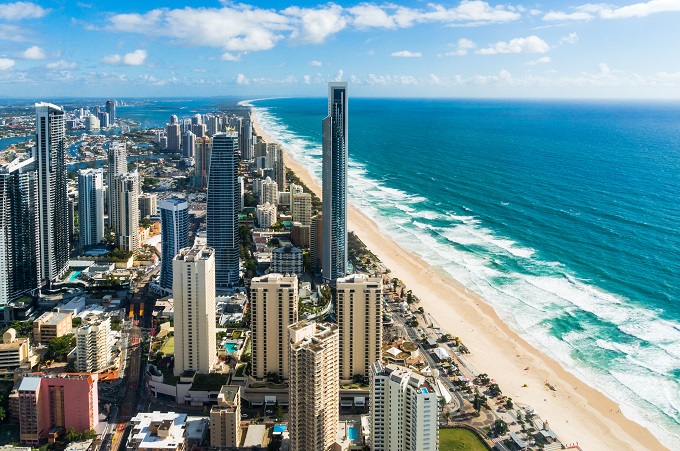 David Ruxton: pioneer and provocateur 
Necessity, they say, is the mother of all invention and it appears that management rights – the revolutionary accommodation concept that started on the Gold Coast more than fifty years ago – developed simply to address a need amidst trying circumstances.
Today however, the business of management rights generates hundreds of millions of dollars in revenue annually, making it a major economic contributor to Australia's dynamic tourism sector.
To explore the evolution of the management rights model – its origins, development and more importantly, to acknowledge the key stakeholders of the pioneering industry, Accomnews spoke with a number of influencers about their experiences including David Ruxton, intrepid entrepreneur, stalwart and passionate industry advocate – even after fifty years.
This feature reveals the practical nature of the work undertaken and speaks to the commitment of the Gold Coast pioneers who helped structure an orderly industry amidst a diverse and complex environment.
Qualified as a builder, David's illustrious career began in 1962 when following advice to buy property no further than two streets either side of Cavill Avenue in Surfers Paradise, he purchased 16 perch blocks on the Esplanade for 5250.00 Pounds. Envisioning the beginning of a property empire, he then built Whitton Court – a three-story block of ten units on the land and gave the property to real estate agents to rent out.
David had tenants, but only the occasional one every second or third week and he quickly realised that his vision could be some way off and that his bank debt was climbing.
Having no other option, David moved to the Gold Coast from Brisbane to live onsite, and to determine a way of getting holiday makers into his property.
In the late 60s, when the population of the Gold Coast was approximately 36,000, there was no strata title or even company title. All properties were individually owned and most were motel-type accommodation.
David's units had been built to serve as stand-alone units with built-in kitchens and his accommodation was sold to the general public at a 'per week' price plus hired linen and a television if required. The drive market would often bring their own sheets and some would even bring their little black and white TVs in the boot of the car but understanding intrinsically that he needed to consistently offer more, David recalls having a gold phone installed in the ground floor carpark so tenants could have the use of a phone.
In 1960, the first high-rise unit building was completed, setting a trend in apartment development that has continued unabated to this day, providing the city with a vast supply of holiday accommodation, and according to John Punch, legal specialist in management rights and partner in SP&G Lawyers, there are now some 35,000 lots under management rights across the city and approximately 150,000 nationally.
One of the earliest of these buildings was The Sands, developed by Alex Armstrong between The Esplanade and Orchid Avenue in Surfers Paradise. In 1965, Armstrong proposed to Tony Holmshaw of Courtesy Inns, that he buy what he termed the "management rights" to The Sands and operate it like a motel.
The prospect of dealing with 100 separate far-flung unit owners would have seemed daunting to say the least in the pre-internet days, but according to Gold Coast historian Alex McRobbie, a deal was struck and what came out of that transaction changed history.
It took Tony a full 12 months to contact all the owners and sign them up to a letting agreement, McRobbie wrote in his book 20th Century Gold Coast People. It wasn't the kind of job that could be done by phone so Tony flew all over Australia and to New Guinea selling owners on the idea. By the time the building opened on December 5, 1966 only one owner had not joined the scheme.
At that time, with the reputation of being an 'accommodation specialist' David Ruxton was asked by the manager of The Sands if he would caretake the 99-unit property while he was away for three months. David remembers the undertaking as providing good experience and paying well, and when the manager returned only to resign, David was asked by Tony if he would continue on as manager as well as take on the 'marketing' of Paradise Island Resort (the old one) and the Courtesy Inn in Suva, Fiji.
And market he did. For almost a year, David invited travel agents to Surfers Paradise to stay free of charge for the weekend in return for referrals and bookings.
The properties excelled and within ten months The Sands was sold to Kerry Packer of Consolidated Press and David went with the transaction.
"Working for Kerry Packer for two years was an experience," remembers David. "More important however, was how Tony transfigured the industry."
Registered as a strata title – whereby owners held shares in the building – with a body corporate, Tony deftly negotiated a management contract of 99 years for the two units that bordered the walkway between the entry and the lifts and redesigned them as a reception on one side and a restaurant on the other. This was a brand-new concept.
In later buildings, the office/reception was always included as part of the title of the manager's lot. Developers saw a double benefit in setting them up securely legally as absentee buyers could be encouraged to buy 'off the plan' knowing that there would be onsite management, and an added item to sell to a manager.
Consolidated Press owned over 40 units in The Sands and had over 50 percent of the units of entitlement: and management rights took another step forward.
It was the true genesis of management rights in Australia, John Punch said.
Unfortunately, after a relatively short period of time it became apparent that the stakeholders in The Sands had conflicting visions for the property, with Packer wanting to demolish it and replace it with a five-star building over which he could retain the rights. The debate was lengthy and when construction never eventuated, Consolidated Press sold their interests in the property.
Shortly thereafter, the Graham family, who owned the El Dorado Motel at the southern gateway to Surfers, introduced a slightly different style of accommodation management through their Quality Inns Group. The system was based on unit owners leasing their property back to the operating company for an agreed period and being paid a dividend – this style of management didn't endure.
Out of the necessity imposed by having so many absentee unit buyers, management rights developed rapidly and very successfully, to serve the needs of both short and long-term residents, as well as unit owners.
During this time, the block of land next to Whitton Court became available and David purchased it for 40 thousand Dollars – the highest price for beach front property at that time – and built another eight units. The new property was called Beach Way, which has subsequently been replaced by The Moroccan Resort.
In 1968, David joined the local Accommodation Owners Association (AOA) in the hope of finding a way to entice visitors to his property, and when the secretary sold his motel after 12 months he was asked to take on the position. The following year, when the chairman of the association sold his motel, David was then asked to fill that role so from 1970 to 1989 David led the association as vice-president and president.
David pays tribute to a number of key players from that time, noticeably the Kelly family who had Tenerife Apartments, Lyall and Gwen Guthridge from Burleigh Beach Towers, Barry Turner, and Rob Burbidge – who went on to become the Premier of Queensland, as well as significant influencers Sir Joh Bjelke-Peterson and Sir Bruce Small.
Sir Bruce had moved to the Gold coast in 1958 and used his fortune to buy and reclaim more than 200 hectares of land behind Surfers Paradise. He was heavily involved with organisations helping the blind, guiding at-risk youth and housing the elderly, but in 1967, with the slogan "Think Big, Vote Small", he was elected mayor of the Gold Coast, holding office till 1973. Sir Small was an immensely popular mayor and was knighted in 1974. He was then re-elected from 1976 to 1978. He was also elected a life member of the AOA due to his tireless support of the association and contribution to the industry.
Like many politicians during this period, a time prior to the existence of conflict of interest laws, he saw no conflict between his duties as mayor and his opportunities as a property developer.
Sir Bruce was an avid promoter of the Gold Coast both nationally and internationally, and after a season of cyclonic storms that battered the Gold Coast in 1967, Small was instrumental in promoting the Gold Coast as a family holiday destination through widespread appearances and promotions of the Surfers Paradise Meter Maids. 
With his trained poodle Mimi and a group of meter maids in tow – he toured Australia, New Zealand, the Philippines, Hong Kong, Japan and Singapore spruiking his city.
David remembers Sir Bruce as being a real professional when it came to promotion. "I remember calling him at one stage and asking for an audience, he agreed right away. I went up to the council office and after listening to the problems being experienced by AOA members and accommodation operators at large, he told me the towns he was visiting and when.
David followed the promotional tour one week later and by the time he returned the first guests were already on site. Within a week he had received enough bookings to pay for the trip.
The cost of going away on promotions however, was more than an operator with two or three units could afford, and with the Gold Coast going through a particularly hard economic period, many operators were trying to sell their stock due to bank pressures.
Unfortunately, the standard practice of smaller operators back then was to sit and wait for somebody to drive in and ask for accommodation, but it was still only a small town and a number of motel and holiday apartment businesses were in jeopardy.
As president of the AOA David tried a number of initiatives to generate more interest for these properties including working with various real estate agents, but due to competition and a general lack of trust, the initiative did not get off the ground.
In desperation, he went to Melbourne and called on the earliest version of the Queensland government tourist outlet to discuss the concept of an annual booklet featuring the various properties in the association. Produced and funded by the AOA, David proposed that the accommodation books could be distributed to all Queensland government tourist outlets in each State where they were to be handed out to prospective tourists who would then ring or write to the property of choice to make a booking. The initiative was accepted and suddenly Queensland was a destination of interest.
While in Melbourne, David also went to the head office of Trans Australia Airlines (TAA) and Ansett Airlines to suggest the development of an innovative 'flight/accommodation package deal' and incredulously, they both responded stating that "people who fly are superior to people who drive and that they would never be interested in self-contained accommodation". He was shown the door.
Undaunted, David returned to the coast and set about creating a syndicate of motel members prepared to provide a serviced offering, and he maintained contact with the airlines until they capitulated and agreed to see him again.
While interested in the proposal, the airlines insisted on a more formalised approach with regard to the presentation of the accommodation.
Participating properties had to agree to provide linen and made-up beds (rather than hiring it to guests) as well as the supply of all cooking utensils and appliances including a television.
They also demanded a ten percent commission on all bookings. David agreed immediately and returned to the coast to try and 'sell' the concept to the members.
Not having enough rooms to fulfil the agreement, David met with all AOA members and ended up with ten member-properties that cautiously agreed to pay the booking commission and to supply all requirements. Three different category rates were developed and ultimately a seven-day package at $21, $28 and $35 per week with inclusions was established. It was risky, particularly paying the ten percent commission, but the group optimistically reasoned that if they could run at a 100 percent occupancy the package would be worthwhile.
After three months however, TAA pulled the air package from the market.
Realising that there had to be a lack of understanding about the concept, particularly for those agents promoting the offering, David returned to Melbourne to plead his case. After lengthy discussion, he was offered a tenuous lifeline and requested to personally visit the travel agents to explain self-contained accommodation. If he could get the results required within three to four months the airline would retain the package.
This he did, and the TAA air package took off.
Within a short space of time, David received a call from Ansett to say they would now accept the AOA package with immediate effect, and ironically David then had to delay their commencement for two months due to a 12-month exclusivity arrangement made with TAA. Once Ansett was on board however, the bookings soared and when East West Airlines arrived, they too joined the campaign.
As the acceptance of the air package grew so did the number of buildings being used. Having started with ten small buildings offering up to eight units per building, the member syndicate eventually had 97 buildings in the scheme and as the years passed the size of the complexes changed to include every high-rise on the coast including The Sands, Chateau and Iluka, and the small blocks drifted away.
In what was to become the first form of facility rating, the AOA would also convene annually to review the pricing structure and allocate buildings into a suitable price group. They also controlled the approval of all properties wanting to participate in the air packages, giving them significant influence over the burgeoning industry.
Apart from the visitors being flown into the Gold Coast through the air packages, managers were also looking for ways to increase their off-the-street sales to the motorist trade, and the AOA was once again called on to assist.
Several meetings were held and during one discussion with Frank Kelly, an AOA committee member, Frank suggested the consideration of a 'member help member' scheme whereby if a member's property was full or they couldn't provide the services required, then they would be referred to another member bearing the AOA badge. Simple in concept but harder to implement logistically until it was suggested that perhaps a member with a smaller property, and therefore with more time on his hands, be available to be contactable and to collect the prospective guest and drive them to another AOA property and keep going until that prospect became a guest in an AOA property. Frank immediately volunteered to give it a try.
It was slow at first, but once members realised they could decline a booking but still hold that reservation for another member as well as provide a value-added chauffeur service, the process began to work. Over two years the service became the norm and motorists got to recognise the AOA signage on all the buildings and knew to just pull up with the assurance that they would be accommodated in a property of choice, and that they would be driven there.
The service became so popular that guests started to ring Frank or his wife personally to book their accommodation so an extra phone was installed at Tenerife flats for Frank and his wife to take the calls and they ended up with three extra staff to manage the enquiries. Frank Kelly continued to offer the voluntary service for two years before receiving an authorised income of ten percent commission.
In january 2019 news will look at David's first management rights, and how the fledgling industry underwent a period of hardship, litigation and legislative development during the 1980s and 1990s to emerge even stronger and primed for further expansion.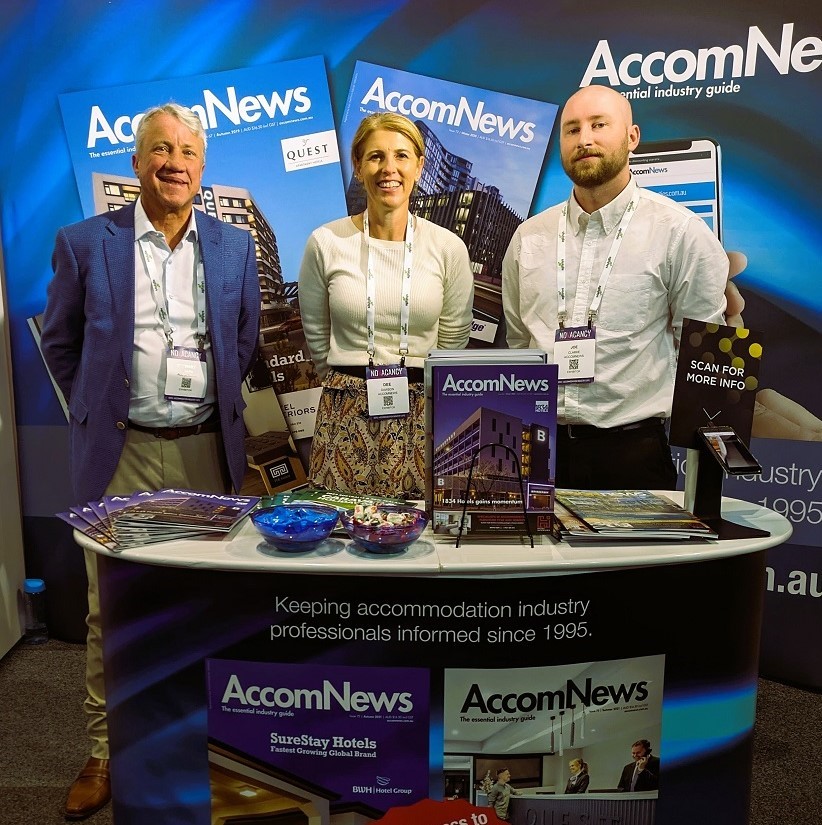 AccomNews is not affiliated with any government agency, body or political party. We are an independently owned, family-operated magazine.