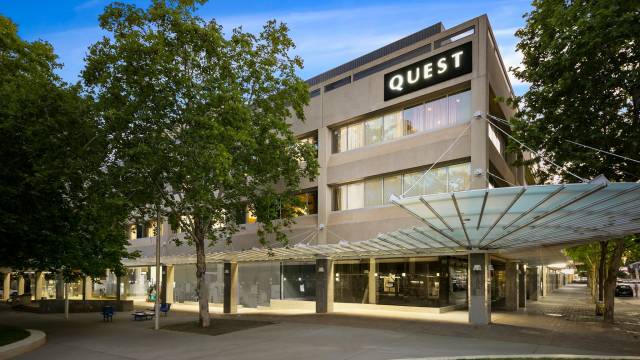 Franchise property group Quest has opened its new Canberra City Walk property, hot on the heels of property launches this February in Melbourne and Perth.
The Canberra complex includes 84 one, two and three-bedroom serviced apartments, plus conference facilities, car parking, unlimited wifi and a business centre.
Located at 240 City Walk, it is in the heart of the capital's CBD close to Glebe Park and the National Convention Centre.
ACT chief minister Andrew Barr officially opened the property, saying: ""The opening of Quest's second property is a further signal of the confidence investors have in our city.
"The convenient central city location will do doubt have wide appeal to both the business and leisure traveller coming to Canberra."
Canberra is experiencing a tourism boom, with latest Tourism Research Australia figures showing the capital was the best performing region in Australia for hotel performance in 2018 behind the Commonwealth Games-hosting Gold Coast.
Canberra saw revenue per available room growth almost four times that of the national average, while the ACT experienced a 9.4 percent increase in international visitors and 3.1 per cent increase in Australians staying overnight.
Mr Barr presented the property's franchisee, Fahim Malik, with an official plaque for installation in the hotel foyer alongside artwork by acclaimed Canberra-based artist Kylie Fogarty.
Mr Malik, the former franchise owner of Quest Canberra, said: "It's an honour to receive the support of the ACT Government and the local community.
"We're excited to work with our corporate clients in Canberra and the tourism industry to provide a premium home-away-from-home experience for business and leisure travellers in Canberra."
Quest is looking to expand its international footprint with several new properties planned for New Zealand and the UK over the next two years.
Four more apartment hotels are also scheduled to open across Australia to 2021 at St Kilda Road and Burwood East in Victoria, Joondalup in Western Australia and Orange in New South Wales.