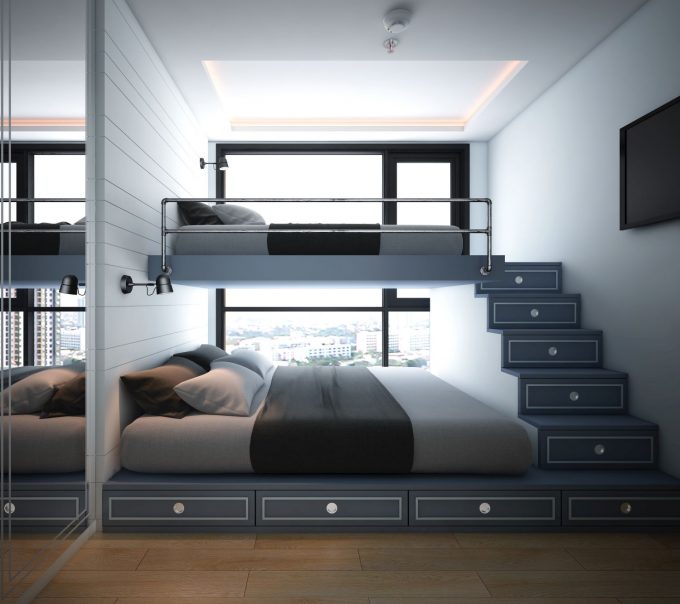 Modern travellers are shunning spacious suites in favour of smaller luxe guest rooms offering smart, space-saving solutions.
A major part of that clever design revolution is the accommodation of extra guests, which is why Accomnews is taking a look at the latest space-saving and flexible options.
Bunk, loft and zip beds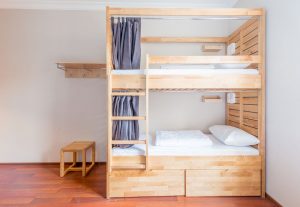 Remember bunk beds with saggy mattresses and the clearance height of a fridge shelf? They don't make 'em like that anymore.
Bunks are enjoying a resurgence in popularity and feature throughout boutique accom properties, with an appeal that has seen them adopted in some cases as luxury bedding alternatives.
Offering the versatility of splitting into two comfortable separate beds, whether in a single bunk configuration or single/double combination, modern commercial bunks fit perfectly with the latest requirements for reconfigurable spaces.
As do zip beds, normal commercial beds which can remain separated or be joined using zips (attached just beneath the mattress edge so they can't be felt by the sleeper) to form a king-sized alternative.
Loft beds, which allow sleepers to rest easy upstairs while providing a handy space below for vanities, desks or storage, are also gaining popularity and are a particular feature of micro-hotel design.
Sofabeds
Sofabeds have long allowed guest rooms to double as family accommodation.
Today's quality offerings are equipped with reinforced frames, durable commercial-grade mechanisms and six-inch spring mattresses, often with an additional latex or memory foam comfort layer.
The sofa part of the equipment is also a focus for comfort and durability, with high-quality foam used in seat cushions to ensure firmness and support over years of use and reinforced lining to ensure fabrics don't pucker in the face of inevitable guest abuse.
Roll-away, pack-down and stand-up beds
While the word 'flat-packed' may evoke images of IKEA kits and allen keys, it doesn't have to represent something painful.
Easily-stored flat-packed beds can be assembled within 15 minutes and are versatile and robust, with sturdy, weight-bearing slats to prevent sinking and a steel frame that can withstand several hundred kilograms.
Upright folding beds and stand-up beds on wheels are other temporary bedding solutions that fold to full-size bed height and can offer a surprisingly good night's sleep – as can that old favourite, the rollaway trundle bed stored below decks.
Design
Practicality aside, space-saving furniture is increasingly required to be visually appealing. Furniture that's flat-packed or custom-made can still provide creative choice, offering a range of sizes, frames, upholstery, headboards, feet and casters to coordinate with a room's aesthetic.
Sofabed dimensions and fabrics can be tailored specifically to suit a room's style, for example, offering everything from luxe modular designs to compact leather pieces.
When it comes to frames, the most popular wood options are ash – hardwearing but delicate in appearance – and oak – characterful but more easily marked. Metal options include hard-wearing steel and wrought iron.
Mattresses
Regardless of budget constraints, reputable manufacturers understand the folly of skimping on quality when it comes to mattresses for space-saving beds.
Accom providers and consumers expect guests to enjoy a comfortable night's sleep, whether they're a child sleeping in a bunk bed, a couple using a foldout or the lucky ones luxuriating in the king-sized master bed.
Bunks will be equipped with either foam or innerspring mattresses generally not more than six inches thick to ensure sleepers are protected from falling out or banging their heads. Both offer good comfort and have their strengths; innerspring are sturdy, long-lasting and provide good airflow while foam are dust-mite resistant and good for allergy sufferers.
The important consideration is ensuring the mattress comes with a lifetime warranty.
Under-bed storage
Pushing a bag under a bed can be challenging for older guests or those with heavy luggage. Simple wooden and wire under-bed luggage trays with built-in caster rollers help guests stow luggage and encourage them to utilise the space.
Under-bed drawers are another great space saver and can include locks for additional security and cable holes for electronic charging.