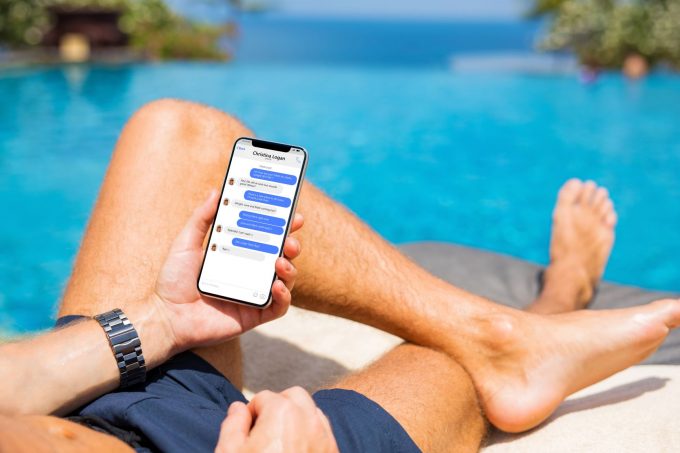 Each year, Facebook hosts thousands of developers for its annual F8 conference.
This year's gathering was especially poignant, as the company struggled through a series of blunders that saw passwords leaked and data improperly shared.
The changes announced across the ecosystem, which includes Facebook, Messenger, Instagram, and WhatsApp, will have real implications for how hotels market their properties and communicate with guests.
Facebook wants to become a "privacy-focused social platform" that focuses more on virtual living rooms than public town squares. Given in the litany of privacy scandals that engulfed Facebook over the past few years, it's no surprise that the company wants to reduce its reliance on public data. This is how Facebook CEO Mark Zuckerberg explained this "next chapter" from stage:
"In our digital lives, we need both public and private spaces. That's why I believe the future is private […] Over time I believe that a private social platform will be even more important in our lives than our digital town squares […] This isn't just about a few new features. This is a big change in how we're building these products and running our company."
The shift to privacy-focused communications will reach across each of Facebook's products. Here's what accommodation needs to know about the planned evolution to "more private communications" across the Facebook product suite, which serves 2.7 billion people each month.
Instagram: The evolution of influence
One of the most visible proposed changes is removing public likes on images. Only the account owner can see how many likes their content earned. While this is just a pilot, limited to Canada, a likes-less Instagram not only changes the psychology of the platform but it also eliminates likes as a measure of engagement. Of course, these numbers would still be available in a user's analytics; it would just become harder for brands to evaluate public influence.
If this were to rollout app-wide, hotels would need to adjust to the lack of engagement benchmarks. It will take some training to reduce the natural reliance on vanity metrics, and deploy a more nuanced, brand-focused approach rather than a "me too" copycat content strategy.
Another compelling development is the evolution of social shopping. Users can buy from creatives using shoppable tags. These tags will redefine how many businesses engage with influencers. Even if it will be harder to judge an individual influencer's engagement rate (with hidden likes), shoppable tags can be a way for businesses to finally put a conversion measure on dollars earned from specific influencer campaigns. There may also be new ways for hotels to sell non-room products, such as selling food, activities, or spa treatments from within the Instagram feed.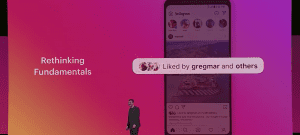 WhatsApp: New ways to message businesses
WhatsApp is an extremely popular chat platform – especially outside of North America. Commerce has been thriving via groups, where merchants can post pictures and descriptions to sell directly to group members.
The app will continue to become a powerhouse of ecommerce with one major update for businesses: the Product Catalog, which gives users a browsable list of items from merchants that participate in the WhatsApp Business app. Mark Zuckerberg points to a trend of merchants eschewing traditional touchpoints, such as websites:
"This is going to be especially important for all of the small businesses out there that don't have a web presence, and that are increasingly using private social platforms is their main way of interacting with their customers."
Hotels may find that a WhatsApp product catalog is equivalent to a room service menu, and allow guests to order items (or spa treatments, in-destination activities, event tickets, or other merchandise) via WhatsApp. With a platform-supported structure (rather than a third-party integration), these types of retailing opportunities will soon be a reality.
Facebook: A focus on groups and events
As part of an ongoing move away from clickbait and inflammatory content, the legacy Facebook experience will focus on groups and events. In a blog post covering the conference, Facebook described the shift as "Giving people spaces where they can express themselves freely and feel connected to the people and communities that matter most."
Rather than encourage public sharing, Facebook will pivot to connecting people to groups and events that share their interests. This is especially important as many users abandoned the main Facebook app's News Feed format in favour of Instagram's curated feed and WhatsApp's group messaging.
For hotels, Facebook remains a tough place to reach people organically. It continues to be a predominantly pay-to-play platform, but these updates may have one key benefit: It may be easier to accumulate a core group of loyal followers, rather than a large number of disengaged non-fans. If hotels can cultivate a community around specific interests, there may be some upside potential. Otherwise, it appears that the flagship Facebook app remains less friendly to brands.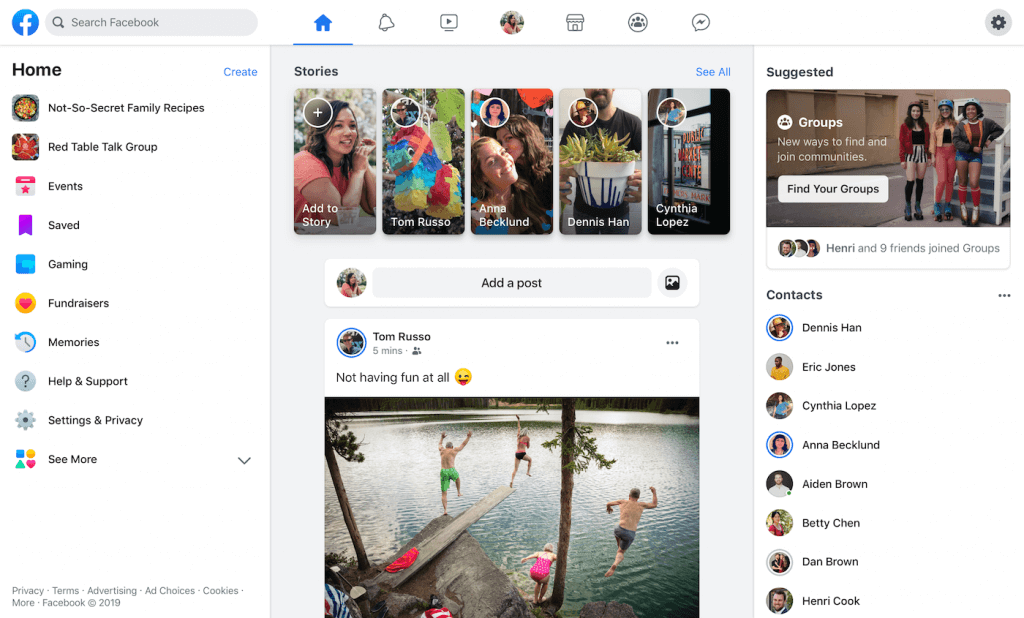 Messenger: New ways to chat with guests
In some respects, Messenger will become more of a social network than legacy Facebook. Messenger will be adding a "Friends" tab that integrates Facebook and Instagram stories into Messenger, surfacing select stories from close friends right into Messenger.
Facebook Messenger continues to be an extremely popular chat app – and it's not just among its 1.2 billion users. The standalone messaging app now has over 40 million businesses using it, with a staggering 20 billion messages between businesses. That's more than double the 8 billion messages reported by the company at last year's event.
Clearly, the power of Messenger for business continues to grow. The company announced that Messenger is being reinforced with end-to-end encryption, enabling more secure transactions between businesses and users. This will make it easier for businesses to sell directly to users, as it will be a secure communications channel for payments and sensitive personal information.
Two other announcements will help businesses better leverage Messenger: a desktop app, which will make it much easier for businesses to manage communications in an office setting, and messaging interoperability across the Facebook ecosystem, which means that Messenger users will be able to communicate with WhatsApp and Instagram users directly within the Messenger app.
While it's not clear how this will work yet for businesses, this may have positive implications for accommodation providers. Rather than monitoring multiple channels manually, or paying for a vendor that pulls these disparate communications channels together, hotels could be able to respond quickly to any guest message, without missing a beat.
Other relevant Messenger updates:
Lead generation campaigns. Businesses will soon be able to qualify leads via an automated question-and-answer flow via a new lead generation template that integrates with CRM. Hotels could market groups and weddings, and then qualify leads right in Messenger to help sales close more deals.
Easy authentication. Facebook will use 'm.me' as a shortened URL service to direct consumers to specific pages for a personalized experience. For example, a hotel could use a personalized m.me URL for each reservation, and allow guests to manage reservations via chat in Messenger (rather than call in or email).
Appointment booking. Users will be able to book appointments with a business via messenger, Via a calendar interface that updates in real-time. This could be especially useful for on-site services, such as the spa. The calendar could also be used to book accommodations — without the hotel needing its own chatbot.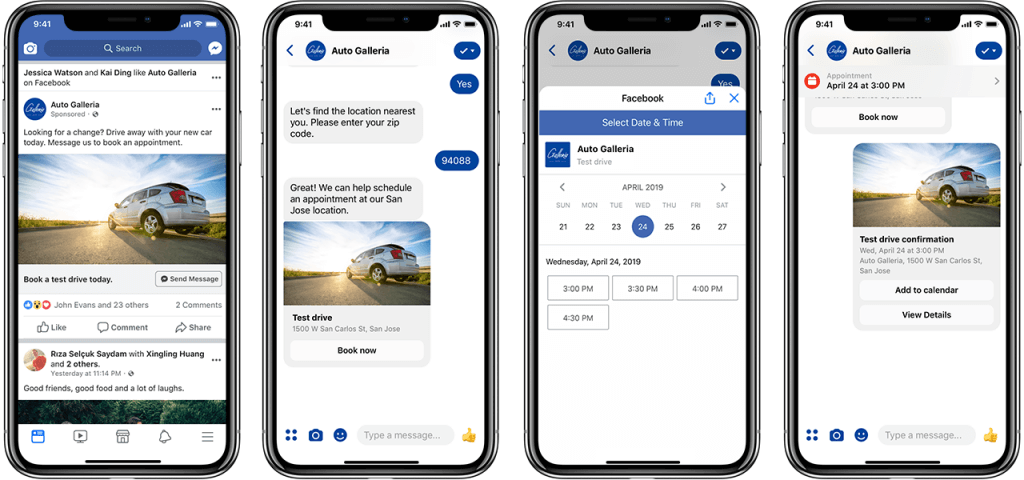 Oculus: Bringing VR training to business
Facebook also announced new versions of its Oculus VR headsets, saying in a blog:
"Oculus for Business will simplify enterprise VR through a holistic approach designed especially for large-scale deployments. This includes a dedicated software suite offering device setup and management tools, enterprise-grade service and support, and a new user experience customized for business use cases."
One of the first major use cases is Wal-Mart, which has deployed over 17,000 headsets to help with training staff in various locations across the United States. For hotels struggling with turnover, and keeping new staff trained to brand standards, the future may very well lie in VR headsets. As the cost of a single headset drops rapidly, the economics are becoming favourable for widespread adoption in business.