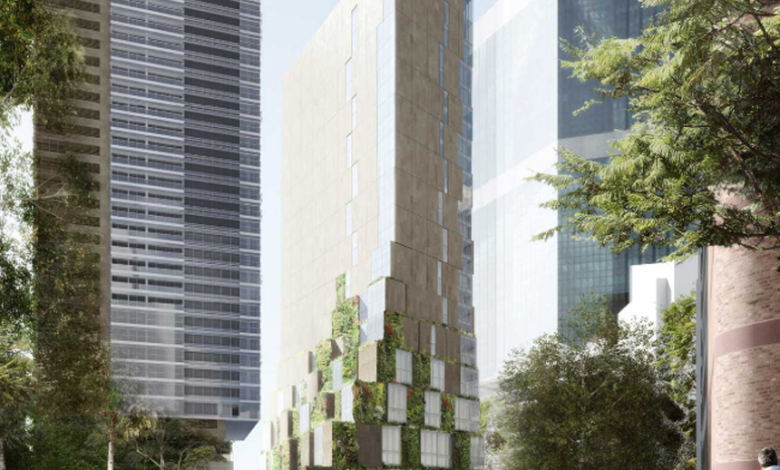 The future of a key hotel and apartment project in one of Sydney's dress circle locations has been thrown into doubt after the assets of its controversial owner were frozen in court.
One Circular Quay, a two-tower, 19-level development of luxury apartments and a hotel planned for Sydney's inner city harbourside, is among a portfolio of premium properties linked to the Yuhu Group founded by Huang Xiangmo.
The Chinese businessman, whose residency visa was cancelled earlier this year on character grounds, was targeted by the Australian Tax Office in Federal Court proceedings last week.
The ATO froze the Yuhu Group chair's assets after issuing Huang with a $140 million tax bill, accusing the billionaire of purposely establishing complicated business structures to thwart efforts to recover money from him.
Huang, a big financial contributor to both the Australian Liberal and Labor parties, was last month named in New South Wales anti-corruption hearings as the source of an undisclosed $100,000 cash donation to Labor.
He passed chairmanship of the Yuhu Group to his son, Jimmy, at the end of last year.
No builder has been appointed to work on One Circular Quay, with The Guardian reporting the project is "encumbered by a mortgage to a mysterious company in the tax haven the British Virgin Islands that has previously told Australian authorities it has no assets".
The project is among more than $1 billion in assets linked to Huang and his family through Yuhu, including the Gold Coast's spectacular three-tower Jewel project due for completion in 2020 and encompassing a major new Langham hotel.
In December, the Huang family transferred ownership of Jewel and the land at One Circular Quay to developer Bo Zhang in a transaction that reportedly did not involve any cash changing hands, but retained the right to develop the land.
Demolition work has started at One Circular Quay but is in its early stages.
The Guardian reports the development's selling agent, Justin Brown of CBRE, said some buyers have put down deposits on apartments but all the money was held in a trust account run by the real estate agency. He declined to say how many buyers there were or how much money CBRE was holding.
"Reservation deposits have been put down over a period of time but there has been no settlement of contracts," he said.
Brown told the newspaper Yuhu could restart selling apartments now but was instead rejigging the project and "taking their time to get the right product".
He declined to reveal the expected price tag for apartments but said: "This is Australia's premium location so it will come with Australia's premium pricing."