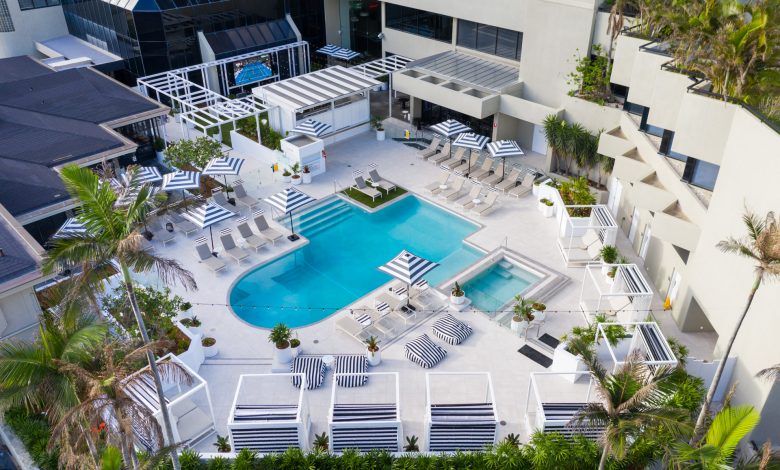 Following a hotel-wide refurbishment, QT Gold Coast has unveiled its restyled Palm Springs-inspired poolside precinct, complete with private cabanas and nostalgia-driven cocktails.
The precinct, named The Spring and adjoining QT's The Green lawn and terrace, has been styled by designer Nic Graham.
"Tropicana textiles contrast with a minimalist white and ivory palette and QT Gold Coast's signature crisp black and white stripes, all set amongst an oasis of lush greenery," says the hotel's press release.
"Nine custom designed cabanas frame the pool, adding an elevated air of luxury."
The cabanas are available for guests to reserve and come with an option of bottle service and mobile day spa treatments.
The Green lawn and terrace is open to the public, offering a nostalgia-laden menu and cocktail list including Midori Splice popsicles and bug and crab rolls – alongside Japanese dishes from QT's in-house restaurant Yamagen.
Star performer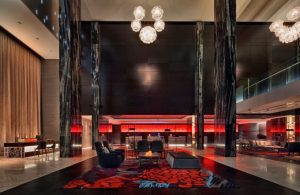 The Darling at The Star Sydney, the only luxury hotel in NSW awarded a prestigious Forbes five-star rating this year, is to spend $25 million on upgrades to ensure it retains its position at the top of the city's accommodation scene.
Damian Quayle, chief operating officer, said: "This investment reflects our ongoing commitment to increasing The Star's appeal as an international tourism and entertainment destination.
"We're dedicated to developing the best luxury accommodation as well as world-class bar, dining and entertainment offerings available that will lead to more tourists, more jobs and a stronger local economy."
The Star's investment plans include "significant enhancements and refurbishments" to the 171-suite luxury hotel, with work to commence later this year.
The refurbishments will encompass in room technology, sensory lighting and a "re-imagining of the mini-bar experience".
The Forbes Travel Guide is the only independent global rating system in the luxury travel sector. Its recognition for the fourth consecutive year of The Darling's five-star position puts the hotel alongside international luminaries such as Claridge's and The Savoy in London, the Ritz-Carlton in New York, the Mandarin Oriental in Hong Kong, and the Ritz in Paris.
Aiden launch
BWH Hotel Group will debut its Aiden brand in a refurbished 1930s art-deco property at Sydney's Darling Harbour later this year.
The eight-storey, 88-room Aiden by Best Western @ Darling Harbour, situated near the Harbourside Shopping Centre, will encompass a café, bar and shop and offer Parisian hospitality alongside state-of-the-art connectivity, according to developer iHHL.
BWH Hotel Group managing director for Australasia, Graham Perry, said: "Where better to open our first Aiden to Australasia than in the centre of Sydney's iconic leisure precinct, Darling Harbour.
"We're delighted to be partnering with iHHL, who are undertaking the conversion of this iconic Sydney building which will become a superb lifestyle hotel offering high quality affordable accommodation for modern travellers."