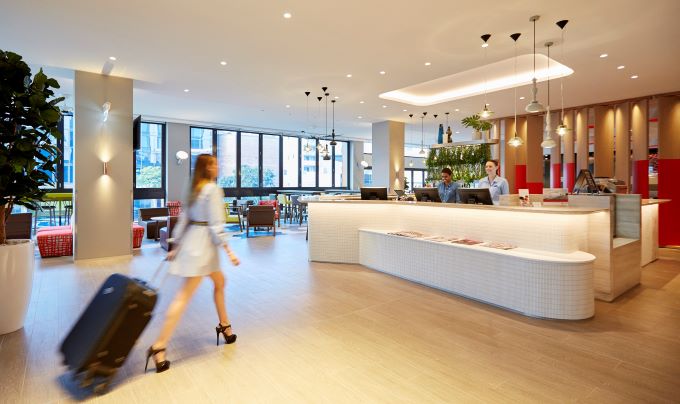 There are some incredible antipodean trailblazers when it comes to eco-friendly accom; resorts like Glenorchy Camp in New Zealand and Thala Beach Lodge in Australia.
But it's the serious strides by big hotel chains towards waste reduction and energy efficiency which have really moved the needle on sustainability over the last year.
While giants Marriott, IHG and Hyatt have grabbed the headlines on plastics pledges, several others are making notable efforts to lighten their carbon footprint.
Hilton Brisbane, for example, goes beyond just soap and cans to recycle food waste through OzHarvest, coffee cups through Closed Loop, bathroom amenities through OrangeSky, corporate wear via Suited for Success, toothbrushes through Terracycle, beds and mattresses through the Inala Youth Service and lightbulbs through Pr-Lamps. 
There is, though, one relative newcomer emerging as an Australasian leader in the charge towards green hotels.
Sydney-based investment firm Pro-invest has established a $500 million fund, backed by supporters including the Clean Energy Finance Corporation, to build ultra-energy-efficient hotels throughout Australia and New Zealand under IHG's Holiday Inn Express and Even brands.
The 15 CBD-built properties will deliver low emissions and "dramatically reduced" energy costs according to Pro-invest, the only local hotel developer requiring that its properties achieve five-star ratings under the NABERS sustainability scheme.
It's an ambitious plan, but one Michael Foster, general manager of Holiday Inn Express Brisbane, believes is just the beginning.
He said: "I think the environmental sustainability piece has come back onto the radar with a vengeance over the past 12 months. It's huge. 
"Even yesterday, I was at a meeting talking about the convention side of things, and carbon emissions are now a key topic. People are considering: 'How are you going to make my meeting carbon neutral? How are you going to make me feel better about flying from the UK to Australia to attend a conference?'. So it's definitely a big play.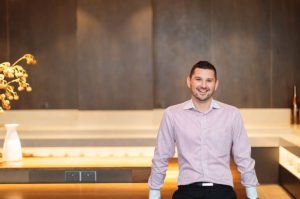 "People want to partner with businesses that are in line with their own values and core themes. Most people understand that we can't go all out, there's eco-lodges that do that sort of thing, but everything we can, we do – or are in the process of doing."
The Holiday Inn, once a byword for tired roadside accom, has reinvented itself as a smart mid-brand leader with strong appeal to the business market.
The Brisbane hotel comprises 226 comfortable, tech-friendly rooms along with vibrant enticing public spaces which say 'come in and eat/drink/stay awhile' in a millennial embrace of co-mingling.
Like many of its rivals, the 2017-opened hotel has moved to eliminate plastics where possible and brought in cardboard takeaway containers and wooden cutlery for room-ordered eats and breakfast buffet takeaways.
"IHG came out about three months ago with an ambition by 2021 to move to full bulk amenity portfolio and that's something we're already at the forefront of and moving towards, so that hopefully will be done by the end of next year, said Michael.
"Our products are not tested on animals and we use 100 percent bio-degradable plastics where plastic's involved.
"The 'greener stay initiative' is something the Holiday Express portfolio has really bought to life in this part of the world, so guests who are staying for two or more nights can opt out of a housekeeping service on a daily basis.
"They get a light refresh every three days but what it stops is unnecessary washing of towels, sheets, cleaning of a shower that may have been used once if that at that point in time."
All worthy rather than ground-breaking. But it's the structural elements that make this building impressive and help create a carbon footprint lighter than those of many of its rivals.
In-room temperature is dictated by a heating/cooling split system which is individually controlled but also uses an energy management system directed through sensors when guest-free.
"If you're in there with your partner and you leave the room, the sensor in the centre of the room will actually scan for further movement within the room," said Michael.
"If there is further movement, the air conditioning continues to operate as usual, if not and you're travelling solo and you leave the room, within 30 minutes the air conditioning system shuts off to reduce energy consumption.
"It is a balance between environmental sustainability and individual satisfaction – some people like to sleep in arctic conditions and others don't we set out air conditioning temperatures between 18 and 24.
"We don't use a chiller base, our air conditioning is a heat recovery unit system, it basically sucks in the outside air and recycles that back through and reconditions the air before it sends it down into the air conditioning units so its not using as much electricity and power to actually cool air because its pretty cool as it comes through."
The GM described the Spring Hill property as "really quite smartly designed".
"In terms of the windows (running along one entire side of the public area) for example, when they they open up, the air conditioning on this side of the building automatically shuts off and the fans automatically kick in to generate a bit of air flow and give ambience."
The hotel is in the process of applying for NABERS rating accreditation, which is based on measured operational performance data for energy, water or waste. It's sister property, the new Holiday Inn Express Melbourne Southbank, already has a class-leading rating of five out of a possible six.
Michael says the sustainability push is something supported and appreciated by staff, particularly when it comes to giving back.
"Staff are hugely aware of the fact they work in a company which is environmentally progressive and enjoy working for a company that takes seriously those initiatives," he said.
"I think it's vital. We've got a very strong Filipino contingent in our housekeeping team and we've done a lot of work with (the charity) Soap Aid to make sure the soap that is recycled from the hotel goes back over to the Philippines to their own communities.
"That then engages the team, its helping their own communities and it makes a big difference – we're sending dozens of kilos of soap back overseas every month.
"In Queensland the Containers for Change scheme started on November 1 last year so that's basically a 10c bottle refund.
"We partnered from day one with Scouts Australia, so scouts come and collect our bottles and cartons, they take them away and we share the refund with them – and that's also encouraging the guests by showing them the recycling is going to the right spot."
While he is not complacent or unrealistic about where the hotel sits in the grand scheme of things, Michael is optimistic about where the brand will end up on sustainability. 
"We are doing great stuff and we're doing a lot better than a lot of other hotels out there, but we've got a long way to go compared to some hotels," he said.
"I think we've got this distinct opportunity with new build hotels throughout this country and New Zealand to make them special in the environmentally sustainable space."