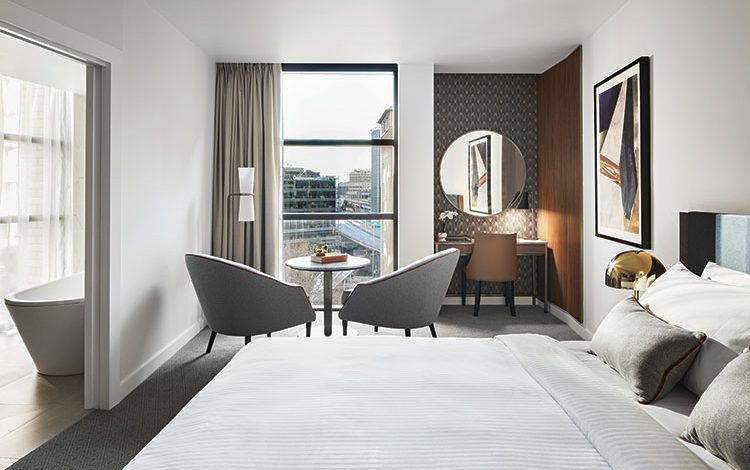 News In Brief
Tourism
Connecting tech, community, and futuristic design
A buoyant industry recently celebrated the long-awaited return of the Crowne Plaza brand to Sydney's CBD.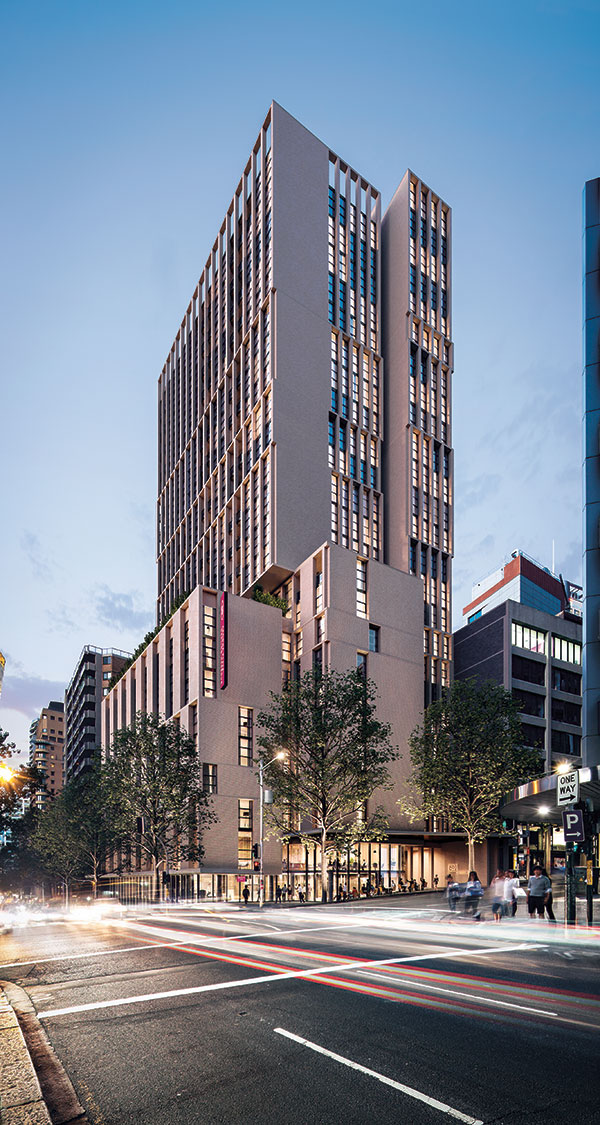 This occasion was not just another introduction of an accommodation offering to the market, when NSW Premier Gladys Berejiklian officially opened the Crowne Plaza Sydney Darling Harbour, it became a show of unity for an industry struggling through some of the worst challenges in recent history.
Indeed, the hotel's ribbon cutting ceremony signified confidence and support for the future of the whole Australian accommodation industry and was attended by some of the state's biggest names.
To develop and open a brand-new hotel amid a global pandemic is a huge achievement and the celebration was a fine recognition of not only the hotel staff but the sector's determination to overcome adversity. Talking about the event, Leanne Harwood managing director of IHG Australasia & Japan said the show of support from industry leaders was unifying and an indication of everyone's willingness to get the industry moving again.
Globally, IHG and Crowne Plaza want to create futuristic hotels with flexible designs. 2020 promises to be the year of Crowne Plaza. The brand is refurbishing existing properties and opening new hotels in Hobart, Adelaide, and Sydney Darling Harbour.
The elegant Sydney offering stands 13 storeys tall with commanding views across the CBD. The hotel offers an "inviting sanctuary away from home", as General Manager, Eugéne Human told us.
"The inspiration for the hotel design was connecting with a conscience and finding those moments with guests that truly make them feel welcomed and part of something special is just one of the things that sets us apart".
At this point in time, Crowne Plaza Sydney Darling Harbour is possibly one of the most connected accommodation providers in the city, offering USB and wireless charging ports throughout, plus digital ordering capabilities in its restaurants and bars. The hotel's most outstanding design feature is an ability to connect.
Proudly, Eugéne took over the reins after more than three years as General Manager at Holiday Inn Sydney Airport. Prior, he managed Holiday Inn Potts Point and ibis Styles Geraldton.
Now, he said: "We have 152 guestrooms that showcase the very best in contemporary design and there is a luxury of space that not only flows throughout the suites but across all levels of the hotel which in the current climate is a welcomed feature.
"Whether it's informal, last-minute work meetings in our Studio Workspace, to Chromecast and Bluetooth technology in our guestrooms, to our Dare-to-connect service culture which sees our staff adapting to whatever the guest needs may be. The design of our hotel has been inspired by a desire to meet the needs of the modern traveller who is more digital and mobile than ever before."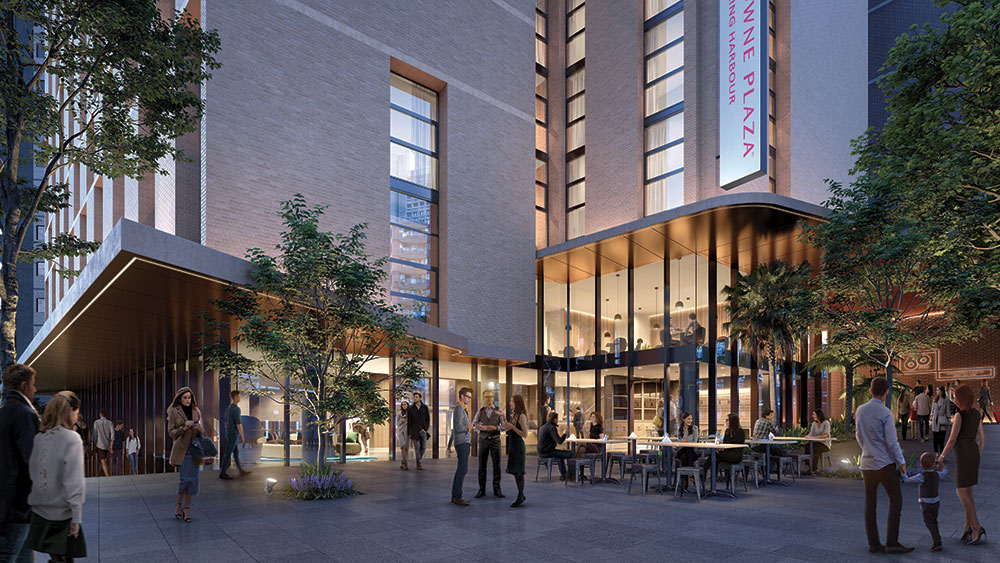 Floor-to-ceiling windows are another stunning feature of the guest rooms, cleverly divided into four distinct zones with a desk space for work, sofa space to unwind, king size beds, and well-lit bathrooms. IHG's Sleep Advantage program, treats guests to plush bedding, pillow menus, aromatherapy spray, sustainably sourced amenities, and a bedtime ritual guide so the guestrooms are there to restore, inspire, and rejuvenate.
Other hotel facilities that complete the luxurious and relaxing experience include a rooftop heated infinity pool, a 24-hour fitness centre with state-of-the-art equipment and three food and beverage venues.
Sustainability was an important priority when developing this hotel. Eugéne said: "In order to consciously connect with our guests and community, it was imperative that sustainability would be a focus and has been considered every step of the way.
"Initiatives we have integrated into the design and operation of the hotel include paperless check-in and check-out, paperless back-of-house administration processes, bamboo key cards, bespoke eco-minded and bulk-sized bathroom amenities by certified organic brand Antipodes and digital in-room compendiums and news subscriptions – to name a few!
"Our IHG Greener Stay program where guests are incentivised to opt out of housekeeping in return for IHG Reward Club points is another great initiative and one that is proving very popular with guests."
Opening a brand-new world class hotel amid a global pandemic presented many unexpected challenges and Eugène describes the impact of COVID-19 on the whole tourism and hospitality industry as "devastating". However, he suggests that now is the prime time to adapt and think to the future.
He admits: "We have not evaded change ourselves, we had to shift our open-date by six months and re-design our business model to adapt to an ever-changing 'new norm'. At times, it has been a tough and difficult process.
"I recognise how difficult this period has been for our entire industry and many others. We are still in the middle of the pandemic and it is difficult to forecast the true impact. I feel for all our colleagues and communities affected."
Everything about opening a new hotel in the middle of a pandemic is impressive but there has been so much to be proud of; Eugéne glowed when I asked about his staff: "Our team! Without the right support, be it from the hotel team, the owner's or our corporate team, the hotel would be just another building in the city. To be able to bring a vision to life you need to rely on everyone's experience, input and support to ensure the hotel succeeds."
The reaction of guests and visitors to the Crowne Plaza Sydney Darling Harbour has been very positive.
The GM confirmed: "Corporate clients are impressed with the built-in technology integrated into our event spaces, and guests are excited to relax by the rooftop infinity pool all while being just moments from some of Sydney's best attractions.
"We are excited to share a new era in premium upscale design and truly connect our guests to our iconic city. Another exciting part of the journey for us was filling the rooftop infinity pool, this felt like a second topping off ceremony, but the coming together of our team and the hard-work and dedication of everyone involved in the project has been the standout moment."