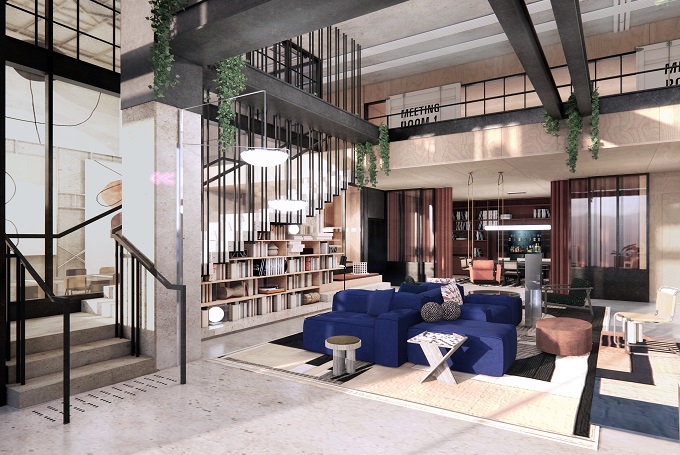 Developments
News In Brief
More from Marriott: Sydney's first Moxy Hotel
New build Moxy branded hotel for Sydney Airport district
This week Marriott International announced it signed an agreement with RF Corval and KS Hotels and Resorts to debut the playful Moxy brand in Sydney.
Slated to open early 2023, the new-build Moxy Sydney Airport will feature 301 cosy and stylish guestrooms and the lively Moxy Bar which services double duty as the front desk. The hotel will offer a café with an industrial vibe as well as all-day access to a delicious food menu. Once opened, guests can meet and work in the various meeting and event spaces, workout in the fitness centre and use the guest laundry facilities.
Richard Crawford, Senior Director, Hotel Development Australia, New Zealand and Pacific for Marriott International said: "Our latest Moxy signing at Sydney Airport is Marriott International's fifth signing for the brand in Australia and New Zealand, making it one of our fastest growing brands in the region. The scale of this project, and its prominent location at the entrance to Sydney Airport is set to position the hotel as an icon for the Moxy brand in Asia Pacific. We are thrilled to sign the agreement with this ownership group who together, have the dynamism to deliver what will be a world-class example of our next-gen focused Moxy brand."
Moxy Hotels offers an experiential and playful new approach for the young-at-heart who don't want to be confined to a conventional hotel stay. Designed by MAED. COLLECTIVE, the hotel's design taps into the mindset of inquisitive travellers inspired to explore, engage and connect – aligned with the playful spirit of the Moxy brand. Set up in 2017, the collective is commissioned out of Toronto, Canada, and were introduced to the Moxy Brand's North American flagship properties Times Square and Chelsea NY. The hotel will be designed to be a lively gathering place with an industrial edge whilst also providing the respite of a mindfully curated home away from home.
The 301 guestrooms will be designed to maximize space and allow guests the option to adapt the room to their needs. A series of flexible spaces also make up the brand's signature social hub in the hotel providing variable programming and delivering a much-needed hospitality offering to the Sydney Airport precinct.  
The hotel's site on Baxter Road is strategically located on a major thoroughfare into both the Sydney domestic and international terminals and is only eight kilometres from the Sydney CBD. The precinct historically attracts a strong mix of local corporate and transient travel demand, and benefits from popular shopping, dining and commercial precincts in the nearby suburbs of Mascot and Alexandria.
Sean Hunt, Area Vice President, Marriott International, Australia, New Zealand and Pacific said: "The entry of Moxy Sydney Airport in one of Australia's strongest markets will add to Marriott International's existing Sydney portfolio, which includes our Sheraton, Marriott Hotels, Four Points by Sheraton, Courtyard by Marriott and Autograph Collection brands."
Marriott International now operates 24 hotels in Australia, with more set to open in 2021, including Melbourne Marriott Hotel Docklands and The Tasman, a Luxury Collection Hotel, Hobart.
For more information please visit https://moxy-hotels.marriott.com/
Related articles: