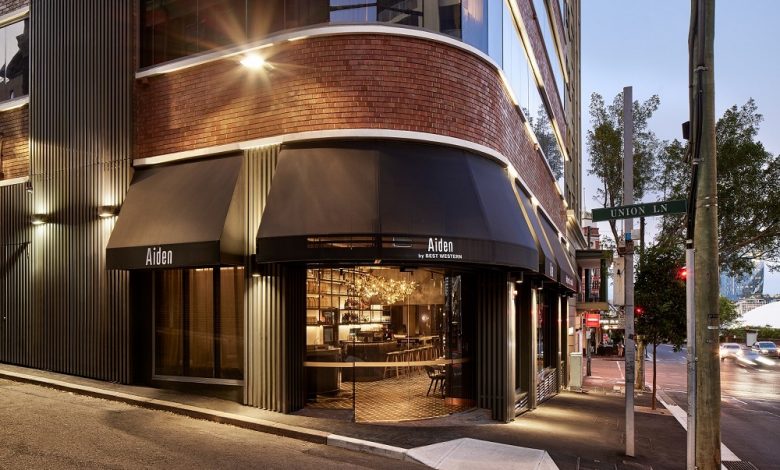 A boutique hotel "built for travellers by travellers" has opened in Sydney, and its proud team are warmly welcoming guests into Aiden Darling Harbour, a beautifully remodelled Art Deco building that's future focused while respecting its past.
Created by Sydneysider Nicolas Chen, the hotel offers guests a quintessential "local experience" inspired by the "people, produce and past of the neighbourhood".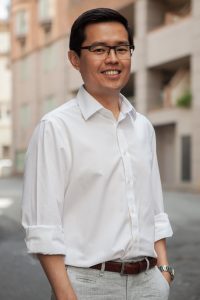 The interiors cleverly reflect the hotel's location, from the Sydney Harbour blue plush velvet bedheads, to fluted glass touches mirroring the shape of Pyrmont Bridge, the 200-piece sculptural light feature in the lobby emulating dappled sunlight through eucalyptus leaves, to the locally made furnishings, décor, and art works.
The Art Deco building was originally erected in 1938 as a modest cereal and grain storage facility on Pyrmont's Murray Street, directly opposite the historic Pyrmont Bridge.
At the time Pyrmont was a hub of working wharves, sugar refineries, a world-class incinerator, sandstone quarries and railways. In the following years, the property accommodated various commercial businesses until 2006, when Nicolas and his father Frank, a seasoned property developer, purchased the building.
With a shared love of travel, Nicolas and Frank talked about creating their own hotel featuring the finest elements from their favourite hotels around the world.
In 2018, Nicolas quit his career as a lawyer and devoted time to the transformation of Aiden Darling Harbour, which officially opened on February 1, 2022.
Nicolas told us: "My father and I love travel and love the world of hospitality. We've always wanted to create something like this, and after some 30 years of property development, we finally took the plunge and decided let's do it, let's create our own hotel.
"The great cities of the world where space is at a premium, Paris, London, New York, Hong Kong, all do hotels so well. Considered, well-appointed hotels with personalised service and all the tech features savvy travellers look for. We wanted to bring the same sort of experience to Sydney."
Nicolas's vision was to create a hotel "compact in nature, curious in character, and personalised in experience".
He worked with Sydney interior design studio Tom Mark Henry to achieve a design which continues the story of the building, honouring its heritage by maintaining original features and framework and introducing contemporary interiors across its eight floors.
The "old-meets-new" design combines exposed brickwork, original windows, and a curved Art Deco facade. The interiors also have art deco motifs such as reeded glass and bronze accents that are partnered with contemporary soft furnishings, bespoke artworks, and high-quality modern bronze fittings, in the bathrooms.
The hotel's 88 guest rooms have been thoughtfully designed to maximise every inch of space with curved-cornered furnishings, smart storage, intelligent room layouts, dual-use features and sliding fluted glass bathroom doors.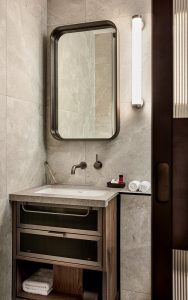 The light and bright interiors feature vibrant murals of native flora hand-painted by artist in residence, Jessica Le Clerc. Select rooms also have exclusive views of an otherwise hidden 25-metre-high "evergreen" mural of lush subtropical rainforest.
Plush custom-designed carpets enhance the corridors and rooms, and oversized stone tiles wrap the bathrooms floor to ceiling. Walls are layered in a mix of textural wallpaper and classic paint in soft hues. A quirky addition to the guest room doors are the custom-designed room numbers featuring sketches of local flora by botanist Sir Joseph Banks.
The ground floor lobby and communal guest area, which houses the hotel's Wayfarer's Bar & Cafe, is more dramatic in its look and feel, with a moody and sleek design. Black and white rubato mosaic flooring makes a statement, as does the black marble-topped bar with walnut wood panelling trimmed in brass and white marble-topped tables.
The communal space presents a mix of pink and grey velvet and leather seating, adding colour and texture to the stylish interior design choices that pay homage to the Art Deco heritage. The floor-to-ceiling windows look out to Darling Harbour and the space is punctuated by an incredible 200-piece Arboreal sculptural light suspended above the bar, with shimmering polished gold and silver discs which sway in the breeze.
The lobby also features a bean-shaped reception desk and several touch-screen kiosks for guests to check themselves in and out. This is an "activated space" where guests can order coffee, work on their laptops, meet friends, and then kick back after hours with a glass of wine, a snack, or a cocktail. The space is designed to be a "sanctuary".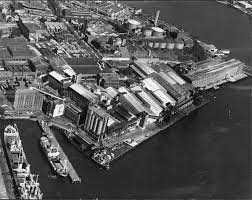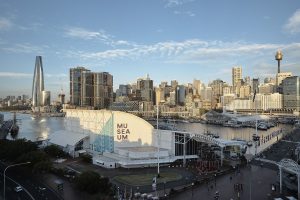 Nicolas's vision to create a guest experience that has "everything guests need for a great stay, and nothing they don't" has been realised through thoughtfully-designed rooms, super comfy beds, a ready-to-fill fridge (instead of a mini bar), and a bevy of high-end luxury items in each room including luxurious Rituals bathroom amenities, a Dyson Supersonic Hairdryer, organic Love Tea and a personal JVD garment steamer, complimentary wifi, digital room keys, self-check-in kiosks, and complimentary Moda sparkling and still water stations on every floor.
The hotel also connects guests to the local neighbourhood, from its signature fragrance from candles handmade by Pyrmont local Em Cook, locally made complimentary cookies from Madhouse Bakehouse, and Staves Beer brewed next door in Glebe, an all-Australian wine list, and custom bottled cocktails mixed with local spirits.
The hotel provides guests with many thoughtful local amenities and luxuries, but it also incorporates an array of "tomorrow technologies" and is well-prepared for a "contactless" post-pandemic future.
On arrival guests find automated front doors and a touch screen kiosk for check-in or out as they download their digital room key to their smartphone. There is sensor lighting in the corridors and bathrooms and a door energy management system which activates to turn off air-conditioning and lighting when rooms aren't occupied, every guest room also has a digital "do not disturb" panel on the wall. Guests can access complimentary Chromecasting to stream their Netflix, Stan or other compatible media providers.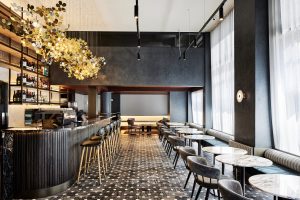 Built during the height of a pandemic, Aiden Darling Harbour incorporated several state-of-the-art technologies to elevate hygiene and safety to the next level. In addition to routine deep cleaning procedures and protocols, the availability of contactless sanitisers throughout the hotel, and touchless technologies, the hotel has also introduced transparent protective anti-bacterial and antimicrobial films to high touch areas such as elevator buttons.
Furthermore, it has incorporated 'state-of-the-art' filtration systems and cleaning technologies into rooms and public spaces. It is the only hotel in Australia to offer MERV-13 (or F7) filters in each room – an air-conditioning unit and continuous 24/7 hydroxyl supply and dispersion throughout the whole building's ventilation system. The system can assist in neutralising volatile organic compounds and microbial particles (including COVID-19), meaning guests can breathe easy knowing they are accessing clean filtered air that's exclusive to their room and not shared with anyone else.
Guests love the unique Aiden Darling Harbour experience, proud owner Nicolas revealed: "Since opening our doors, feedback from guests has been overwhelmingly positive.
"They have really resonated with the quality over quantity approach we've taken in creating the hotel. Many have noted the personalised service where everyone is treated like a VIP, well thought out rooms, the little touches of luxury and the eco-friendly features like refillable water bottles instead of single-use plastic.
"And the convenience of the location, connected to the city yet in a character-filled village with a great community spirit and neighbourhood vibe."
Aiden by Best Western is one of three lifestyle boutique brands sitting within BWH Hotel Group's portfolio with Aiden Darling Harbour marking the first Aiden to come to life in Australasia with 14 properties worldwide. No two Aidens are alike enabling hoteliers and developers to embody the eclectic spirit of the local neighbourhood into the individual Aiden aesthetic and design.
The Managing Director of BWH Hotel Group Australasia, Graham Perry said: "Aiden allows guests to stay in the heart of the action to explore and experience everything that Australia and the local area has to offer before returning to relax with a cool drink, a comfortable bed and outstanding customer service.