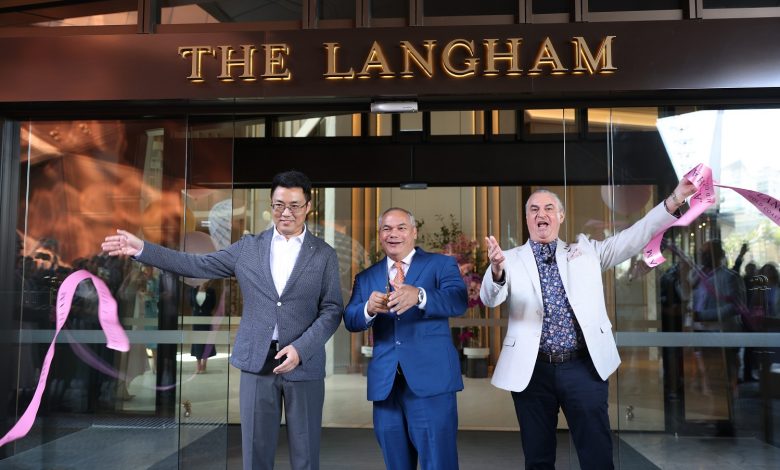 Hotel News
News
News In Brief
Gold Coast opens "jewellery box" & reveals Langham's polished crown
Much anticipated The Langham Gold Coast hotel opening brings legendary legacy of elegance and luxury to life
A spectacular welcome greeted visitors today at Australia's newest luxury accommodation offering The Langham, Gold Coast and Jewel Residences as it confidently threw its doors open to reveal expected authentic luxury but also a few surprises.
It has been a particularly long-awaited hotel opening (held up by a pandemic no less) but no one seemed disappointed today as the Gold Coast welcomed this "shimmering jewel" with Mayor Tom Tate announcing the "Gold Coast now has the best hotel in Australia."
Patricia O Callaghan, CEO of Destination Gold Coast admitted she "could not be prouder" to be at the opening of the "three shimmering towers" of Gold Coast luxury, which is also a celebration of confidence in Queensland tourism and showcases the "have a go Gold Coast spirit." She said the city has now been repositioned globally to welcome international holidaymakers looking for luxury.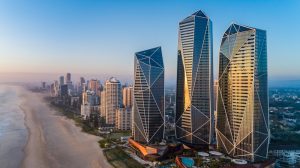 AccomNews was delighted to be invited along to the highly anticipated opening and the ribbon-cutting ceremony alongside an array of industry and Gold Coast tourism leaders.
How to describe the hotel? Every space within the property oozes a level of Langham luxury that you would expect from such an iconic global brand. It excited my senses from stunning artworks and ginger scents to the delicious array of food offerings, but I especially loved the spectacularly oversized baths that are a focal point in every guest room (what a treat) and of course I was impressed by the Langham team who were on hand at every turn with bright smiles, offering a warm welcome.
The stunningly designed towers certainly shimmered in the Queensland morning sun but the ground floor spaces perfectly complement the hotel's beachfront position, presenting an unapologetic Queensland beach resort feel, one that embraces that unique and exciting Gold Coast glamour.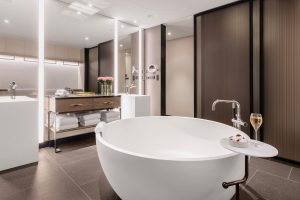 Located between Surfers Paradise and Broadbeach, the 339-room luxury hotel stands in the central and tallest of three eye-catching Jewel towers and is the first development with direct beachfront access to be built on the Gold Coast in more than 30 years.
Boasting 17 different types of rooms and suites all with striking designs, breathtaking ocean and celebrated hinterland views, The Langham, Gold Coast has been positioned to offer what its owners say offers a new level of luxury accommodation to locals, interstate travellers and international tourists alike.
At the ribbon-cutting ceremony, The Langham Gold Coast General Manager, John O'Shea said The Langham is thrilled to finally welcome locals, interstate and international travellers into its one-of-a-kind experience.
"Today marks an extraordinary day for luxury tourism. Following months of preparation and excitement, we're absolutely thrilled to open the doors to Australia's newest luxury destination," Mr O'Shea said.
"Our vision for this new Hotel has always been to bring The Langham's legendry legacy of elegance and luxury to life in an equally iconic beachfront location. Securing the Gold Coast's first development with absolute beachfront access in over 30 years enabled this vision to come to life.
"The Langham, Gold Coast will be our very first beachfront property and we're absolutely delighted to bring these stunning ocean views into the Langham legacy.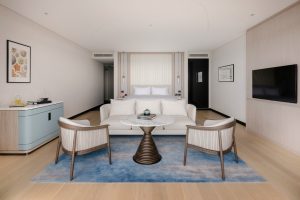 "This Hotel will celebrate and showcase the raw beauty of the Gold Coast region, from the beaches to the Hinterland, marking a new and revitalised beginning for one of the world's most desirable travel locations."
The Langham, Gold Coast will now welcome a range of guests through its hotel doors and will also officially welcome locals to its wide range of dining options including the iconic Langham Afternoon Tea, Palm Court, Akoya, 26 & Sunny; and the perfect spot for wine and cocktails, the Lobby Bar.
Mr O'Shea described the dining offerings as an extension of the Hotel's luxury, equally balanced and offering a wide range to suit varying tastes.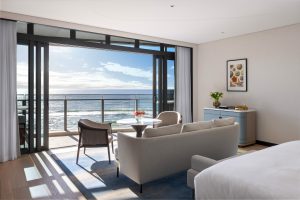 "Our talented, experienced team of Chefs and dining experts have curated what we feel is the perfect mix of options to suit those staying at the Hotel and the local area, and we're incredibly proud of the options we are bringing to the local area," Mr O'Shea explained.
"We have some exquisite fine dining options that lean on only the best local produce, unique flavours built with expertise from right across the globe, unparalleled in the area. We are excited to be a must-try for locals and travellers alike.
"We also have a range of flavours and styles to create what we feel is a little something for everyone.
"We're hoping The Langham becomes a real destination of choice for the local area and brings a welcome boost for food and drink options, all with an added touch of Langham luxury."
This Australian Spring, The Langham, will introduce T'ang Court, sister venue to the internationally renowned Michelin-starred restaurants, as well as Coral Moon the open-air destination bar and Chuan Spa, a holistic wellness concept which embraces the centuries-old healing philosophies of Traditional Chinese Medicine (TCM).
"Since first opening in London in 1865, The Langham has built an unmatched, global reputation for timeless elegance and a true 5-star experience and we are beyond thrilled to soon bring this legendary legacy to life in the heart of the Gold Coast with local Australian characteristics," Mr O'Shea said.
"The Langham, Gold Coast brings together Langham's global expertise in luxury hospitality and gastronomic dining with an iconic Gold Coast oceanfront location to provide a unique, one-of-a-kind hotel and dining and events experience.
"The team have been working hard behind closed doors to add the final sparkling touches to the hotel and now, we can't wait to welcome our very first guests into what will be a new era of luxury for the Gold Coast and beyond."
Read more about The Langham here