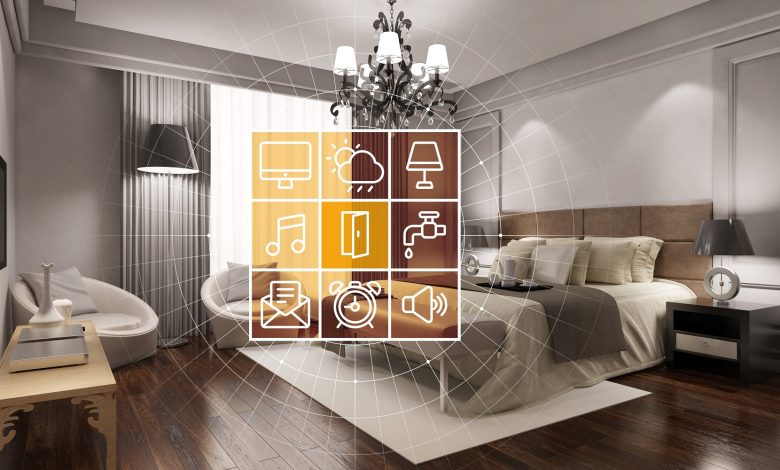 Energy & Resources
Management
News
News In Brief
Guestroom Management Systems: For energy efficiency & exceptional guest experiences
Guests want to know that their accommodation is working to reduce its environmental impact whilst still providing an exceptional customer experience
Despite the fact that guest rooms are unoccupied 70 percent of the time, they account for 40 to 80 percent of hotel energy consumption.
Led by consumers, sustainability continues to be a key focus for the hospitality industry. Guests want to know that their accommodation is working to reduce its environmental impact, whilst still providing an exceptional customer experience.
Our latest AccomNews print issue is available now. Read it HERE
From a hotelier's perspective, reducing energy output through cutting wasteful usage could have a significant impact on energy bills.
Guestroom Management Systems (GRMS) allows accommodation providers to meet both of these needs, by managing energy output and also allowing guests to enjoy a seamless in-room experience.
To learn more, AccomNews spoke to leaders in this space about the potential benefits.
What are Guest Room Management Systems? And what sort of tasks can be automated?
ASSA ABLOY Managing Director Michael Benikos: GRMS has full integration with other systems like Property Management Systems (PMS) and heating, ventilation, and air conditioning systems (HVAC), to create a seamless, interconnected ecosystem within the hotel environment. Most GRMS use occupancy sensors and integrate with door locks, ensuring staff know whether a guest is in their room without disturbing them – an essential feature in prioritising guest comfort and privacy.
That means no disruption to guests and seamless back-of-house operations.
The systems know when a guest is in the room, when the guest is not in the room and allow the guest to switch the system to Do Not Disturb.
mySmart Hospitality Manager Daryl Brett: GRMS can be divided into two main functions – energy management and enhanced guest experience. 
As the name implies, GRMS can be a hub for all guest-facing services and functions of the room, including lighting, air conditioning, Do Not Disturb, and Make up Room.
However, GRMS should not be confused with in-room services such as food and beverage, wake-up alarms, and housekeeping requests, although there are some obvious areas of crossover.
Essentially, GRMS is hardware that makes the guest experience more seamless.
What are the benefits? Both for accommodation operators and guests?
Michael Benikos: The primary goal of a hotel is to put heads in beds. Guest comfort is one of the keys to that, so the best GRMS is designed to be as intuitive and user-friendly as possible. Temperature control, lighting adjustments, and other room automation features can be easily navigated by any guest, regardless of their tech proficiency.
GRMS offers tangible returns for hoteliers.
Research shows that improved guest experiences can directly impact hotel revenue in a positive way. GRMS not only offers the opportunity to enhance guest satisfaction but also contributes to substantial energy savings – another important factor for hoteliers.
Smart technology can detect whether a room is occupied, adjusting energy use accordingly and saving up to 30 percent of energy costs – all without negatively affecting guest comfort.
Additionally, hoteliers will enjoy enhanced operational efficiencies. For example, by knowing when a room is vacant, cleaning services can be scheduled more effectively, saving time and reducing labour costs.
Daryl Brett: Energy management has always been the primary driver for GRMS solutions, effectively making sure there is no wasted power when the guest is out of their room. This is achieved by reducing the air conditioning effort, relaxing the temperature range of the thermostat, or simply turning the air conditioning off altogether along with the lights and other powered devices.  Additional energy savings can also be gained by having the GRMS interface with the curtains and blinds, automatically closing them when the room is vacant.
However, I always advise against general power sockets being included in a GRMS strategy. Imagine leaving a phone or laptop in your room to charge, only to return and find it still on low battery? That could lead to a frustrating experience for the guest.
From many years of research and experience, the best GRMS setups are the simplest. Turning all the lights on or off, adjusting the air-conditioning temp up and down or turning it off altogether, should be the limit of the guest's involvement.
What is the future of GRMS?
Michael Benikos: Cloud-based technologies and smart room innovations with a high level of customisation both in hardware and software, tailored to the individual needs of hotels or brands. This focus on bespoke solutions will help to create more comfortable, intuitive guest experiences while advocating a more responsible, sustainable hospitality industry.
Daryl Brett: It seems these days, everyone offers a GRMS solution, but few really understand what GRMS is, or why it is so important to the property's operation and the guest experience to get it right. Many GRMS vendors are also suppliers of associated products, so the sales process can get confused by their attempts to link sell.
This confusion can lead to properties holding back from implementing a GRMS solution- when rising energy costs make this more important than ever.
GRMS solutions do not need to evolve as a core product – however, the industry's perception of them does. GRMS solutions need to return to their core, enhancing the guest experience and benefitting energy management.
Anything else you would like to add?
Michael Benikos: Hotels and motels should research to see if there are any government incentives both state and federal for reducing energy savings in hotels and take advantage of these incentives.
Daryl Brett: With the technology behind GRMS now well tried and tested for over 10 years now, there is no reason for any property not to consider their upgrade options.
However, properties need to be clear on what they are looking for from the start, with energy savings and an enhanced guest experience at the top of the list.
GRMS is a standalone product, and finding the right product with the right priorities means implementation doesn't require add-ons or additional costs.

Sarah is a freelance journalist with experience across print, digital and audio. After working for Multimedia Publishing as a contributing writer, she has recently joined the team in a part-time capacity for School News AU and AccomNews.