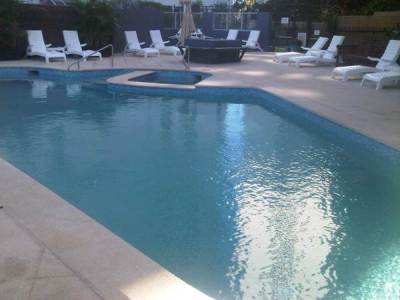 No matter how fantastic a resort building is, keeping a 25-year old complex up-to-the-minute with the tremendous growth in new infrastructure in a go-ahead destination like the Gold Coast is a constant effort. For Gayle and Shaun O'Sullivan their task is very much a labour of love and the Broadbeach Pacific Resort itself makes this a little easier.
It is a great building and is part of the vibrant, pumping hub that is Broadbeach. One street back from the famous Kurrawa surfing beach, the resort has 16 levels, 41 rooms and a north-easterly facing aspect. But ongoing refurbishment is a must and, following room refurbs and an amazing pool area upgrade, plans are for a revamped BBQ area and then a renovation of the lifts.
Five years ago the O'Sullivan entered into a partnership to purchase the Broadbeach Pacific Resort with another couple. It was one that didn't work out – the other couple just couldn't handle it – and Gayle and Shaun eventually bought up the total shareholding.
Gayle admits that when the other party pulled out she and her husband were devastated.
"We had spent just about every last cent we had and had no industry experience whatsoever. The following six months was very stressful," Gayle said.
But it all worked out.
"We have high occupancy all-year-round and lots of repeat business. We have revamped the web site and had the building freshly painted. The resort looks great," Gayle said. "We have the position and, most importantly, our guests are 70% repeat which we have to attribute to our brilliant staff and their commitment to customer service.
"The ongoing refurbishment of the building and most importantly the location with guests not having to hire a car (the theme park buses pull up at the door while Woolworths and Brumbys are at the back of the building) and surrounded by around 40 restaurants and cafés as well as being a short monorail ride to the Casino, is just so perfect.
"The fact that we are a five-minute walk to the Convention Centre helps us with filling up in the quieter times with corporate meeting goers.
"The ocean view will never be built out as it is surrounded by council parks. It certainly has been a very hard year for the Gold Coast but we are lucky enough to have loyal guests who return for their annual vacation or three-day weekends," Gayle reflects.
"Broadbeach has inherited a lot of new buildings in competition to us in the last 12 – 18 months. But our location, position and ocean views have helped us to achieve a really good occupancy rate."
Coming from an insurance background, Gayle is the resort's managing director. She is assisted by resident manager Liz Low and Stef Kelly in reception, both have been with the Broadbeach Pacific Resort for five years.
The maintenance person, Scott Finley, has been with the resort since October last year.
These three managers are a big asset to keeping the business running smoothly.
Gayle is responsible for the resort's day-to-day affairs, managing the wages and the cleaning while Shaun manages maintenance and the body corporate in between his full-time career as a Jetstar pilot.
As if this wasn't enough to keep the couple contentedly busy, they are now looking for something new.
"We have just sold our corporate building Miro in Brisbane after two long hard years building up in a depressed market," Gayle explained. "We are currently looking for our next venture after a short breather for me.
"It is my passion and what I love doing buying a brand new building off the plan and setting up the letting pool and office," said Gayle.
The resort boasts one-night bookings that are a rarity in this area. It also offers specials in the quiet months of February, November, May and June.
The one- and two-bedroom beachside resort-style apartments enjoy a fully equipped kitchen, washing machine, dryer and Austar cable TV with sun-drenched balconies sporting spectacular views of the Pacific Ocean or the Gold Coast hinterland.
Guests can relax in the heated pool and spa, sauna or barbecue area while winding down in the shady outdoor gazebo among the landscaped gardens. And there is the half-size tennis courts. Now the building has had installed in the last twelve months internet in all rooms which has helped increased bookings with the corporate conference market.
Are you interested in lifting your industry profile?
Email [email protected] or call (07) 5440 5322.