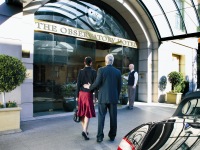 The biggest challenge facing the Observatory Hotel's chief engineer Janusz Zaklikowski was finding a new locking system that would match the doors of the grand hotel in Sydney's historic Rocks area.
When the hotel, reminiscent of a 19th-century Australian home, was built 18 years ago, a Marlok ML-9000 access control system was installed in its 78 deluxe rooms, nine junior suites, 12 executive suites and the Observatory Suite.
"At that time it was state-of-the-art, hard-wired system with infrared microdot readers," Mr Zaklikowski said. "Up until the last minute it was performing well; however, there was problem with the support and replacement parts, so we made the decision again to invest in the best that new technology can offer."
There are 133 locks on the property in very distinctive doors that are part of the hotel's attraction to guests.
Mr Zaklikowski spent nine months searching for a system that would fit in with the hotel's historic theme as well as the extremely high levels of security that management required. His research kept coming back to Saflok by Kaba Lodging Systems.
"The specifics of the interior design and Orient Express Hotels' design style required an appropriate solution consistent with the original presentation," he said. "The locks that we selected conformed with those design restraints while the shape and configuration of its components did not require any post installation repairs to the existing doors.
"The lock had to be specifically designed to complement these particular doors and Saflok was able to fulfil that as their locks are manufactured to be site specific.
"From the very early days of this project, Vintech Systems was heavily involved ¬ recommending certain solutions as well as actively responding to our suggestions or requests for customised levers to match the existing locks in bathrooms and bedrooms or finishes to the override cylinder. The project, from its very early stages, was conducted in very close co-operation which accommodated open communication and solid progress."
The electronic lock that was chosen was Saflok's Quantum RFID MT full body mortise locks with gala levers in brass. These were incorporated with the Messenger system. The Messenger is unique to Saflok and is a wireless lock access network that converts stand-alone battery operated door locks into a wireless network access control system.
It operates on the internationally accepted ZigBee high security Prostack protocol. As a bi-directional communication device it sends and receives real time messages such as low battery alert, door ajar, etc that streamlines security procedures and maximises staff efficiency. An important component of Messenger is Messenger LENS (lock event notification system) that relays information in real-time as it occurs at the lock.
LENS enables properties to customise job-specific profiles, the type of notification that are received for these profiles and also the notification delivery method that includes email, SMS, XML web service adaptors or postings to a web page. The usage is flexible to each property's needs.
Messenger identifies date, time, room number, level, user ID and action allowing staff to track movement throughout the property in real time. Staff can also locate guests, employees and contractors because Messenger can tell them the last time a key was used.
Mr Zaklikowski prepared the upgrade proposal for approval by the hotel and supervised the installation. The installation process was staged with room doors done as a stand-alone operation that included integrating the lifts, BMS scheduling and the PMS interface.
The back of house and car park were done separately while the change into the wireless communication (Messenger) integrated with the new VLAN network is a work in progress.
Proper planning before the installation started meant there were no problems encountered during the project. Additional back-of-house locks were added as a post-installation program and, again, Mr Zaklikowski said there were no problems, as Vintech was able to match the electronic locks exactly to the full satisfaction of aesthetic and practical concerns.
"Vintech's before sales and after sales support has been excellent," Mr Zaklikowski said. "At all times the levels of communication have been clear and promises and expectations met.
"Their personnel have gone beyond the call of duty to satisfy every situation."
Mr Zaklikowski said the only downside to the upgrade was some guests being concerned about the lack of a "real key".
"But as they began using the cards, they were really impressed at the reliability and ease of use – one "wave" over the lock and they were in," he said. "No fiddling, inserting into a reader slot and so on.
"And from the point of view of engineering staff, no time spent cleaning lock reader heads as RFID locks are fully sealed."
He said the new locks allowed easier access, the ability to use keys in more areas and in future will allow better security control and records. Mr Zaklikowski said the locks offered strong reliability, better control with future expandability, enhanced security and flexibility of usage and state-of-the-art technology with proven results worldwide.
Vintech Systems have been involved in the security industry for more than 25 years.
The managing director, Gidon Sattinger, said Vintech's reputation for providing turnkey projects incorporating complete conceptual design, installations, project management, commissioning and training, together with extremely high levels of service is what ensures return business time after time. .
He said that as a part of its total commitment to after sales customer care it offers a full 24-hour technical service with factory/workshop support.