Industry
Overdue revamp of NSW strata laws underway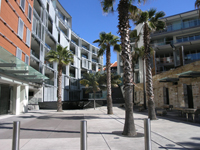 NSW fair trading minister, Anthony Roberts, has announced the state government would review strata laws in NSW,
which, he claims, were "a world-first" when they were introduced in 1961.
Unit owners in strata schemes want more control of buildings where noisy back-packers and students constantly move in and out and by-laws should be simplified to make it easier to renovate ageing apart-ments, strata experts say.
Strata Community Australia (NSW), representing the strata sector, wants a clearer definition of what is common property so residents have more certainty over ownership.
Mr Roberts said, "The laws are outdated and no longer ef-fectively support owners or ad-dress the issues associated with ageing buildings, changing de-mographics and accountability for annual budgets that can amount to millions of dollars," he said.
"The original strata act only had 29 sections. Not only have schemes become larger and more complex since then but we now have five separate acts plus five associated regulations, with more than 1000 provisions, regulating the development and management of strata and community schemes. The construction of new schemes, and service delivery to existing schemes, is a multibillion-dollar industry. Reforming the strata laws can play a vital role in improving the NSW economy," he says.
The legislation was last amended in 2008, with changes including giving strata owners greater protection on proxy vot-ing in owners' corporation meet-ings.
David Ferguson, the presi-dent of Strata Community Aus-tralia (NSW), said owners want-ed more say in how the residen-tial mix was devised. "This is not about the incorrect selection of tenants but where you have people with different lifestyles living in the one building and you end up with eight students moving in next door on short-term rentals with different life-styles to others in the building," he said.
A three-month online con-sultation aimed at rewriting 50-year-old NSW rules began on 15 December. The consultation process will seek to draw input and feedback from strata profes-sionals, apartment owners and the general public and is hosted by Global Access Partners. The launch of the online consultation follows an escalation in strata cases heard by the Consumer, Trader and Tenancy Tribunal, the body that handles residential property disputes.
There are currently 70,000 strata schemes in NSW compris-ing more than 700,000 apart-ments, numbers that are set to grow, with unit developments forecast to constitute half of Sydney's new housing by 2040.