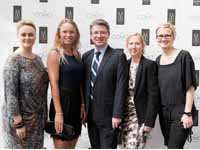 Events
Game, set & match for Melbourne
There were a number of records set during Melbourne's Australian Open, but for the tourism industry, the record that counted most of all was occupancies at hotels across the city.
Accor, which operates over 20 hotels across the city, reported an occupancy rate of 96% during the final week of the open, with rate increases of over 16% compared to 2012. The great result came despite a very late booking trend.
The success of the open heralds one of the city's biggest event years, and Accor regional manager for Victoria, Adrian Williams, said the city's hotels were feeling considerably more positive after the strong domestic and international support for the Australian Open.
"Bookings tended to come very late this year, but the attraction of both the tennis and Melbourne as an event city meant that our hotels filled to capacity," he said.
"This is a very positive signal for the year ahead because the city has a record event calendar this year with a number of very large international conventions and exhibitions scheduled. The economic and political uncertainty did have a dampening effect on the hotel and tourism sector in the second half of 2012, so to have such an encouraging start to 2013 augurs well for the whole Melbourne hospitality and tourism industry."
Photo: Cleo Seaman (GM Como), Caroline Wozniacki, Anthony Cartmel (Como), Alexandra Rolton (Como), Jade Persons (Como)