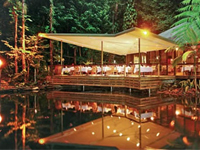 The award-winning Daintree Eco Lodge and Spa in far north Queensland has gone into receivership. The National Australia Bank appointed receivers KPMG this week.
Founders Terry and Cathy Maloney said closure of the lodge would be a terrible blow for the region's tourism offerings and would spell a tragic end to an Aboriginal Champions employment program pioneered at the lodge 13 years ago.
The business was named the world's best eco spa in the World Travel Awards last year.
Local MP David Kempton says world heritage listing has not provided the promised economic boost for Daintree businesses.
"The world heritage wet tropics area is in absolute economic dire straits at the moment. More than 60 businesses have closed there in the last five years."
KPMG is assessing how long the lodge, on the Daintree River about 40 minutes north of Port Douglas, can exist under the current situation.