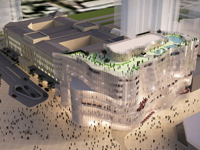 A $350 million expansion to the Adelaide Casino has been approved by the SA state government.
The signing of the agreement prevents any other casino opening before 2035 and confirms an in-principle accord made last December.
The arrangement includes higher tax rates and measures to tackle problem gambling. Tax on gaming machines will rise to 41%, table games to 3.4% and automatic table games to 10.9%. Many of the tax and responsible gambling measures will come into effect from January 1.
SkyCity CEO Nigel Morrison said it will start the redevelopment by investing $40 million over the next year refurbishing the current heritage building, including new premium gaming areas.
Mr Morrison estimated the casino's tax bill would double to more than $40 million by 2020 and will create 500 construction jobs and 1000 permanent jobs.
"Currently we employ about 1000 people so this will double our workforce in Adelaide," Mr Morrison said.
Deputy premier John Rau said, "It will also be the safest gaming venue in South Australia for the protection of problem gamblers," he said.