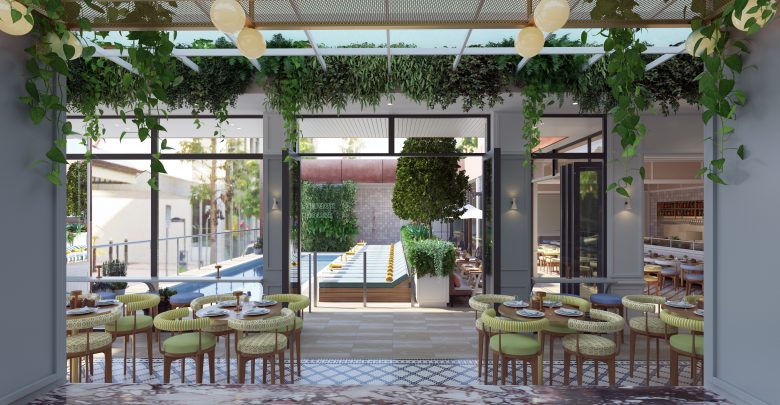 Pool parties and giant cocktails are on the menu for Perth's hottest new hotel venue.
Hyde, a brand synonymous with star-studded venues in Los Angeles, Las Vegas and Miami, will make its glitzy debut in the West Australian capital in October.
sbe will partner with Accor to deliver their second Australian Hyde Kitchen + Cocktails offering through the new Art Series hotel The Adnate, opening on Hay Street next month.
Accor chief operating officer for the Pacific, Simon McGrath, said: "We partnered with sbe to launch our first Hyde venue earlier this year on the Gold Coast and this opening is very much on the back of the success of this."
Hyde Perth Kitchen + Cocktails will include an outdoor pool with sun loungers and DJ decks for weekend pool parties, its marketing stating: "Casual by day, classy by night, this laid-back venue, with music and entertainment at its core, will be a playground for after-work drinks or long, lazy lunches with friends or colleagues."
The brand is known for its celebrity-attracting US West Coast venues. Hyde Lounge in Los Angeles first opened its doors in 2006, establishing the concept of unwinding in luxurious surrounds with  music, cuisine, and mixology among a community of artists, celebrities and athletes.
Hyde Perth Kitchen + Cocktails' interior will be designed by Carlie Milosevic, who created the look for its sister venue, Hyde Paradiso on the Gold Coast.
It is designed to reflect the city's "natural beauty, pastel sunsets and picturesque beaches", with a  neutral colour scheme and pops of colour creating a "timeless and relaxed alfresco space".
Paying homage to the sites' previous tenant, Musgrove Music, the venue will also draw inspiration from the jazz age of the 1920s and 30s.
Covering 550sqm indoors and outdoors on level one of the Adnate, Hyde will offer street food snacks, hearty mains, pizzas and a 'bottomless fries menu' through a menu created by Peruvian-born chef Danny Sanchez. Tim Philips-Johansson of Sweet&Chilli has curated a drinks list including the brand's signature oversized share cocktails.