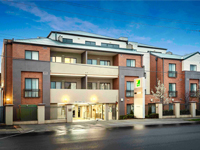 A significant $250,000 makeover of Quest Geelong has just been completed, including the refurbishment of all studio, one, two and three bedroom apartments at the property. The makeover involved a full restoration of the reception and lobby area, as well as external painting of the serviced apartment complex.
Quest Geelong franchisees Paul & Shirley Dodds, who have been owner operators of the business since July 2011, believe the money spent on the refurbishment is warranted to keep the property up-to-date for its visitors.
"The majority of our guests are travelling for business and we need to provide a balance between offering a comfortable 'home away from home' as well as providing the modern facilities they require to work productively and efficiently," Mr. Dodds explained. "We are 100% committed to making Quest Geelong the most comfortable and convenient place to stay while doing business. Our new and regular clientele will enjoy the fresh new look," Mr. Dodds added.
Quest Geelong is located at 16-18 The Esplanade South, Geelong and offers studio, one, two bedroom (1 bathroom), two bedroom executive (2 bathrooms) and three bedroom apartment accommodation with secure on-site car parking included in the rate.