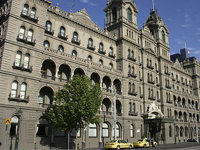 Adipoetra Halim, owner of Melbourne's historic Windsor Hotel that opened in 1883, is to spend $325 million redeveloping one of the oldest Victorian-era hotels operating in the world.
Work is expected to begin in November and includes a 27-storey, 150-room tower that will sit behind the refurbished heritage hotel. The hotel has been operating at 90 per cent occupancy.
It took 15 months to get heritage approval for renovating the interior that will see massive changes to bring the new hotel up to luxury standards. The grand ballroom, six heritage suites and the grand staircase are among the few vestiges of the old Windsor that will remain.
The Halim Group, that purchased the Windsor in 2005, has appointed British designer, David Collins Studio (that restored Claridges and the Connaught in London), to be in charge of the internal renovations and hopes to have the first guests in the new Windsor by the end of 2017. Denton Corker Marshall are the architects for the new hotel.
Windsor Hotel chief executive David Perry said, "We want the Windsor to be a unique experience, something people come to Melbourne to experience, we want it to be like Raffles in Singapore – to be on your bucket list," he said.
The hotel will upgrade from 180 rooms to 281 rooms.
"We want the Windsor to be the best hotel in Australia, one of the world's great hotels," Mr Halim said.