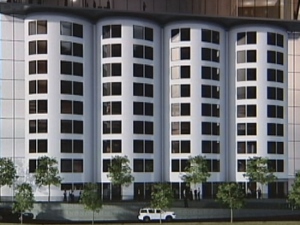 Launceston developer Errol Stewart is very close to gaining approval to develop the old grain silos at Invermay into a 140 room hotel after the planning commission has approved the re-zoning of the land.
The $20 million project is expected to create 80 full time jobs in construction and about 50 ongoing.
Mr Stewart has proposed an 11-storey hotel in the silos that sit opposite his signature Seaport development. It would feature a top deck restaurant, bar and conference space for up to 200 people.
Level 1 will include reception, a bistro, restaurants, a bar and relaxation space with the hotel entrance to be on Lindsay St.
Mr Stewart plans on "entombing" the bottom floor with a 150m oval-shaped wall to protect the hotel – to be named The Silos – from flooding.