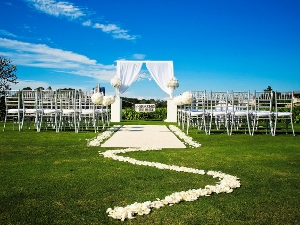 Massive infrastructure plans for the Gold Coast are gaining momentum after several years of meager growth.
Singapore-based hotel chain Banyan Tree has acquired a Surfers Paradise apartment tower that, once demolished, will treble the size of the site for its $125 million beachfront development it plans to operate under its new Cassia brand. Banyan Tree paid $11.5 million for two ¬adjoining lots at the northern end of The Esplanade last year and has purchased the adjoining Bahia building after months of negotiations with the owners of the 13-level complex's 39 apartments in a deal worth about $25 million.
Speculation is that Banyan Tree may also create a hotel to go with the Cassia apartments.
Edwin Yu, owner of The Glades golf course at Robina on the Gold Coast is planning to build a five storey, 60-room boutique hotel and a six-level complex with 70 one-bedroom apartments on the course.
Yu tried to sell the Korean-built The Glades in 2012 and the development applications may be to enhance the sale ability of the course. Membership numbers at the course (at $5000 a year) have dwindled since the GFC.
Meanwhile the Wyndham Hotel Group has acquired the management rights of a boutique Hope Island property, which has undergone a sleek and sophisticated transformation, following an extensive $2.5 million refurbishment by Anthony Moreton Group and Pryde Group.
The stylish new-look hotel was officially rebranded Ramada Hotel Hope Harbour, Gold Coast following the refurbishment of the hotel rooms and common areas. The hotel was formerly Marina Quays International. The waterfront hotel will feature 69 guest rooms, managed by Ramada, all offering stunning views across the adjoining Hope Harbour Marina. The new design throughout will provide leisure and corporate travellers with a quality accommodation experience in a relaxing waterfront location, complete with dining options and extensive conference and events facilities accommodating from 20 to 300 guests.
Ramada Hotel Hope Harbour is owned by interests associated with Anthony Moreton Group and Pryde Group, and will be managed through Wyndham Hotel Group's South East Asia and Pacific Rim operations, based on Queensland's Gold Coast. It will become the second Ramada to open in the area over the past two years following the addition of Ramada Couran Cove Island Resort in July 2013.