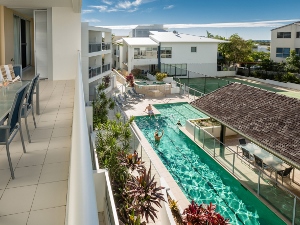 News In Brief
Demand up for Sunshine Coast accommodation businesses
The Sunshine Coast accommodation property market has lifted on the back of rising tourist numbers and renewed business confidence.
After securing eight management rights sales totaling more than $15 million in just three months, market specialists Glenn and Tyler Millar of Resort Brokers Australia say activity is the strongest it has been for many years.
Their latest sales have included the management rights to the 66-unit Noosa Harbour Resort, 21-unit On The Beach Noosa, 47-unit Coolum Seaside, and complexes at Rainbow Beach, Sunshine Beach, Marcoola and Buderim.
While individual sale prices could not be disclosed, Resort Brokers Australia reported the deals had been struck in the range of $1 million to $4 million.
"Confidence is back in the management rights market, for both residential and tourist properties, after being subdued for a number of years," Glenn Millar said. "Buyers include local operators taking the step to upgrade, interstate investors, accommodation groups and, notably, New Zealand buyers who are back in the market now that the exchange rate is close to parity.
"On top of settlements of eight properties for over $15 million in just 12 weeks, we have three more under contract that we sold off-market before any advertising, which is something that hasn't happened for quite a few years," he said.
The coast has just enjoyed a bumper Christmas holiday season, according to Sunshine Coast Destinations Ltd CEO Simon Ambrose, building on last year's strong growth. "The Sunshine Coast recorded a 10.9 per cent increase in domestic visitors and a state-leading 9.4 per cent growth in international visitors in the year to September 2014," he said.
Mr Ambrose said the falling Australian dollar and low petrol prices had helped deliver a bumper start to 2015.
At the same time, the recently released Sunshine Coast Business Confidence survey showed confidence levels are now the highest they've been since 2009, with 56 per cent of businesses surveyed expecting an increase in profitability over the next six months.
Noosa-based finance broker Mike Phipps, who specialises in accommodation business and property funding, agreed confidence levels were very strong. "Resort management clients of ours are reporting the best 12 months they've seen in years, with advance bookings for 2015 showing no sign of slowing," Mr Phipps said.
"The banks are extremely bullish about the industry and multipliers are back to pre-GFC levels, with valuers supporting the new market benchmarks. We expect to see market confidence continue and perhaps even improve in 2015."
Mr Millar agreed, saying demand for management rights was now outstripping supply on the Sunshine Coast.
"Corporate buyers are back, with the likes of Mantra and Oaks in buying mode, as are a number of smaller groups we regularly deal with," he said. "Low interest rates and increased consumer confidence mean we are receiving buyer enquiry across the price spectrum, from entry level to high net properties."
Mr Millar said accommodation businesses were showing significantly improved trading figures thanks to the increased tourist activity, making them highly saleable.
"We can expect to see properties that have been held in the same hands for some time come onto the market this year, as some operators retire and others are keen to upgrade."