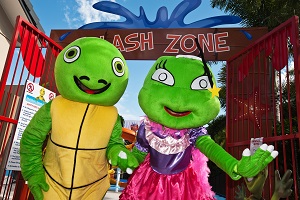 The purchase of Turtle Beach Resort at Mermaid Beach by Dreamtime Resorts, specialists in the management of premier Australian holiday accommodation, created a huge buzz in the industry back in 2010. This is because it was one of the biggest management rights transactions Australia-wide.
This wonderful family-orientated resort features tropical gardens surrounding wonderful lagoon pools and from the moment guests arrive at the subtropical oasis the resort's emphasis is on the simple pleasures of privacy, calm, relaxation and effortless enjoyment. The atmosphere is family friendly and casual with comfortable fully self contained one, two, three and four-bedroom low-rise apartments. It has a solid reputation for offering excellent value for money with extensive first class facilities that offer holiday makers a unique Gold Coast experience.
The complex has 298 apartments that are spread over 5ha of land in a three-storey walk-up configuration. It has four separate pools with one dedicated to adults only, four spas, two saunas, a cinema, a three stage kids club, a takeaway/café/convenience store, a poolside restaurant called The Deck that serves breakfast, lunch and dinner, a putt putt course and a full-size lit tennis court. One of the pools has a full turn slide and there is a separate waterpark that has six waterslides with a massive water dumping bucket. The Splash Zone Water Park also has a stadium sized LCD screen for entertaining guests outside.
Shelldon, is the resort's turtle mascot who has entertained thousands of happy kids over the years. He welcomes them to the resort and travels around spreading fun and happiness with his turtle partner Shelly.
Stephen West is the executive general manager, responsible for the strategic operations of the business and the implementation of all major projects. He said, "We have on average 44,000 guests checking in to Turtle Beach Resort annually of which 21,000 are children."
This, you have to agree adds up to a lot of happy kids!
Stephen explained that in July 2014, Dreamtime Resorts also purchased the neighbouring property – Turtle Bay Resort. It has 110 apartments that are built in exactly the same style as Turtle Beach Resort and is operating as a permanent complex. This is very exciting news for the future development of Turtle Beach Resort as Stephen also revealed, "In 2015, we will be joining the two properties, installing a tunnel to connect the car parks and a walkway to move guests around the property."
Stephen is focused on driving forward the significant growth of this incredible business because with the introduction of these new Turtle Bay apartments into the holiday letting pool, Turtle Beach Resort will become the "largest family holiday resort" on the Gold Coast.
Stephen was attracted to the role of executive general manager at Turtle Beach Resort due to it being such a diverse and interesting role. Prior to taking on this role his experience had involved an engineering apprenticeship in his teens and 23 years at Qantas as a customer service manager. Interestingly he has a masters degree in aviation technology and nurtures an avid interest in flying. He also completed some post-graduate studies in technology at Swinburne University and most recently achieved a certificate in financial strategy for hospitality from Cornell University in New York.
He said, "My training has also included customer service and innovation at the Disney University in Anaheim. Disney operate an open institute that attracts all type of businesses globally, they also train within Australia for various corporate organisations. The courses I took included staff recruitment and retention, quality service, creativity and innovation and business excellence. Having experienced a weekend seminar (with Disney) the year before, I knew that their training outcomes aligned very closely with what we are focused on at Turtle Beach Resort."
Since the course, Stephen has implemented "in service training" for all staff to "focus on our future vision so that staff are aware of what is going on in the big picture and can understand the need for change. The training is a half day a month for all staff and includes safety, customer service and product delivery".
Stephen added, "As a business leader it becomes harder to find new facilities into the operation and it is forums like this where you can mix and see what others in the same business are doing that so much is learned. Training is out there, you just have to look and ensure it is applicable for your business model."
In addition to his role at Turtle Beach Resort he has been busy overseeing the operations of the Wave Resort Broadbeach and Reflections Coolangatta that are also part of the Dreamtime Resorts Group. At Turtle Beach alone there is currently a team of around 70 people who report directly to Claire Daley, the resort manager.
Claire lives on-site and has a direct line of communication with guests so that her role is more front-line and day-to-day than Stephen's strategy-based role. She started working at Turtle Beach Resort in guest services before becoming the front office manager and then resort manager. She lives with her two sons, daughter and husband and is "the back-up for all issues on-site".
The incredible popularity of this resort is partly due to it being so loved by children, with Club Turtle kids club providing an outlet for them to get away from mum and dad. The kids are able to enjoy a safe holiday packed with great activities, games, X-box consoles and free wifi that was introduced more than three years ago.
With Turtle Beach Resort currently able to boast outstanding year round occupancy levels of 84 per cent – well above the average Gold Coast occupancy levels that sit at around 68 per cent according to research and a forecast report distributed by Colliers International. We asked Stephen to share his thoughts on why Turtle Beach Resort was so successful. He said, "We are big, we are bold, and we are unique amongst family holiday destinations. You arrive as customer, you stay as a guest and you leave with shared memories."
The development of the Turtle Beach Water Park
In the words of executive general manager Stephen West, "A Resort like Turtle Beach needs a big bang." The idea for this big bang was to turn a little used tennis court into a creative and fun water park.
Stephen explained that they wanted an irresistible facility that they did not have to have open to the public to fund. "Each Owner contributed about $3000 to build the park and the return to them has been a substantial increase in occupancy and tariffs well beyond their investment one year ago," he noted.
They have already seen massive growth year-on-year and accommodation revenue alone is up more than one million dollars on the previous year so the benefit appears to be significant. The project was developed after a two-year plan first to sell the idea to the owners and then to design and execute.
Australian Waterslides and Leisure is an Australian company based in Coffs Harbour who specialise in designing, manufacturing and constructing waterslides and water play equipment, providing professional services to the waterpark and leisure industry for more than 35 years. AWL installed the 270° waterslide into one of the pools at Turtle Beach Resort in 2012. The installation is a huge success, being very well received by patrons so Stephen approached them to present a proposal for the creation of a waterpark to fit into a little used tennis court.
Annette Mathews the managing director of AWL said, "We introduced Stephen to our KIPS (kids interactive play structure) product and presented a design that fitted into the space of the tennis court. A few design alterations to our standard KIPS modules allowed us to stay within spatial constraints. The proposal was accepted and work proceeded."
Work started the park on the 27 January 2014 and finished on the 24 April 2014. The plan was for the construction to go from Australia Day through to Anzac Day and remarkably they were right on target, with only one day of rain holding them up. Annette explained that the contract was for a total design and construct project.
She said, "We manufactured and shipped the glass from our factory using raw materials that are especially suited to the harsh Australian climate, using UV Stabilised Gelcoat that is resistant to fading. We engaged our preferred local contractors, Aassault Concrete for the concrete works and PSF Steel for the stainless steel support structure and Evolution Water and Lighting Solutions for the hydraulics. We were also involved in the procurement and installation of the chlorine-free HydroxyPure system, already installed in the waterslide pool. All choices of equipment and materials ensured the waterpark would look good for a long time. The works were completed on time and within budget.
"Each site is different in its requirements and this was true at Turtle Beach. We had to make sure that splash-out from the slides and tipping bucket was contained within a small area, to ensure that the adjacent café was not effected by splash-out and that there was sufficient provision to cope from a filtration standpoint with the very leafy surroundings of the waterpark. All requirements were ultimately accomplished and operations went smoothly. Soft-fall will be another future upgrade that Turtle Beach Resort will add to the waterpark."
The reaction to the waterpark has been incredible with guests absolutely loving it, with many great online reviews and accommodation revenue well up on the previous year. As the project was a resounding success, Stephen was also happy with the way it was managed. He added, "When dealing with such large numbers of guests, efficiency, safety and role responsibilities were very high on everyone's list."
The extraordinary waterpark Turtle Beach Resort has constructed brings a unique blend of creativity, innovation and endless fun to the industry. Stephen certainly achieved the "big bang" he desired for all those happy Turtle Beach kids.
The true Australian holiday apartments
Dreamtime Resorts, the owners of the management rights at Turtle Beach Resort specialise in the promotion and management of some of the best Australian holiday accommodation. Identified by the quality of Dreamtime Resort's fully self contained, apartment style holiday accommodation, that caters to guests who prefer "a home away from home atmosphere".
This company boasts a portfolio of 19 premier resorts and serviced apartment properties along Australia's pristine eastern coastline with exceptional locations in Cairns, Sunshine Coast, Brisbane and the Gold Coast. As one of Australia's foremost independent resort management groups they strive to offer the best mix of quality lodgings and value for money for both leisure and business travel.
Dreamtime provides an unsurpassed support, guidance and consulting platform for investors seeking entrance into the management rights industry as well as existing managers looking for the advantages that come from joining an experienced and professional management team.
Having built a strong reputation as managers in tough environments from Cairns to Coolangatta most Dreamtime Resort properties achieve above-average occupancy rates and annual incomes for their resident unit managers. For developers who partner with Dreamtime on management rights, they know that they will not have to worry about the ongoing management of their development because Dreamtime ensure that owners, residents and guests alike are "happy with the building, the services and the surroundings".