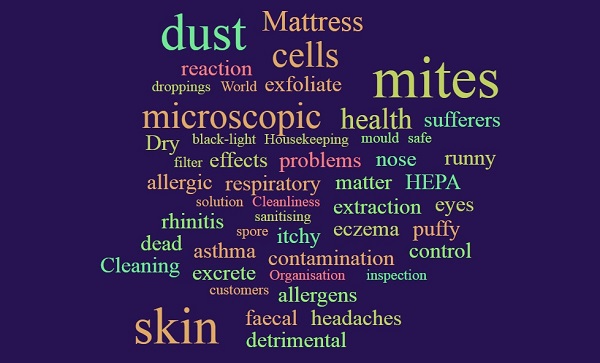 When customers review hotel rooms, cleanliness rates high on the list of priorities.
I have spoken to many hotel housekeeping managers and their passion for and commitment to room cleaning is faultless. Cleanliness is much deeper than sweet masking odours and shiny bathroom basins. The core business of motels, B&Bs and resorts ultimately is the sleeping accommodation that over the years has been subject to sensational ratings chasing 'black light inspection' segments on TV current affair Hotel Inspector shows.
The general population is therefore becoming more educated through such exposure, demanding perfection. Embracing slight changes that encompass better outcomes is always beneficial for the hotel reputation as well as the customer's stay. Cleaning your mattresses, carpets and upholstery using dryer natural practices, extends their life and leads to happier, healthier customers.
Mattress cleaning
The dead skin cells we exfoliate is the staple diet of the microscopic dust mites. These mites excrete proteins that can have major detrimental health effects for those who have an allergic reaction.
According to the World Health Organisation, "dust mite droppings are one of the most common household allergens and are a proven cause of headaches, runny nose, itchy skin, and puffy eyes among sufferers of asthma, rhinitis, related respiratory problems, and eczema".
Even though it is impossible to completely kill and remove every one of the 2,000,000 dust mites in the average queen-size mattress, taking control of them is possible. Dry extraction with a high-powered, purpose-built machine is the best option. A genuine HEPA filter must be fitted to trap all the microscopic dust mites, faecal matter and skin cells to prevent cross-contamination.
The final step is the application of our powerful-yet-safe sanitising solution to kill harmful bacteria, mould and viruses. As mattresses aren't made to be wet, the sanitiser is dry within 30 minutes of treatment. Some use a steam cleaning method (hot water extraction), which is not recommended due to the level of water and the petroleum-based detergents and chemicals used. Such use can damage the mattress springs, padding and cause mould spore and bacterial growth.
Carpet dry cleaning
Just as mattresses aren't made to be wet, the same applies to carpets. Dry carpet cleaning, as opposed to wet steam cleaning or dry bonnet cleaning, offers a very deep clean utilising our powerful enzymatic cleaner and sanitiser, which is dry in just 30 minutes. This eco-friendly system can be walked on immediately providing very limited-to-no downtime. Our enzymatic pre-spray is free of petroleum-based products so your carpets will stay cleaner for longer. It is important to vacuum prior to and after the cleaning process with our HEPA-fitted machine to ensure a complete, amazing clean.
Upholstery cleaning
We always commence with dry HEPA extraction to remove the dead skin, dust mite allergens and loose debris. The application and agitation of our natural enzymatic products, which is then extracted, provides a deep clean, removing everyday dirt, spills and grime from all parts of the seat.
It's all about producing effective high-end cleaning while limiting the downtime.