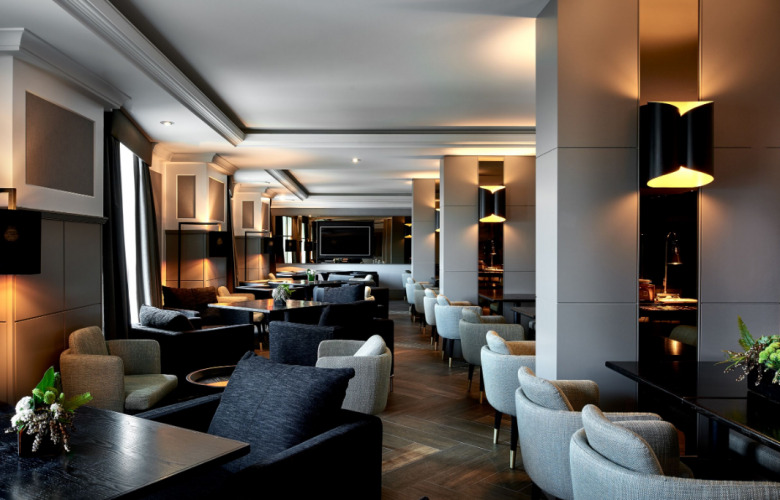 A $67 million tower designed to dominate the skyline of Dandenong will be home to Australia's newest Oakwood hotel.
The 20-storey mixed-use Spectra project by Barnes Capital will be built at 219 Thomas Street in the southern Melbourne suburb and marks international apartment giant Oakwood's second foray into the Australian market.
It is one of two major hotel developments announced for Dandenong this year, IHG unveiling plans in March for a Holiday Inn & Suites property.
Barnes Capital managing director Martyn Barnes said the designation of Dandenong as a national employment and innovation cluster by the state government and its evolution as a "vibrant community for a younger demographic" prompted development of the dual residential and hotel project.
Spectra will include 56 residential apartments on the lower levels and 98 hotel rooms above in the tallest building in the region.
Marriott makeover
Brisbane Marriott Hotel (main picture) has unveiled a $20 million redesign of its 267 guest rooms, executive lounge, event spaces and Peter Iwanczyk-led Motion Dining restaurant.
The extensive renovations embrace "modern design, state-of-the-art facilities and warm, intuitive service" according to world's largest hotel group, with styling by Duoz Design reflecting the property's natural and historic surroundings and technology upgrades including state-of-the-art room controls from ASSA ABLOY.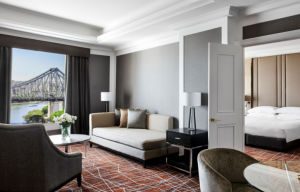 Neutral tones, from the bark-toned headboard to the grey walls and deep earthy brown, were inspired by Brisbane's parks and forests, says Marriott, while textured soft furnishings contrast against historic marble restored to its former lustre in the new guest rooms.
All rooms offer  views of either the Brisbane River across Story Bridge and Kangaroo Point Cliffs, or the city  skyline.
"Brisbane Marriott Hotel is one of Marriott International's most iconic properties in Australia," said Sean Hunt, Marrriott International's area vice president for Australia.
"Perfectly positioned in the River City's vibrant and creative CBD, Brisbane Marriott Hotel's refreshed, modern look combined with the team's intuitive hospitality make for a truly exceptional stay that showcases the brand's hosting culture and commitment to elevating the guest experience." 
Ibis takes flight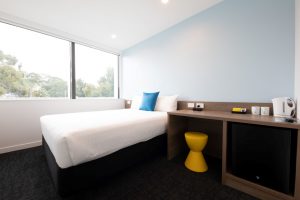 Ibis budget Sydney Airport has added 78 guest rooms to create a 278-room inventory offering accommodation across three different categories.
General manager Tom Marsic said the expansion was designed to meet customer demand for superior style budget rooms with direct access to the airport terminals.
The styling reflects 'vintage aeronautical pop art' inspired by the work of Roy Lichtenstein, which features throughout the new guest rooms, redesigned reception area, lobby, and all public spaces.
"Since opening in 2017, we've had an incredible response from travellers seeking contemporary and cost-effective accommodation, with the added convenience of being located on the airport precinct in close proximity to the terminals," he said.
"We understand that after a long flight or during layovers customers are seeking a comfortable space with plenty of room to rest their head and our new expansion directly addresses this demand, enhancing their overall Sydney Airport experience.
"We look forward to showcasing our newly expanded guest rooms to our loyal business and leisure guests, and welcoming new guests."
Super Star entrance
The Star Entertainment Group has unveiled plans for a $65 million transformation of its Pyrmont casino.
Extensive renovations will include a $22 million grand foyer boasting a 25-metre crescent-shaped screen which will will showcase the works of Australian artists, cinematographers and animators alongside a sculptural water installation. 
The Star Sydney's chief operating officer, Dino Mezzatesta, said the transformation was designed to thrill guests from the moment they set foot on property.
"Architecture, contemporary art and technology have converged to form an iconic showpiece that delivers a unique, unexpected and dynamic arrival experience for our guests," he said.
The Star is currently seeking approval from the NSW Department of Planning for a $500 million Ritz-Carlton hotel on its Pyrmont site.
The luxury hotel and residential project, slated for completion within three years, encompasses 220 Ritz-Carlton hotel rooms and 200 residences.