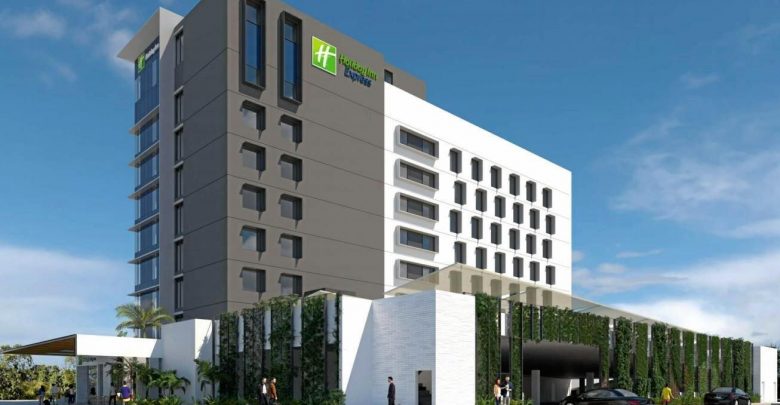 The Sunshine Coast looks likely to get its first internationally-branded hotel in 30 years with a Holiday Inn Express planned for Maroochydore's vast new city centre development.
The nine-storey, 167-room hotel includes a gym, pool, hotel bar and lobby and ground-level shops and forms part of developer SunCentral's extensive plans for the new CBD.
SunCentral Maroochydore was established by the Sunshine Coast Council in early 2015 to oversee the design and delivery of the city centre on a 53-hectare greenfield site in the heart of the regional centre.
The hotel proposal, lodged by boutique investment firm the Pro-Invest Group with Economic Development Queensland in June, is currently being assessed but has already been given in-principle support.
Holiday Inn Express is Intercontinental Hotel Group's fastest-growing brand, a mid-scale offering which, according to IHG, "appeals to travellers who need a simple, engaging place to rest, recharge and get a little work done".
While the council is remaining tight-lipped about the hotel until its official media release, Visit Sunshine Coast Ceo Simon Latchford has welcomed the development, saying new hotel supply is "the missing ingredient" for tourism development in the region.
"Attracting new internationally branded accommodation across all levels of the market has been a key objective of Visit Sunshine Coast, Sunshine Coast Council and the Queensland government," he said.
"The region has such strong visitor demand at the moment – record figures and spend in both the domestic and international markets – but the missing ingredient over the past decade has been the lack of new hotel supply.
"It was over thirty years ago that Hyatt Coolum, and then Novotel Twin Waters Resort, opened on the Sunshine Coast.
"We have had a lot of apartment-style accommodation enter the market, but with the massive investment in developing a new runway at Sunshine Coast Airport we have to look to the future and attract international brand names that are known in our key target markets.
"In recent years Westin has announced hotel plans for the region, and the distinctive Badderam hotel project has been given the go-ahead, but as one of Australia's most attractive regional tourism economies, we need far more hotel developments to meet the huge demand.
"The Holiday Inn Express proposal comes at a perfect time. With the recent launch of the Sunshine Coast Convention Centre, with next year's opening of the new international-capable runway at Sunshine Coast Airport, with a dynamic events calendar and the creation of a new business-friendly Maroochydore city centre, there is no better time to introduce a quality international brand as Holiday Inn Express."