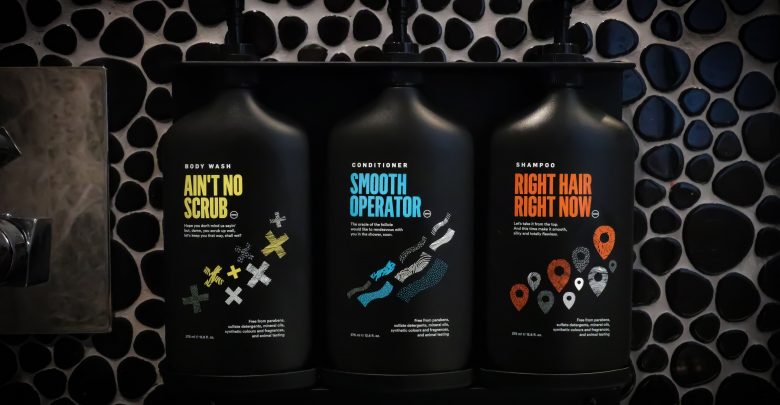 Ovolo Group is rocking the amenity world with a bespoke range of sustainable bathroom amenities inspired by its founder's love of  music.
The products come in refillable, tamper-free HDPE recyclable bottles and are free from parabens, sulphates, mineral oil, synthetic colours and animal testing.
While the hair blends are infused with lavender, pink grapefruit and ginger and body blends contain antioxidant-rich essential oils of lemongrass, rosemary and geranium, the package styling is unashamedly more eighties britpop than organic day spa.
Names like 'Ain't No Scrub', 'Wash This Way' and 'Smooth Operator' allow these good guys of the amenity world retain a little bad boy shimmer and tap into the brand's embrace of all things rock and pop.
The OMG range has been developed in conjunction with Vanity Group to allow Ovolo to eliminate single-use bathrooms amenities across its Australian and Hong Kong hotel portfolio.
Girish Jhunjhnuwala, Ovolo founder and CEO, said: "We are committed to continuing our journey towards reducing our impact on the environment.
"Having already removed plastic straws from all properties, removing single-use plastic bathroom amenities was a natural next step in our journey towards sustainable living."
The launch follows eco-friendly initiatives implemented by the group including removing plastic straws, introducing reusable woven bags for slippers and the use of biodegradable materials in laundry bags and packaging.
Vanity Group CEO Paul Tsalikis said: "We have a long-standing and reciprocal relationship with Ovolo, which has been active since 2015. We were honoured to create a bespoke brand for them.
"In combination with Ovolo, and Vanity Group's dedication to reducing pollution and landfill, we are both taking a stance on clean label products, harnessing the power of natural and sustainable ingredients – good for the body, skin, and planet."
Wood the key
Shangri-La Sydney, meanwhile, has announced  its own sustainability first, creating RFID-enabled room key cards made entirely from wood.
The Shangri-La reportedly loses more than 1,000 plastic room key cards per week as departing guests neglect to return their room keys, only to bin them later.
The wooden cards are operationally identical to the plastic alternatives and contain both the RFID chip and magnetic stripe along with signature panel, scratch-off panel and bar code needed to activate door locks.
The hotel has ordered 10,000 wooden key cards from US supplier LVE Vision as part of a two-month trial.
If successful, it will be rolled out to the group's properties throughout Australia, the South Pacific and Asia Shangri-La.
The Shangri-La is a trailblazer on sustainability for the group, having earlier this year implemented a paperless check-in and check-out process cutting an estimated 36,000 sheets of paper per month from the hotel's usage.