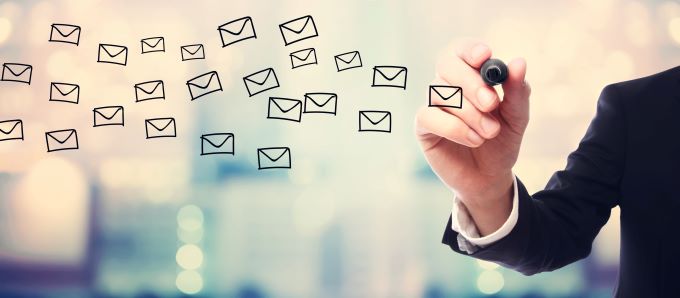 Industry
How hoteliers can avoid the email overload
It's easy to get lost in an inbox full of messages, but here are some ways for hoteliers to better organise their emails and unbury themselves.
Some hoteliers will remember the days of feeling overwhelmed when returning to the office after a long meeting and finding a stack of handwritten notes scribbled on pink message pads. Others will remember the emergence of voicemail, with flashing red light indicators and a computer voice saying, "You have 19 new messages."
These days we find ourselves overwhelmed with digital messages coming at us 24/7 from multiple channels and devices.
While there's still the occasional old-school paper message and voicemail now and then, they're usually from someone who also emailed and texted about the same issue.
As a result, lodging leaders are now victims of their email inboxes. They try desperately to keep up by reading emails on their smartphones, which can inadvertently cause even more challenges such as accidental deletions and sorting/filing issues.
When I peek into the email filing systems people are using, I find that many (perhaps most) have no filing system whatsoever and just keep all emails in their inbox.
They attempt to use various flagging processes to prioritise emails that are not acted on, resulting in too many with that flag.
As a vendor partner with clients who skew towards being top-tier lodging companies, I often deal with some of the smartest minds in the business. Yet very often I'm hearing them say, "Can you resend that agreement?" or "Did you send that already?" or "Weren't you going to email me something?"
Following are a few training tips and suggested best practices.
Multiple email addresses for different purposes
With so many messages streaming in, the first step is to siphon off non-urgent emails into a separate intake valve. For example, in addition to my personal email address, I have two "work" email addresses. I use one for vendor correspondence, newsletter subscriptions, conference registrations (which starts a flood of vendor solicitations), LinkedIn and other networking, travel documentation (airlines, rental cars) and for professional services (CPA accountant, attorney, finance.) The other address is for clients and my staff at KTN. Can you guess which one I check more frequently?
Minimize emailing from smartphones
Certainly, in our 24/7/365 world reading email on a smartphone saves time. It is also good for responding to quick questions, deleting emails such as the "FYI only" ones that don't require action, messages we are cc'd on for no reason, and all spammy type messages.
Wait for desktop access to respond and file other emails (send a quick note "back at you soon" on smartphones). It is much more efficient to type on a keyboard than to tap on glass, plus it's much easier to move messages into a filing system.
Also, when we read in-depth emails on our phones, we often miss key details. I see this from my clients when they when they respond to a message asking me a question that I answered in what I originally sent them.
Better to block chunks of time to respond to emails versus reacting all day long. That said, I do realise some jobs require immediate response to some messages.
Keep your inbox clean
The most organised executives I know obsess on having a clean inbox, yet the majority of people use the inbox as a storage folder for all of their messages. They attempt to resolve each new message as soon as it is marked "read," but most messages require multiple action steps, often involving other colleagues or departments, so some steps get overlooked as the message moves down the inbox.
Instead, put all required action steps on your "task" or "to-do" lists (whether electronically or old-school note pads), and then move them to email folders.
Or, create an email folder labelled "Action Still Needed" or "Unresolved Emails."
Having a clean email inbox is especially important when reading incoming emails on multiple devices where an accidental swipe deletes an unresolved question or request.
A final tip: Do not wait for that day which will never come when you will finally have time to clean out your inbox. Instead, create a new folder labelled "Old emails through today's date," move everything out and start fresh.
Create a uniform, logical folder system
Most companies seem to leave it up to each staffer to create their own email folder system. It is better to agree on a logical filing system so that a) people can more easily search their own emails; and b) colleagues can cover the work of others who have stepped out or left the company. Certainly, email servers have improved their attribute-based search options, but oftentimes searches return too many emails and one has to waste time scrolling. This is especially true when searching for emails from colleagues, key vendors and long term clients.
Many hoteliers use folder systems labeled for key departments, vendors or clients. However, within those I suggest subfolders by year.
I have always used one folder system that works well for me, and I see a few other uber-organized people using it too. I have a master email folder for each year, then under that one for each month. As years pass, I can archive historic folders. Plus, I can always find emails quicker than any client or vendor using different systems.
Use a CRM to manage your tasks and follow-ups
Too many people seem to by trying to organise their follow-up tasks through their email servers, by flagging emails, leaving them in the inbox until resolved and using basic appointment/meeting scheduling options in systems such as Outlook and Gmail which were never designed to be CRMs.
I have experimented with a number of CRMs and time management apps, but in the end I have a hybrid system that works for me. For time sensitive projects, tasks, meetings and follow-ups, I put those on my digital calendar, but for specific follow-ups with vendors, sales prospects and key Kennedy Training Network staff I use an inexpensive, cloud-based CRM.
Here are some additional training tips:
Include headshots and direct contact numbers to personalize exchanges and humanize your company.
Change the subject line when the topic of body of the email message changes. This will make it easier for your recipients to find email documentation too.
Discourage excessive internal emailing. Use restraint on "CCs" and "reply to all." If resolving an issue requires more than two or three exchanges, it should have been resolved via a phone call in the first place.
Rather than emailing colleagues, train staff to make a "talk to Chris about" list and then simply call him or her. Even better, just pass by their desk and resolve all issues via a quick meeting.
Tips for texting
Increasingly, hoteliers are using text for correspondence. I think this medium is wonderful for quick questions and notifications. However, the problem with texting is that it is not efficient for filing documentation for future reference and harder to search than email. We should discourage the use of texting for lengthy inter-company emails and vendor correspondence. However, guests might prefer this medium. If so, copy the text message then paste it into an email and send to yourself, with a subject line that will be easy to find such as "Text from Doug The Brand X Meeting Planner."
This article first appeared in HotelNewsNow