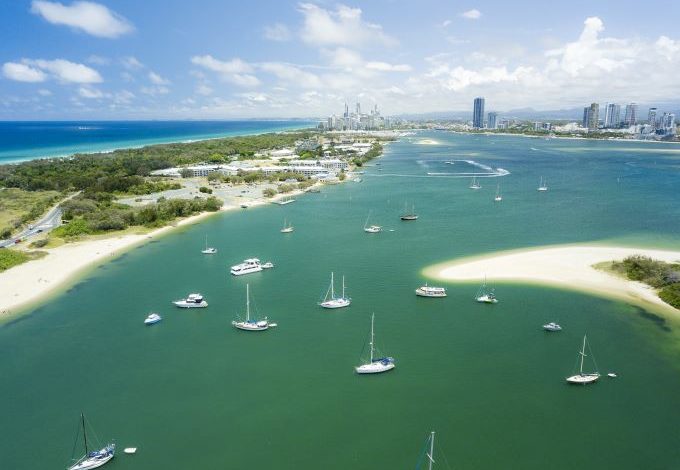 The famous Gold Coast Spit has been opened up to a second wave of expressions of interest for development.
The destination, described this week by CBRE Hotels' Wayne Bunz as "one of the most exciting waterfront resort and hospitality development opportunities in Australia", has already attracted strong interest from developers.
"It is exceptional to find a 4.42-hectare development site with an adjoining 1.97-hectare seabed lease in such an iconic tourism destination," Bunz said.
"This precinct will complement the adjacent high-quality developments recognising Indigenous cultural connections and reinforcing the Gold Coast's positioning as Australia's premier tourism destination."
The release is part of a Queensland government masterplan for The Spit, which allows for a mix of private and public development while protecting significant areas of public open space. A maximum height limit of three storeys, or 15 metres, applies to any new building on the site.
The latest release follows a successful campaign for the 9858 sqm Village Centre South precinct adjacent to Mariner's Cove Marina. Since opening on 28 January 2020, more than 120 registrations have been made on QTenders for development of the marina site.
Queensland's minister for state development, Cameron Dick, said creating new development opportunities in the Village Centre North precinct was an "exciting" part of the masterplan which will "unlock thousands of job opportunities on the Gold Coast".
"My department has already fielded approaches from a number of proponents eager to deliver on the potential of these sites," he said.
 "Gold Coasters know there's something special about The Spit.
"Development on these sites will strengthen that allure and confirm its place in the area's wide range of world-class tourism offerings."
The state government has committed $60 million to the entire Southport-based project, promising to retain 138 hectares of green space and deliver up to 1,800 new jobs and some 800 new short-term accommodation rooms.
Just how to manage its development has long been the subject of contention, with previous plans for a casino development shelved in 2017 after widespread community concerns about its potential impact on local clubs, residents and wildlife.
The latest masterplan has the backing of environmental groups and divides the "ocean park" into seven precincts:
Top of the Spit
Wave Break Island
Federation Walk coastal reserve
Muriel Henchman Park
Village Centre
Philip Park
Southern Gateway
All of The Spit's current features, including the kiosk, marine rescue and boat ramps, will be retained and improved, while the plan suggests development of a special curlew habitat, an underwater sculpture garden for divers and even a 'selfie tower' from which to capture the best shots of the Gold Coast.