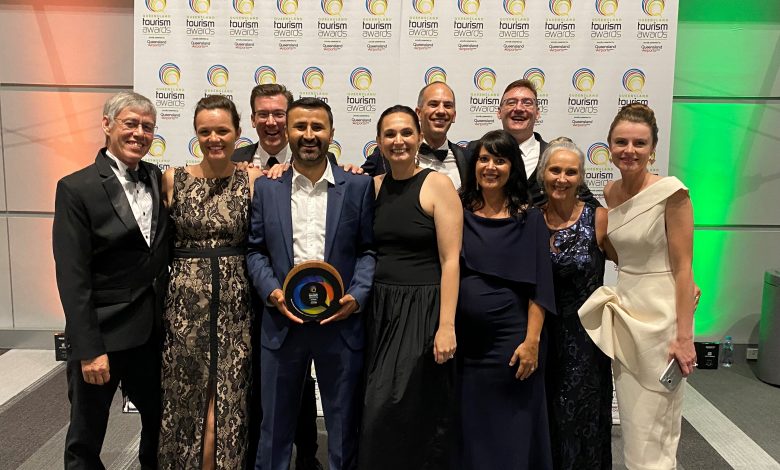 News
News In Brief
Beach and bush strike gold at Queensland Tourism Awards
Sunshine Coast and Outback Queensland sweep the board
The Sunshine Coast and Outback Queensland were the big winners at last Friday's Queensland Tourism Awards with both regions combined winning a total of 21 of the 81 categories up for grabs, including nine Gold Awards.
And as a perfect prelude to the Sunshine Coast's hosting of the Qantas Australian Tourism Awards being held at the Sunshine Coast Convention Centre next March, two Sunshine Coast tourism operators – Narrows Escape Rainforest Retreat, Montville, and Pelican Boat Hire, Noosaville, will go on to compete for national awards for their wins in the Hosted Accommodation and Tourism Retail & Hire Services categories, respectfully.
The Sunshine Coast's other gold recipients were Mary Valley Rattler – Outstanding Contribution by a Volunteer/Volunteer Group; Simon Thornalley, Saltwater Eco Tours – Young Achievers Award, and Noosa Resort – RACQ People's Choice Award – Accommodation.
Outback Queensland's three golden winners were Mitchell Grass Retreat – New Tourism Business; Julia Creek Caravan Park – Caravan & Holiday Parks, and Longreach Visitor Information – Visitor Information Services.
Presented at the Brisbane Convention and Exhibition Centre, more than 1,100 operators and guests, including Queensland Premier Annastacia Palaszczuk were on hand to see a total of 81 Awards, including 32 Gold, 26 Silver and 23 Bronze Awards presented across 31 categories, including two RACQ People's Choice Awards and a new Judges Award for Innovation and Resilience.
Queensland Tourism Industry Council (QTIC) Chief Executive Daniel Gschwind said the 36th annual Queensland Tourism Awards was a celebration of the outstanding success and resilience the state's tourism operators had displayed and also offered a timely platform to showcase Queensland's iconic Indigenous tourism experiences.
"After a pause in the Awards program last year, it is time to shake off the gloom, look forward and celebrate this great industry, its people and its future," Mr Gschwind said.
"Returning in the Year of Indigenous Tourism, the Awards offer a platform to showcase Queensland's world-class Indigenous tourism experiences, supporting the growth of Indigenous businesses and individuals in our industry.
"This year's entrants, across the 31 business, event and individual categories, are a demonstration of the strength and calibre of the State's tourism operators – all of whom have been able to adapt to the circumstances of the pandemic and continue to do great things during ongoing challenges."
Mr Gschwind said the Awards came at a critical and exciting time, with the industry uniting and joining forces to recover and rebuild – particularly as the nation begins to open up to the world.
 In the year ending June 2021, he said, more than 20.75 million intrastate and interstate visitors flocked to the Sunshine State. In Queensland, domestic overnight visitor expenditure increased by 6.7 per cent year-on-year to $16.3 billion, on the back of visitation increasing by 1.6 per cent to 20.8 million.
"Thanks to these visitors, Queensland was one of the fastest states in its domestic recovery from COVID-19, with these results continuing to support more than 234,000 jobs across all regions of Queensland," Mr Gschwind said.
"There is enormous pent-up demand coming from those southern states and the announcement that Queensland will open its border before Christmas gives us something to celebrate."
Visit Sunshine Coast CEO Matt Stoeckel said that the range of winners in the Queensland Tourism Awards reflected the strength and diversity of the Sunshine Coast's tourism sector.
"The Queensland Tourism Awards were a real triumph for Sunshine Coast tourism, not just for the winners, but for the whole industry, and now the Sunshine Coast will be in the national tourism spotlight when we host the Australian Tourism Awards next March," Mr Stoeckel said.
"We were meant to host the gala event in 2021, but the pandemic forced a postponement. The 2022 Australian Tourism Awards event will have added importance because it will take place as Australia's tourism sector is in full-recovery mode and will give the Sunshine Coast an opportunity to showcase our prowess at hosting major events.
"The events sector is a crucial component of the Sunshine Coast tourism economy, attracting over 360,000 visitors in 2019. We hope that hosting the Australian Tourism Awards will lead to a strong revival of the sector and highlight that the Sunshine Coast is a perfect destination for holding major events and conferences. 
"Our successful pitch for the national awards was very much a 'Team Sunshine Coast' effort, and I'd like to acknowledge the wholehearted support from Sunshine Coast Council, the Queensland Government, Queensland Tourism Industry Council and Sunshine Coast Airport.
"We are looking forward to hosting a memorable 'night of nights' for tourism's elite performers, with some 850 attendees expected to come to the Sunshine Coast for the event. It will provide a huge injection of confidence into the region."
The full list of award winners is as follows:
31

Judges Award for Innovation and Resilience (BRISBANE REGION)

Gold

Fun Over Fifty

30

RACQ People's Choice Award – Accommodation (SUNSHINE COAST REGION)

Gold

RACV Noosa Resort

29

RACQ People's Choice Award – Experiences & Services (TROPICAL NORTH QLD REGION)

Gold

Paronella Park

28

The Marie Watson-Blake Award for Outstanding Contribution by an Individual (SUNSHINE COAST REGION & TROPICAL NORTH QLD REGIONS)

Gold

Bindi Irwin, Australia Zoo

Gold Posthumous Award

John Courtenay, Tourism Tropical North Queensland

27

Young Achievers Award (SUNSHINE COAST REGION)

Gold

Simon Thonalley, Saltwater Eco Tours

26

Outstanding Contribution by a Volunteer or a Volunteer Group (SUNSHINE COAST REGION)

Gold

Mary Valley Rattler

Silver

Australia Zoo

Bronze

Goondiwindi Region – Rebecca Cover

25

Excellence in Food Tourism (ROCKHAMPTON REGION)

Gold

Beef 2021

Silver

The Ginger Factory

Bronze

Sarina Sugar Shed

24

New Tourism Business (OUTBACK QLD REGION)

Gold

Mitchell Grass Retreat

Silver

Hopo Gold Coast Ferry

Bronze

O'Reilly's Campground

23

5 Star Accommodation (WHITSUNDAYS REGION)

Gold

InterContinental Hayman Island Resort

Silver

The Reef House Boutique Hotel and Spa

Bronze

Emporium Hotel South Bank

22

4-4.5 Star Accommodation (ROCKHAMPTON REGION)

Gold

Empire Apartment Hotel (Hall of Fame)

Silver

Novotel Cairns Oasis Resort

Bronze

Novotel Brisbane South Bank

21

3-3.5 Star Accommodation (SOUTHERN QLD COUNTRY REGION)

Gold

Oaks Toowoomba Hotel

Silver

ibis Styles Mount Isa

20

Self-Contained Accommodation (WHITSUNDAYS REGION)

Gold

Pinnacles Resort

Silver

RACV Noosa Resort

Bronze

Bella Casa Noosa

19

Unique Accommodation (GOLD COAST REGION)

Gold

Paradise Resort Gold Coast

Silver

Cruise Whitsundays

Bronze

Whitsunday Escape

18

Hosted Accommodation (SUNSHINE COAST REGION)

Gold

Narrows Escape Rainforest Retreat

Silver

Bli Bli House Riverside Retreat

Bronze

The Country House at Hunchy

17

Caravan and Holiday Parks (OUTBACK QLD REGION)

Gold

Julia Creek Caravan Park

Silver

BIG4 Adventure Whitsunday Resort

Bronze

Ingenia Holidays Cairns Coconut

16

Tourism Wineries, Distilleries and Breweries (BUNDABERG REGION)

Gold

Bundaberg Rum Distillery Visitor Experience (Hall of Fame)

Silver

O'Reilly's Canungra Valley Vineyards

Bronze

Sarina Sugar Shed

15

Tourism Restaurants and Catering Services (BUNDABERG REGION)

Gold

The Windmill Café Bargara

Silver

Dracula's Cabaret Gold Coast

Bronze

JW Marriott Gold Coast Resort & Spa

14

The Richard Power Award for Tourism Marketing and Campaigns (SCENIC RIM REGION)

Gold

Scenic Rim Regional Council

'Welcome to the Richest Place on Earth, In Australia' Campaign

Silver

Tourism Tropical North Queensland

'Summer in the Tropics' Campaign

Bronze

Tourism Whitsundays

'Wonders of the Whitsundays' Campaign

13

Adventure Tourism (WHITSUNDAYS REGION)

Gold

Red Cat Adventures (Hall of Fame)

Silver

See Moreton

Bronze

Skypark Cairns

12

Tour and/or Transport Operators (TROPICAL NORTH QLD REGION)

Gold

Sailaway

Silver

Lady Musgrave Experience

Bronze

1770 LARC! Tours

11

Major Tour and/or Transport Operators (WHITSUNDAYS REGION)

Gold

Red Cat Adventures (Hall of Fame)

Silver

Ocean Rafting

Bronze

Sea World Cruises

10

Business Event Venues (ROCKHAMPTON REGION)

Gold

Empire Apartment Hotel Conference Centre

Silver

Gold Coast Convention and Exhibition Centre

9

Visitor Information Services (OUTBACK QLD REGION)

Gold

Longreach Visitor Information Centre

Silver

Balonne Shire Visitor Information Centre

Bronze

Mackay Region Visitor Information Centre

8

Tourism Retail & Hire Services (SUNSHINE COAST REGION)

Gold

Pelican Boat Hire

Silver

Whitsunday Coast Airport

7

Award for Aboriginal and Torres Strait Islander Tourism (BRISBANE REGION)

Gold

Spirits of the Red Sand

Silver

Rainforestation Nature Park

Bronze

Bamaga Enterprise Ltd & Cape York Peninsula Lodge

6

Cultural Tourism (BRISBANE REGION)

Gold

Fun Over Fifty

Silver

Paronella Park

Bronze

Qantas Founders Museum

5

The Steve Irwin Award for Ecotourism (SOUTHERN GREAT BARRIER REEF REGION)

Gold

Lady Elliot Island Eco Resort

Silver

Small World Journeys

Bronze

Sailaway

4

Festivals and Events (MACKAY REGION)

Gold

Isaac Regional Council – St Lawrence Wetlands Weekend

Silver

Rare Spares Rockynats Car Festival

Bronze

Birdsville Big Red Bash

3

Major Festivals and Events (ROCKHAMPTON REGION)

Gold

Beef 2021

Silver

Toowoomba Carnival of Flowers

Bronze

Blues on Broadbeach

2

Tourist Attractions (BUNDABERG REGION)

Gold

Bundaberg Rum Distillery Visitor Experience

Silver

Mary Valley Rattler

Bronze

Hinkler Hall of Aviation

1

Major Tourist Attractions (GOLD COAST REGION)

Gold

Currumbin Wildlife Sanctuary

Silver

Australian Age of Dinosaurs Museum of Natural History

Bronze

Qantas Founders Museum