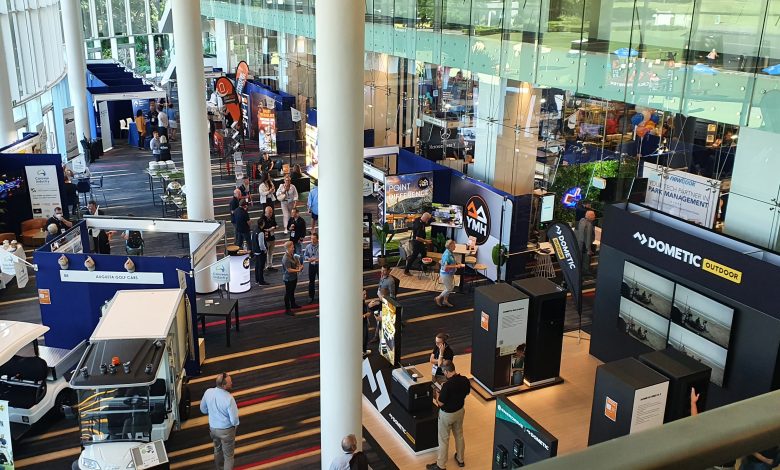 The 2022 National Caravan Conference kicked off this week at the wonderful RACV Royal Pines Resort and it was bigger and better than ever before.
AccomNews was there…
The industry association put together an extraordinary event to celebrate 30 years from when the Caravan Industry Association of Australia (and its previous iterations) was founded. The conference opened on March 30, 2022, with masterclasses followed by a buzzing trade expo and an official opening attended by over 800 delegates.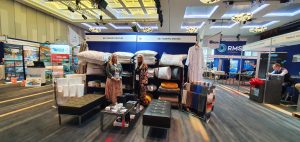 I caught up with CIAA CEO, Stuart Lamont at the welcome event and he told me that the industry members, associates, and suppliers were keen to meet up face to face, once again, after a few years of isolation, and the event offers the perfect opportunity to reconnect and celebrate 30 years of the association.
He agreed caravan and holiday parks are iconic, much loved and integral to Aussie culture, and although the last two years have been very difficult for the whole accommodation industry, this sector has been the "quiet achiever".
He said he is looking forward to what the future may hold, he expects domestic tourism will continue to grow and caravan and holiday parks will continue to be the popular leisure choice for many. He added that he is also excited by the growth of corporate and events for the sector.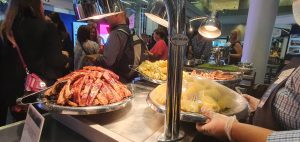 The wonderful hosts at the RACV Royal Pines Resort went 'all out' presenting and providing an exceptional array of F&B offerings on the welcome night and throughout the three-day event.
On a personal note, I want to highlight the other quiet achievers – RACV Royal Pines Resort's hospitality staff who were exceptional and the food presented was an incredible show of delicious local produce from fresh oysters to tropical fruit.
The National Conference is aimed at those seeking personal development, leaders looking for innovative solutions, and businesses keen to connect.
The vibe of the event was not just about what this sector has been through and achieved but also a look forward to the exciting things that are around the corner for the industry.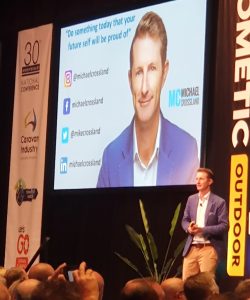 An impressive array of innovative and inspiring speakers took to the stage throughout the event including a very open and personal talk from inspirational Australian Michael Crossland, which saw attendees visibly moved by his real and raw story.
I was inspired by the message from keynote speaker and leadership strategist, retired Major Matina Jewell who embodies leadership and resilience under fire and extreme pressure. Her message is alarmingly simple – we are all leaders and every successful organisation has leaders in every position.
She said: "Step up and lead even though it's not your job."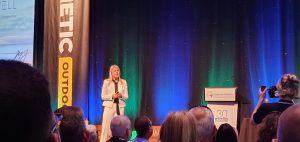 Her advice to leaders is to have extra skills to pull out of the toolbox in unforeseen circumstances.
She said: "Future proof by getting a front foot ahead of change."
The conference continues for the rest of the week with a wide range of workshops and masterclasses, prizes, awards, and recognition for industry achievers, there is also a rock concert and gala dinner to follow.
What a week!
Finally, congratulations to Newbook, awarded the Gerry Ryan OAM Innovation Award 2022, for its Self-Service Kiosk & Cloud-Based Key Dispensers.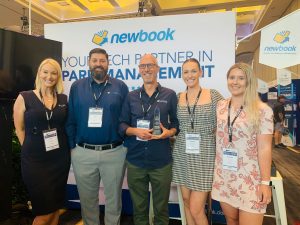 Newbook CEO, Shaun Cornelis, accepted the award.