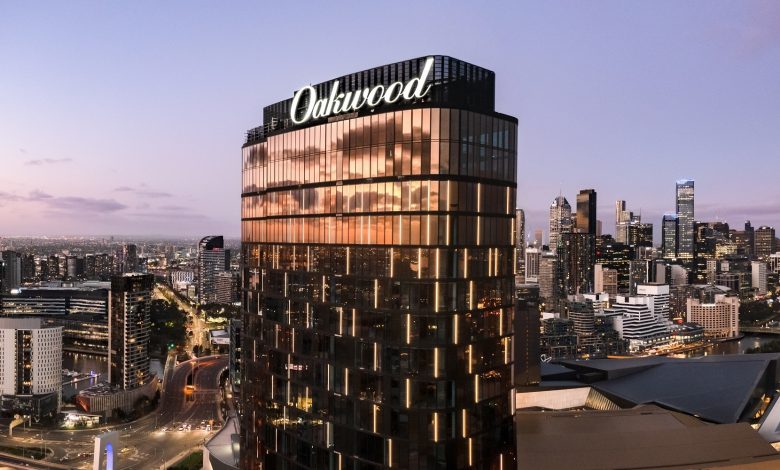 Hotel News
News
News In Brief
Oakwood's towering success in Melbourne luxury
New build offers ultra-modern, chic feel to both long and short stay business
Shining, shimmering and splendid, the new 40-storey Oakwood Premier Melbourne rises over the skyline of Southbank like a giant bronze torch, a beacon showing the way as a leader in luxury serviced apartments.
The $150M property is one of the tallest single-purpose built structures in Australia with 392 luxurious hotel rooms and serviced apartments, and soon-to-open top-floor sky bar and fine dining restaurant with 360-degree views.
Oakwood Premier Melbourne, Australia's first Oakwood Premier property, officially opened on December 21, after four years of development by the Yarra Hotel Group and Hamilton Marino Builders.
General Manager Andrew Donadel says the stunning building which combines hotel rooms with serviced apartments, is already "a real landmark" for Melbourne.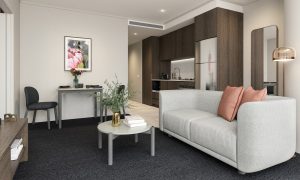 "It's definitely an iconic building and because of our location, just a block back from the main part of Southbank, it stands out wherever you are," he said.
"We've got a little bit of space around us and there's no building in any direction blocking our view.
"When you're walking along Flinders Street in the City, you look over and you see us straight away. When you're going over the bridge towards Crown casino you look to your right and see us straight away."
Oakwood is a brand traditionally specialising in serviced apartments, but the Melbourne property was designed to have one third of its accommodation catering to short-term hotel stays. Each room combines luxury, comfort, and the latest technological wizardry for guests, and offers stunning 360-degree views of Melbourne, Albert Park, Port Phillip Bay, the CBD and Williamstown.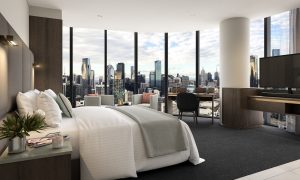 "Because of our location we saw the demand for people involved in projects nearby, wanting to stay for longer periods in apartments, but we also saw the need to cater for short term stays," Mr Donadel said.
"One of the great advantages of the building is that while guests might be staying in one of our serviced apartments there is a chic feel of an ultramodern luxury hotel all around them. We quite often use the word 'hybrid' for what we are offering because the accommodation is a category above the usual serviced apartment, in terms of the finish, fine touches, and amenities."
The property features art that pays homage to key Melbourne landmarks. A magnificent bronze in the lobby was created by Mika Utzon Popov, whose grandfather designed the Sydney Opera House. Furthermore, the driveway to the property is decorated with a sublime waterfall paying tribute to the Yarra River.
The rooms are artworks in themselves, a combination of comfort and luxury designed to be as user-friendly as home, particularly for long stays.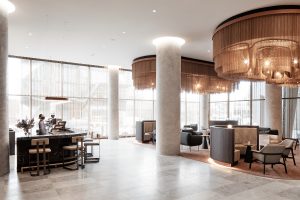 "There's nothing worse for a hotel guest than walking into a room and thinking that you can't touch anything," said Mr Donadel, who was based in South-East Asia for 14 years before joining Singapore-based Oakwood in 2021.
"A great deal of thought went into the colour tones and the fabrics used in all the rooms and suites, the design team have done an incredible job.
"We've had great feedback so far about the rooms being well appointed and the beds being very comfortable, and these are the key essentials for any hotel. But much thought also went into equipping the kitchens for those guests wanting long stays."
The Oakwood Premier Melbourne is magnificently appointed when it comes to guest facilities. Fifth restaurant offers all-day dining with a modern Australian menu combined with a taste of the Pacific, bringing a hint of Asian cooking to all the dishes.
The lobby bar serves coffee in the morning and drinks and canapes in the evening, with just about everything in between. And there is room service as well for all guests who wish to dine in the quiet comforts of their own private space.
The Oakwood Premier Melbourne has a huge games room with one of the few full-sized snooker tables in Victoria. It has proved extremely popular with guests.
The property was also constructed with meetings in mind, with a boardroom that seats 12, complete with its own private alfresco area, as well as three separate meeting rooms seating 15 people each. Two of them are joined by a wall that opens to make a double sized room, with a larger function room that can seat 80 people for dinner.
The Sky Bar and restaurant on level 40 has 360-degree views of the city and surrounds.
"We see the Sky Bar as becoming an iconic dining destination for everyone in Melbourne, whether they're staying here or not," Mr Donadel said.
"We hope people will come to the Oakwood Premier Melbourne and appreciate the property and facilities, the wonderful service and the breathtaking views.
He revealed, one of his favourite features of the building is the fitness centre. "A gym is often the last thing a hotel thinks about," he said.
"Often, it's a small room in a dimly lit basement or at the end of a corridor. But we have a 180-square-metre fitness centre with double height ceilings and great views of the city, as well as an alfresco area if guests want to go outside for a stretch, yoga, or to just relax with a coffee after their workout.
"The gym is on Level six on top of the podium space where the restaurants are located, and guests have uninterrupted views of the city."
Hotel rooms and serviced apartments start on level seven. Perched on levels 38 and 39 are four two-bedroom apartments spanning 85 square metres, all have expansive curved windows and stunning views. In all, the property has 132 hotel rooms and 260 serviced apartments, studios, one-bedroom and two-bedroom suites ranging from 35 to 85 square metres.
"It really is a special place," Mr Donadel said.