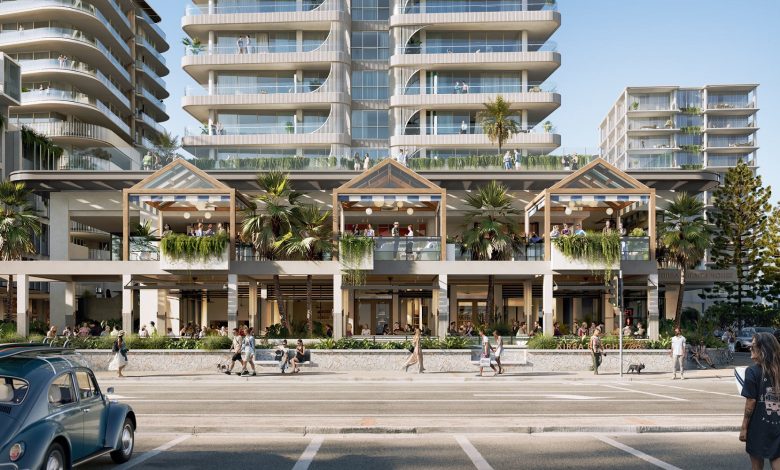 AccomProperties News
Developments
News
News In Brief
More than just a precinct: Launch of visionary lifestyle, short stay & hospitality project for Kirra Point
Exciting plans unveiled for Southern Gold Coast & stage one of the highly anticipated Kirra Point Precinct to open this November
KTQ Group has unveiled plans for the first stage of its highly anticipated Kirra Point Precinct,  which include a residential tower, two hospitality venues, and hotel apartment accommodation. A second residential apartment tower, a boutique hotel, and a laneway retail precinct will be part of stage two.
Stage one of Kirra Point includes the already sold-out 'Miles' residential tower, 116 apartments boasting an unrivalled north-facing oceanfront perspective and setting a new standard of lifestyle living on the Southern Gold Coast, and two distinct yet complementary hospitality venues. Located directly opposite the beach, Kirra Beach Hotel and Kirra Beach House will both open in November and are set to become major draw cards for both locals and visitors who are keen to drink in the magic of Kirra.
Our latest AccomNews print issue is available now. Read it HERE
One is the local pub reimagined and the other a premium dining, drinking, and events destination, both set against an uninterrupted view of the glistening Pacific Ocean and Gold Coast city skyline.
Following on, early next year will see the launch of Kirra Point Stays, a collection of the 'Miles' apartments that will bring a new level of elevated hotel apartment accommodation to the Southern Gold Coast, available for discerning holidaymakers to book and experience what it's like to live like a Kirra local. 
Part of the long-term play for stage two is a second residential apartment tower, a boutique hotel and a carefully curated laneway retail precinct which will include a lively village square, selected boutique retailers and artisans, a fresh food marketplace, a delicatessen, a florist, bakery, gelateria, more food and beverage offerings, and a dedicated fitness, wellness and recovery facility. 
Kirra holds a special place in Australian surf culture, a sparkling stretch of sand and sea on the Southern Gold Coast that provides some of the most perfect wave breaks in the country and is home to Australia's surfing elite and an emerging community of creatives. Situated only five minutes from Gold Coast airport and in between Burleigh and Byron Bay, the coastal gem has long been an insider's secret. A quiet haven with the laid-back, sand-between-your-toes feeling of being on one endless, glorious summer holiday.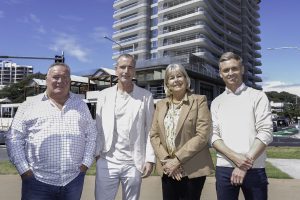 KTQ Group is an award-winning family-owned and run business led by owner and visionary, Peggy Flannery, who has spent 11 years carefully bringing the vision for Kirra Point to life, working in partnership with architect Mark Damant from Little Boat Projects. The precinct has been designed to preserve the integrity of Kirra's coastal lifestyle and the richness of its deeply rooted local character, whilst creating an aspirational destination where the local community and visitors alike can experience and bask in the magic of Kirra. 
Jeremy Holmes, KTQ's Development Director, said, "We want locals to come here, people from all over the Gold Coast and Australia, and all become invested in the Kirra ethos and rhythm. The most lasting impression won't be the building or a location — but a feeling".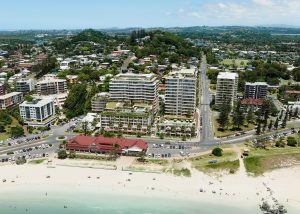 Kirra Beach Hotel
Wednesday, November 8, will see the doors swing open to the revitalised Kirra Beach Hotel, a quintessential Australian pub that is a celebration of life by the coast for all to enjoy 7-days a week. Having stood proudly as a local icon and community landmark since 1956, the pub is the anchor and soul of Kirra Point and will continue to be a friendly, no-fuss favourite, honouring the fabric of its past and keeping the locals at its heart.
Publican and Licensee Greg Hodge or 'Hodgy', who was running the Kirra Beach Hotel for eight years prior to its demolition in 2021, is excited to be back doing what he loves, with many of the core staff also returning. "The pub has been here for seventy-odd years. The local community already knows and loves it, and the core values haven't changed."
"We want the Kirra Beach Hotel to be more than just a pub for our guests and a place where anyone is welcome. It's a second home, a place where you can relax and be on a first-name basis with our staff, a place where you can pop in after a surf and grab a bite to eat, and perch up with a beer in hand and watch the waves roll in."
Holding the ground floor, corner position on Marine Parade and Miles Street, the new Kirra Beach Hotel will be a beachside haven with something for everyone including an expansive, sun-drenched beer garden positioned directly across the road from the surf and is unlike anything else that exists on the Coast.
There will be a vibrant family-friendly bistro, kids area, public bar, sports bar with large-screen TVs, and a boutique bottle shop stocked with all the local faves. There will also be 130 parking spaces in a new underground car park, making it easy for guests to pop in any time of the day. 
The space has been tailored to the generous laidback beach lifestyle with soaring ceilings and wide-open windows that will create a breezy coastal-casual vibe and flood the venue with golden sunshine. With views over Australia's most popular point break, the space will pay homage to the surf culture that defines Kirra and the surfing legends that have long called the pub theirs, like Mick Fanning and Joel Parkinson, with iconic surfing memorabilia of past and current surfing champions adorning the walls. 
Comfort will remain the priority, promising a place where pub-goers can relax and let their hair down and walk straight to the pub from a swim at the beach, sandy and happy. "We will always keep a tub of thongs behind the bar for you, if you haven't got shoes", says Hodgy.
The revamped menu will showcase a bounty of local produce and feature a blend of pub favourites, lighter bites and vibrant and tasty share plates that pair perfectly with the coastal atmosphere. Locals can rest assured that their much-loved pub favourites will make a return including schnitzels, rissoles and mash and fish and chips. The pub will pour a range of icy cold beers and Australian drops with a focus on local brewers and distillers.
"Kirra and the Kirra Beach Hotel have always been very community driven and we will keep that going, supporting local groups like the Surf Lifesaving Club and various charity fundraisers. The pub should and will always remain always be a hub", said Hodgy. 
The centrepiece of the Kirra Point community, the pub will continue its legacy of a relaxed atmosphere and friendly hospitality and will be the casual, coastal pub experience that all of Australia knows and loves.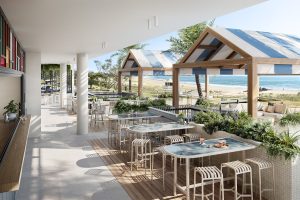 Opening mid-November, Kirra Beach House will sit directly above Kirra Beach Hotel on the second level, a magnificent, elevated beachfront dining, drinking and event destination with an unparalleled and unobstructed view of the shimmering blue horizon of ocean and sky from every vantage point in the venue. 
The venue will be operated by hospitality entrepreneur from SITE Hospitality, Dave Galvin (Kōst, Mozza Mozza), who has spent four years developing the concept for his dream venue. The stunning design and interior décor is a stylish yet quietly understated ode to coastal living and will feature a mix of impressive indoor and outdoor spaces, wine and cocktail bars, and high-end event spaces perfect for weddings, parties and galas. 
Galvin said, "The Southern Gold Coast has been crying out for a venue like this but it was important for us to ensure it embodied the Kirra lifestyle. We wanted to create something that was elevated yet approachable and effortless, evoking the idyllic feeling of a relaxed beachside oasis. An environment where you can feel like you are worlds away yet it's still convenient."
An expansive terrace will wrap around the whole venue giving guests front-row seats to the stunning Kirra Beach and city skyline of Broadbeach and Surfers Paradise. The space will have three bars – a wine bar, terrace cocktail bar and Preston's, an intimate cocktail bar that can also be booked out for events. 
The north-facing terrace will be home to three chic 20-person beach-style cabanas available for group bookings, spots for lounge DJs and beachside acoustic bands, and a range of high and low seating where guests can relax with a cocktail in hand and watch the ever-changing vista and day turn into night. The western terrace will have a green outlook onto the Norfolk pines and cascading foliage and can be broken into 4 bookable spaces, including an Asado BBQ, kitchen and bar. 
"It will have a beach club atmosphere about it, with great music, mesmerising panoramic views of Kirra, Mediterranean-style food using the incredible local produce we have on our doorstep, a world-class drinks list and, of course, great service", Galvin continued. 
Executive chef Sebbie Kenyon, also the chef at Broadbeach's new bar & grill, Kōst, has curated a flavour-packed Mediterranean-style grazing menu that reflects the coastal location and will be perfect for sharing with family and friends. A mixture of classic, and inventive snacks, raw and cooked seafood platters, delicious flatbreads and pizzas straight from the wood fire clay oven, succulent steaks and signature burgers. This will be matched by a coastal-inspired wine and cocktail list – think holiday-inspired cocktails, house-made spritz, and easy-drinking Australian wines. 
The Southern Gold Coast has previously lacked a truly premium event location, and Kirra Beach House has been designed with this in mind. The vast, cleverly conceived space can be transformed and discreetly sectioned off to accommodate weddings, parties, launches and galas of any size, from a formal seated dinner with dancing, a chic BBQ lunch with friends on the terrace or a clink of celebratory champagne glasses in Preston's Bar at sunset.  
Galvin said, "Kirra is one of a very small collection of North facing beaches on the East Coast, and one of the most perfect beach wedding locations on the Gold Coast. We have a dedicated team ready to bring any vision to life for any special occasion".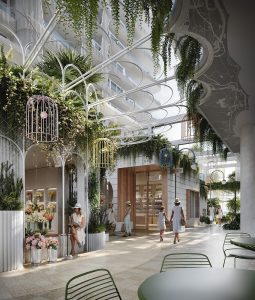 The vision for Kirra Point Precinct & Stage Two
Kirra Point is a visionary project that has been designed to be more than just a precinct – a highly considered and thought-out space for the public to enjoy that adds to the charm and way of life of Kirra, the local environment and landscape, and the incredible perspective. 
Peggy Flannery and KTQ Group have conceived, built and will continue to own and operate the majority of the precinct, promising a continued vested interest in seeing the full vision come to life and ensuring it enriches the Kirra community and serves the locals, as well as attracting visitors to the area.
Flannery said, "We have taken great pride and care in designing a precinct that will have a warm and welcoming seaside village atmosphere that will enrich the community long term and help it to thrive, creating a way of life that welcomes everyone to be part of it and a space that creates lasting moments that stay with you forever."
A buzzy, deluxe lifestyle precinct where everyone is welcome – and no one will want to leave.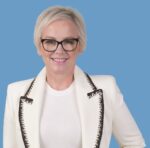 Mandy has over 17 years of accommodation and tourism industry writing experience and is Editor of AccomNews & Resort News, Publisher of SchoolNews & Director of Multimedia Pty Ltd. She is a retired registered nurse with a 25-year NHS career that followed a few unforgettable years in hotel housekeeping.