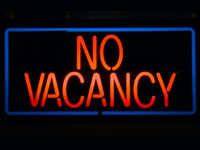 A 'no vacancy' sign at James Cook University in Cairns is out after the university topped 4100 students and its two main accommodation providers are absolutely full
giving impetus to plans to build student accommodation on campus.
Cairns Student Lodge and The Beaches Luxury Apartments in Smithfield are both full, have long waiting lists and are turning students away daily.
Head of JCU Cairns Stephen Weller said land had been earmarked for residential colleges at the university and college-style accommodation on campus would grow JCU.
"I believe student accommodation here would allow us to increase our international students from 350 to 500 without any effort," said Dr Weller.
However, he said the project hinged on finding a developer prepared to build the accommodation, since neither state nor federal government money was available for that purpose.