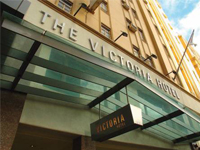 One of Melbourne's historic landmark hotels, The Victoria Hotel, has today been re-badged under Accor's Ibis Styles economy brand and will become the 41st Ibis Styles hotel in the Asia-Pacific region.
With a rich history and personality, The Victoria Hotel combines the grandeur of the late 1800s with all the comforts and conveniences of today situated in Melbourne's bustling city centre. Originally known as the Victoria Coffee Palace and a dry hotel (no alcohol), it was an alternative to the rowdy pub accommodation on offer during the late 19th Century.
Ibis Styles Melbourne, The Victoria Hotel general manager, Peter Barker, said, "Joining Accor's non-standardised economy and design brand means Ibis Styles Melbourne – The Victoria Hotel will enjoy strong visibility whilst keeping in with the hotel's own distinct personality and values. Guests to our new-name hotel will be able to enjoy modern accommodation, the recently upgraded rooftop pool and fitness centre, plus free wi-fi in public areas to keep tabs on the outside world."
Ibis Styles is part of the new evolution of Accor's economy brands which has seen the introduction of Ibis, Ibis Budget (replacing Formule 1) and Ibis Styles (replacing All Seasons).
Ibis Styles, The Victoria Hotel remains one of Australia's largest three-star hotels and offers guests a charming and affordable and home away from home.