Developments
New Port Augusta Ecomotel to boost tourism in the region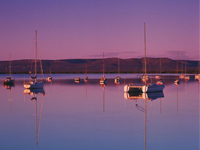 Port Augusta and Flinders Ranges tourism will receive a significant boost with work starting on 23 October on the Ecomotel at Port Augusta West.
Tourism minister, Leon Bignell, who is in Port Augusta, said the Ecomotel would play a significant role in increasing the number of quality accommodation rooms in the region. The new hotel will provide 42 upmarket rooms in a development spanning three stages.
"Port Augusta is not only a terrific city, it is a great base for exploring the Flinders Ranges, Eyre Peninsula and Outback," Mr Bignell said. "It's a significant spot, where roads from east, west, north and south all intersect.
"Port Augusta, known as the Crossroads of Australia, attracts 1.3 million vehicles every year and is an ideal location for a new motel."
The Ecomotel motel will be made of rammed earth and will boast a number of environmentally friendly features including a solar-powered vehicle recharge station giving visitors a sustainable outback experience in premium accommodation.
The $1.5 million Stage 1 development will see the construction of the first 22 rooms.
The SA government has provided $120,000 towards the project through the Tourism Development Support Program.
"This fund really helps create jobs in the regions," Mr Bignell said. "The $8 million government investment in this fund in the past four years has resulted in a $91 million economic boost for South Australia and has left a legacy of higher standard accommodation in our country areas.
"The state government has set a target of developing 230 new rooms in the Flinders and Outback by 2020.
"I congratulate proprietor Alan McMahon for investing in SA's tourism industry and bringing new, high-quality accommodation to the region."