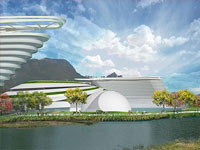 The $8.15 billion Aquis Great Barrier Reef Resort has doubled the number of guest rooms to 7500 but, at the same time, has reduced the size of other areas of the proposed mega resort by Hong Kong-based Tony Fung in revised plans lodged with the Queensland government.
Among the changes are a reduction in size of the man-made lake to 33ha – half of the proposed area, deleting the proposed serviced apartments, staff accommodation and the 25,000-seat sports stadium. It has reduced the convention and exhibition space from 45,000m² to 25,000m² and reduced retail and food and beverage outlets by 3500m².
However, it has added 40ha of open space for a community sports and recreation precinct. It will develop an 18-hole championship golf course and tennis centre.