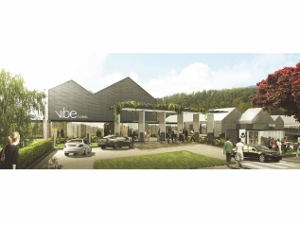 TFE Hotels is set to launch a new strategic positioning for its iconic Vibe Hotels brand, renewing its focus on driving travellers' connection with locally authentic experiences.
The brand revitalisation will kick off with the opening of Vibe Hotel Marysville in early 2015, during which time an extensive marketing campaign will promote the opening of the new hotel, in partnership with Tourism Victoria. The new design will see the hotel chain move away from its renowned lime green and lavender colour palette of the last 10 years, towards a blue colour scheme.
Following Vibe Hotel Marysville, the first hotels to adopt the new look and feel will include Vibe Hotel Canberra Airport and Vibe Hotel Rushcutters in Sydney.
The new brand positioning is centred on enhancing travellers' sense of connection with each of the hotels' local surrounds, fellow guests and via technology. This renewed focus will resonate strongly with Vibe Hotels' target audience, for whom authentic local experiences are important – according to research.
Emma Fraser, group director of marketing at TFE Hotels, said, "The revitalisation of our iconic brand is set to bring the Vibe Hotels guest experience to a different level. A recent TFE Hotels survey with over 17,500 respondents found that today's traveller (71 per cent) want their hotel (hotel brochure, teams or hotel website/app) to provide them local recommendations of things to do and places to eat.
"As such, Vibe Hotels will provide guests with distinctive services and facilities to help them 'feel connected' with the local area, boosting our reputation in the market for those looking to enjoy authentic local experiences during their stay."
Colin Watts, creative director of branding agency Jack Watts Currie, has worked with TFE Hotels during the past six months to develop the new Vibe Hotels brand positioning. Mr Watts said, "Vibe Hotel's new positioning focuses on that real, intimate connection between people and the places they visit. Whether it's connecting with the area itself, fellow guests or even the team that greet them, that connection is the mark of any great trip."
This rejuvenation of the Vibe Hotels brand in Marysville, less than 100km from Melbourne, will mark a significant step towards revitalising tourism in the region following the Black Saturday bushfires in 2009. Vibe Hotel Marysville will feature local artwork, along with locally sourced seasonal produce in its new signature restaurant Radius Bar & Grill.